Keeping chickens can be a fulfilling hobby, but what if you want to go on vacation and you're worried about feeding them.
A flock of chickens can't just be left with food in the coop, expecting them to do fine.
When chickens rummage through their grain or pellets, they may spread it across the ground, attracting unwanted guests like mice, rats, and even local wild birds.
Apart from the inconvenience of dealing with these unwanted guests in your chicken coops, these little critters increase the risk of spreading diseases to your chickens.
To keep food fresh and avoid pesky creatures from sharing the feed while you are away, let's find out which auto chicken feeder is the best for your flock.
Our Picks for the Best Automatic Chicken Feeder
Top Pick
A hassle-free, low maintenance chicken feeder that is robust in design.
If you have a problem with pests inside and around the run, Pawhut's auto feeder range helps reduce waste.
The sturdy treadle feeder keeps grain, pellets or crumbles contained which is perfect for feisty hens.
Design
When you need a lasting range of feeders for your flock, Pawhut is a good choice. It works with gravity and you can place it inside or outside. With its robust metal design and side secure panels, I know that pests simply cannot get to the feed, which is great for hens.
Feature
The best auto feature is the treadle on the front of the feeder. It will open the feed and close it when a hen steps off the platform. A treadle chicken feeder allows every bird to access their feed.
This product is a basic auto chicken treadle feeder but also a great way to stop small critters from occupying the run and terrorizing the flock!
Build
Because this treadle feeder is made with durable metal and automatic operation, it is considered excellent value for money.
Owing to its useful features, these feeders earn our rating for the best automatic feeder.
Best Value
A bucket shaped feeder that prevents chickens from roosting and making a mess.
You can find the best value for money with the RentACoop Chicken Feeder.
This automatic feeder is waterproof, BPA free and will feed more than one bird at the same time.
Design
It is effective against waste as poultry will need to place their heads into the feeder spout to get to their meal.
Simply make sure that the feeder is secured at the appropriate height so all hens can get to the grain, mash, or crumble feed.
I like that this feeder is so easy to fill and clean and requires no assembly.
With its many beneficial features and economical price, it makes for our best value feeder.
Editor's Choice
A ready made high capacity feeder made out of steel. Just place it on your chicken coop and fill it with feed.
Whether you need a feeder inside or outside the chicken coop, your flock should get feeders that are durable and protect against waste.
I've found that the Little Giant Steel Poultry Feeder offers the convenience of easy maintenance, sturdiness and helps manage just how much I feed my hens. This means savings on purchasing feed in the long run!
Design
These feeders come with a grid across the bottom platform to reduce feed from spreading around the run.
This is a great way to protect against pests migrating into the yard and making your home their home!
Hens will get used to the feeders automatic operation in no time. When they need to eat, they will know that their feeder will automatically dispense their grain, pellet, or crumble.
Function
Most people get this product for older hens when they need to stop their hens from scratching grain or crumble out of the tray.
This automatic feeder arrives fully assembled, so all you need to do is fill with the appropriate feed, and your flock can eat to their heart's content.
The Best Automatic Chicken Feeders for 2023
An important part of chicken coop maintenance is choosing the right feeder. A chicken feeder can reduce waste and allow you to manage the amount of feed you provide your backyard flock.
It is also an effective way to control wild birds and rodents from having a feast!
We've reviewed the top 5 automatic chicken feeders to help you choose the ideal feeder for your chickens.
Top Pick
A hassle-free, low maintenance chicken feeder that is robust in design.
If you're looking for a hassle-free, low maintenance chicken feeder that is robust in design, then Pawhut's auto chicken feeder is a suitable choice.
This automatic feeder works with a treadle design.
Each time one or more hens climb onto the platform, the cover will lift and they will easily get to the feed.
Build
These feeders are built of galvanized metal steel to withstand outdoor weather conditions making it weather proof. It lasts longer than plastic feeders and can be placed inside or outside coops.
When buying these styles of feeders, you need to know that steel and aluminium will last for many years. It also keeps grains and pellets fresher for longer.
The chicken feeder is designed for more than one bird to eat. It also works with gravity to dispense pellets or grain.
Function
These feeders are a good choice for hens because they have constant access to fresh feed. Unlike open feeders, the steel design includes a lid, side panels, and a lock.
This will prevent vermin and even raccoons from getting to the feed, which means a pest free environment.
Chickens will easily learn how to reach their food.
When the first hens get to the chicken feeder, their weight on the platform keeps the lid open while they eat.
Placement
It is best positioned on a flat surface, allowing poultry to reach the treadle at the front.
Only one bird needs to stand on the feeder treadle for the lid to open and access their feed. When they move off the platform, the cover will close.
Pawhut's Feeders are designed with a large capacity and can hold 20 lbs of feed. Its secure metal design keeps food protected against wandering rodents.
Specs
Feeder Material: Metal
Feeder Type: Semi-automatic feeder
Indoor/Outdoor: Both
Pros
It can prevent small pests from accessing the feed
Chickens easily use the treadle to reach food
Reduces waste with anti-scratch bar and side panels
Cons
It has a cumbersome design
You may have to show chickens how to use the feeder treadle
A chicken feeder designed to keep grain, pellets, or crumble from suffering moisture damage and mold contamination.
The Royal Rooster waterproof automatic feeder will easily keep grain, pellets, or crumble from suffering moisture damage and mold contamination.
Design
The uniquely designed outdoor feeder and waterer are two gravity-based products that several hens can feed or drink from.
This tubular feeder is easily attached and secured to a mesh fence or wall.
When looking for feeders, automatic features are the best.
An automatic feeder prevents the manual top-up of feed through the course of the day. Should the flock need grain or pellets in winter, an automatic feeder reduces frequent trips to the run.
Function
This contemporary chicken feeder can store grain and other feeds for up to 6 adult chickens but is not suited to chicks or bantam fowl because they may not reach the spout.
What is great about this elongated feeder is the added rain cover to keep wild birds, squirrels, and even rats from reaching the feed.
Royal Rooster incorporates UV durable plastic to ensure your outdoor feeder lasts against the toughest conditions for many years.
Assembly and Maintenance
This automatic feeder is easy to clean and is simple to install.
Owing to its slim design, you can control the amount of feed your chickens eat.
It also helps to reduce waste with a small opening for access to feed above ground.
NOTE

Make sure you position the chicken feeder at an appropriate height so the flock can get to the food.
Specs
Feeder Material: PVC Plastic
Feeder Type: Automatic
Indoor/Outdoor: Outdoor
Pros
Slim feeder design reduces waste and keeps pests away
Easy to clean
The chicken feeder comes with brackets to install
UV resistant feeders
Hooded feeder to protect against moisture
Cons
The feeder is suited to large hens
Very small feeder access area
This feeder cannot be used with large-sized pellets or crumbles
Editor's Choice
A durable and high capacity feeder built out of steel. It's ready made so just place it and fill it with feed after purchase.
Little Giant introduces its steel poultry feeder for backyard fowls.
This high capacity feeder requires no assembly, so you can place it anywhere around the chicken coop, fill it with feed, and allow your flock to eat at will!
Build
While not the most attractive looking chicken feeder, one thing that Little Giant does offer is durability.
Most people prefer a metal design because it will withstand the elements when placed outdoors.
A good feature of this range of auto chicken feeders is the open flow chute. You can put pellets, mash, or crumbles without the feeder becoming blocked.
Design
Feeding is made easier with a feed saving grid. The grid eliminates the hassle of overfilling and is a valuable feature in feeders. It also stops hens from scratching their grain, crumbles, or pellets out of the container and creating a big mess!
Along with its feed saving design, reducing the amount of waste in and around the chicken pen will prevent several types of pests from feasting on the leftovers or reaching your hens' eggs!
Placement
You can choose whether you wish to place these feeders on the ground or secure it against a wall.
Make sure the feeder is correctly secured.
Either way, it will help to prevent those unwanted pests from sharing feed with your poultry.
Specs
Feeder Material: Steel
Feeder Type: Gravity feeder
Indoor/Outdoor: Both
Pros
Comes assembled
Can help to reduce waste
Solid design lasts for several years
Stocks enough food for several days
Keeps feed dry
Cons
Feeders cannot work with larger pellets
Chickens will roost on the flat roof
Best Value
A bucket shaped feeder that prevents chickens from roosting and making a mess.
The RentACoop gravity feeder is a fun addition to the daily feeding regime.
Design
It comes with a cone rooftop to keep the flock from roosting, so you won't have to deal with a messy feeder!
Fowls need to place their heads inside the feeder to reach their grains or pellets, controlling waste.
Without waste around the roost, you can stop pesky mice and birdlife from stealing food.
Placement
You need to keep the feeder off the ground, simple as it can be placed anywhere around the yard because of its tough design. There is no need to assemble this feeder! It comes ready to use, so all you need to do is to fill it with food and allow your chooks to keep coming back for more.
Capacity
The RentACoop feeder can hold 20 lbs of feed, so depending on how rapidly your flock eats, their food should last for a few days.
This chicken feeder is the appropriate size for medium to larger hens.
It cannot be used with hatchlings or chicks because they simply won't reach the feed or may fall into the feed container by entering the large feeder openings. But the good thing is that roosters with large combs can access the feed easily.
Rain or shine, the RentACoop chicken feeder keeps feed dry owing to its waterproof top.
Specs
Feeder Material: BPA and food grade plastic
Feeder Type: Automatic
Indoor/Outdoor: Both
Pros
Feeder will reduce waste and mess around the chicken coop
More than one bird can get to feed
Gravity feeder
Cons
Not suitable for chicks younger than 12 weeks
May be difficult to dispense larger feed such as pellets
What is an Automatic Chicken Feeder?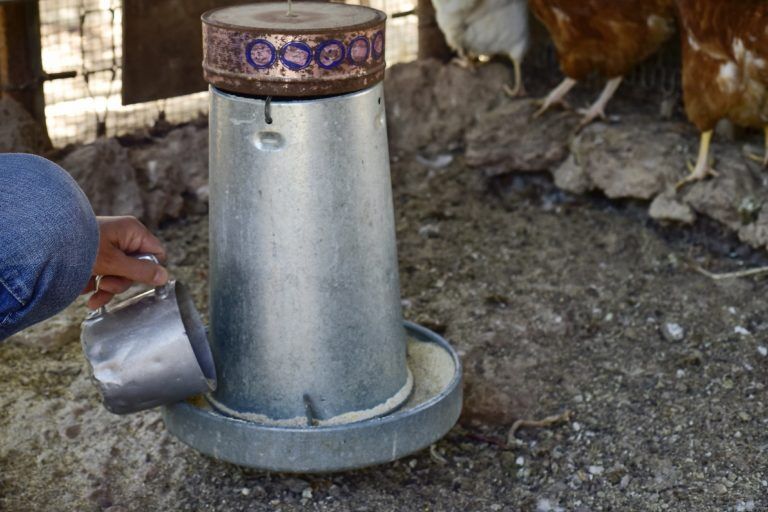 Automatic poultry feeders reduce the need to replace chicken food every day, reducing your daily chore.
It will automatically dispense feed into a tray, grid, or spout, allowing every bird to use the feeder as they please.
This means that your hens get the daily nutrients they need.
There are different types of automatic chicken feeders on the market.
Many people look for the best value, while others are interested in a pest-proof feeder that is sturdy in design.
Automatic Feeder
Automatic feeders can work with gravity or a treadle
The feeder's automatic treadle is activated when chickens step on it and hens easily get to their treats.
Bucket Type
A bucket type feeder will utilize gravity to dispense feed.
To keep pests away, most people will hang a bucket(hanging feeder) rather than place it at ground level.
NOTE

When it comes to automatic chicken feeders for your flock, one thing is for sure—you won't have to struggle through the cold of winter or intense summer heat to provide chickens with daily feed.
Purpose
A chicken feeder is designed to feed poultry for ten days or several days, depending on your flock's size. Before you buy a chicken feeder, we take a closer look at different feeders' automatic features and what you need to know before buying a product.
How to Choose the Best Automatic Feeder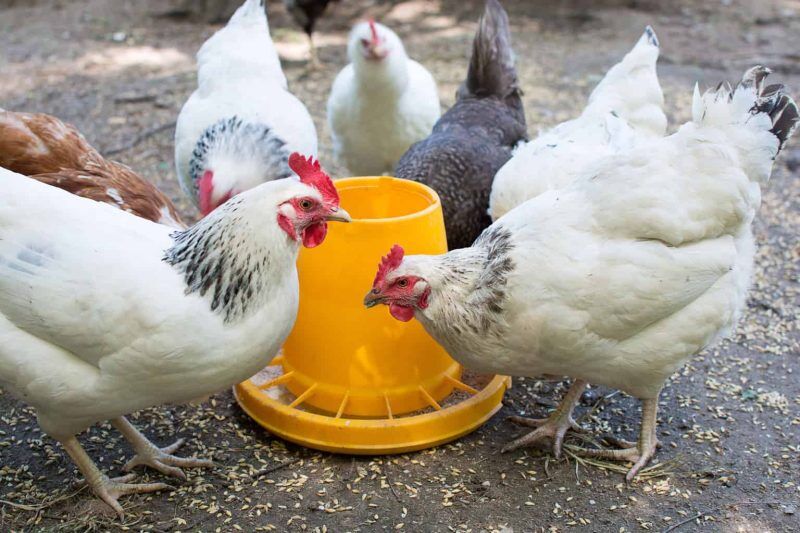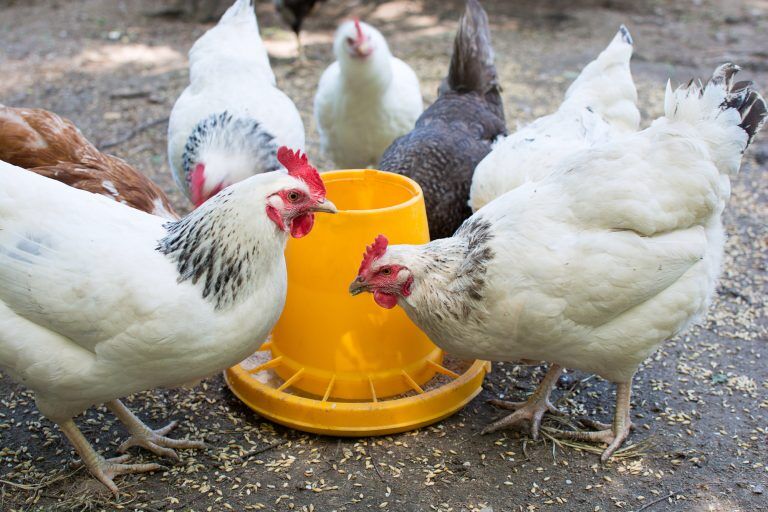 To buy the right automatic feeder, you need to first consider your flock size. The size of the backyard flock will determine the size of the feeder.
An adult chicken can eat an average of 25% of feed per pound of body weight daily.
You can buy the right feeder by calculating how many chickens eat on a daily or weekly basis. If you're a chicken keeper with large flocks, then choose a feeder with a large capacity.
Determine the purpose of a chicken feeder.
Do you need the feeder to control wastage or protect against pests?
An auto chicken feeder comes in different designs and capacities.
The feeder you get will depend on what your flock needs.
An automatic feeder with a lid and the option to raise it off the ground can keep critters at bay.
Scratching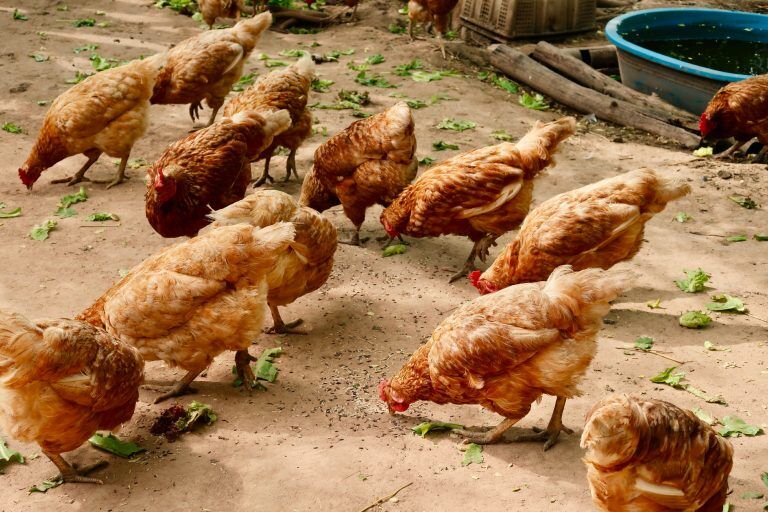 Chickens enjoy scratching at their feed and can create a real mess when left to their own devices!
This means that grain or pellets are spread around the run, which attracts mice, squirrels, and more.
Get feeders that address a need, provide value, and will last a fair amount of time.
Consider Before Buying
Several factors should be considered before buying an automatic feeder. These include:
The Price
Feeder Quality
Feeder Design and Material
Durability
Age of Chickens
First, take some time to look at the needs of your chickens before buying an auto chicken feeder.
When you know what to look for, it means making an informed decision.
The Benefits of Automatic Chicken Feeders
When you buy an automatic feeder, you can manage the portion of daily feed and decrease wastage, which helps keep maintain your chicken's diet by ensuring they receive the proper amount of food each day without overeating.
Chicken feeders such as the Pawhut's automatic feeders have a special grid and platform to stop chickens from reaching their feed and scratching it out.
I know how frustrating it is when you approach the run only to find bowls overturned and feed spread everywhere!
Choose the Ideal Feeder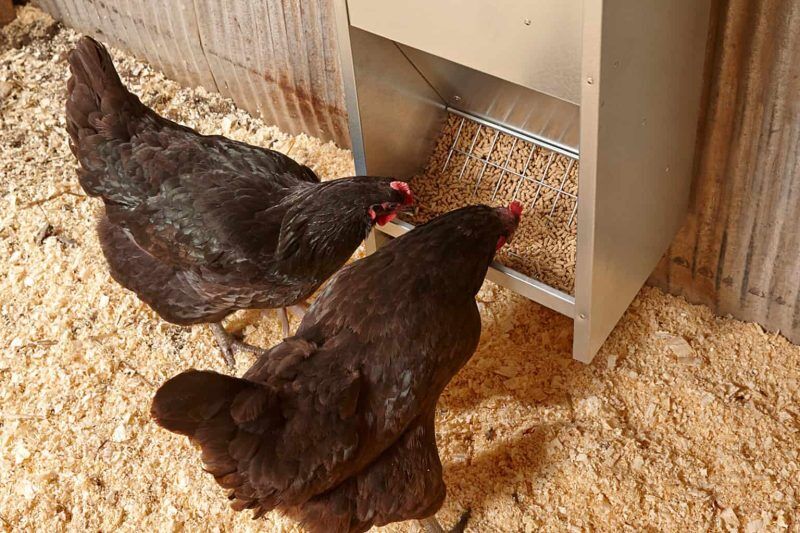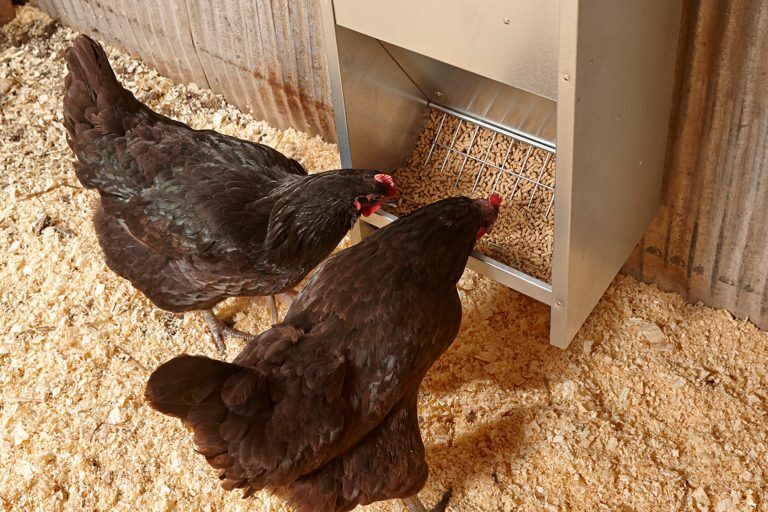 The surefire way to prevent the mess is to buy the right feeder.
Just make sure you aren't out-smarted by your hens and ensure they cannot get their feed out of the dispenser.
One of the biggest problems of keeping chicken feed is pest control.
Pest
Hens will naturally scratch at their feed to sort through their favorite bits.
They spread the feed around and provide pests with easy access to a quick meal.
TIP

An automatic feeder that is wall-mounted hung or works with a treadle is most effective in preventing the spread of feed and attracting pests around the run.
What Should I Expect from an Automatic Chicken Feeder?
If you are going on a vacation, you can buy a feeder to give the flock access to feed for several days while you are away.
Before buying feeders, first check that it properly dispenses the grains.
Some chicken feeders will not work with larger pellets or crumble.
Here is an auto chicken feeder in action
Function
An automatic feeder should keep chicken feed fresh and protect against moisture.
Royal Rooster feeder with rain cover is a compatible choice for outdoor coops and runs.
It keeps the feed dry and automatically dispenses it when the spout is triggered.
Advantages
Convenience, money-saving, and scheduled feeding are among the benefits of buying the best feeders.
To help you buy the right automatic feeder, we explore the different types of chicken feeders.
Different Types of Automatic Chicken Feeders
Treadle Feeder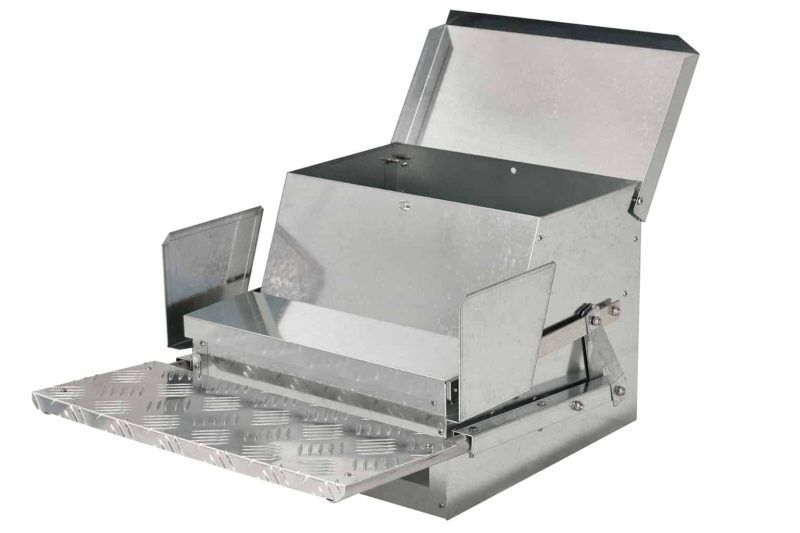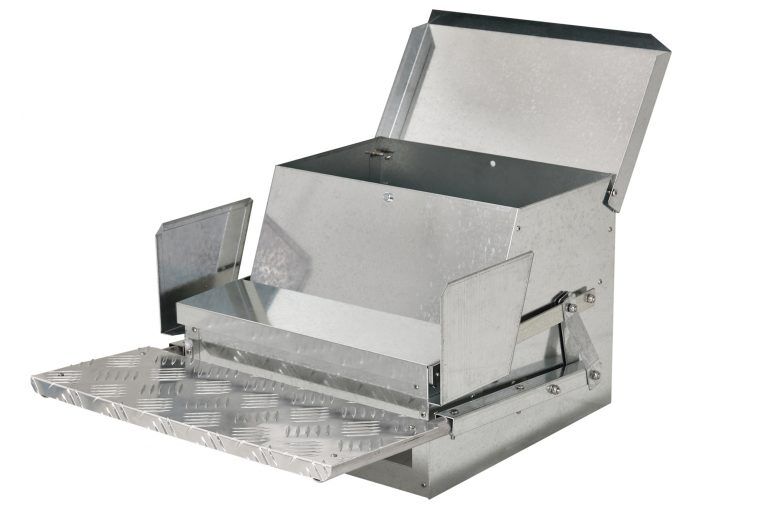 A treadle feeder works with a platform that a bird must step on to raise the feeder cover.
The mechanism only closes once the hen is off the treadle.
The treadle keeps grain, mash, pellets from being exposed to the elements and those pesky pests.
A metal treadle that works with gravity also makes giving feed easier.
Bucket Feeders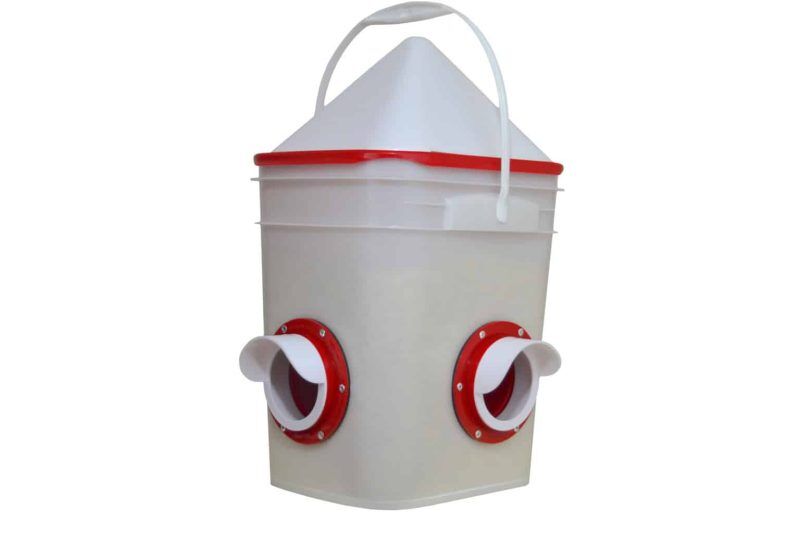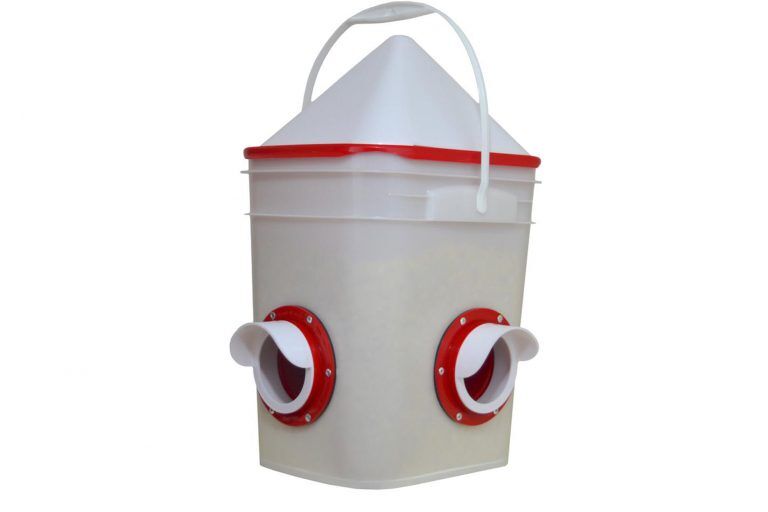 Bucket feeders work with gravity.
It is a basic design that you can make yourself.
First you need to attach the chicken feeder spout to the bottom of the bucket.
This allows grains or crumble to easily dispense. Hang the bucket at the appropriate height, and let your flock have fun accessing their new chicken feeder.
Semi-Automatic Chicken Feeders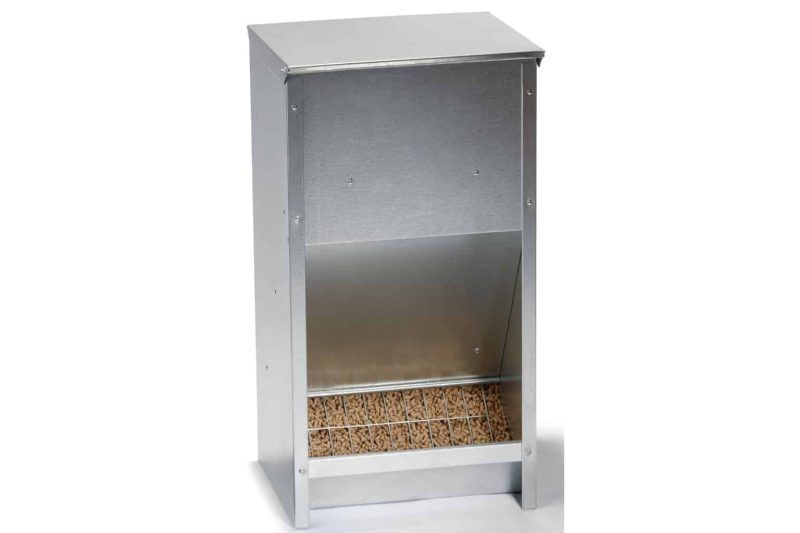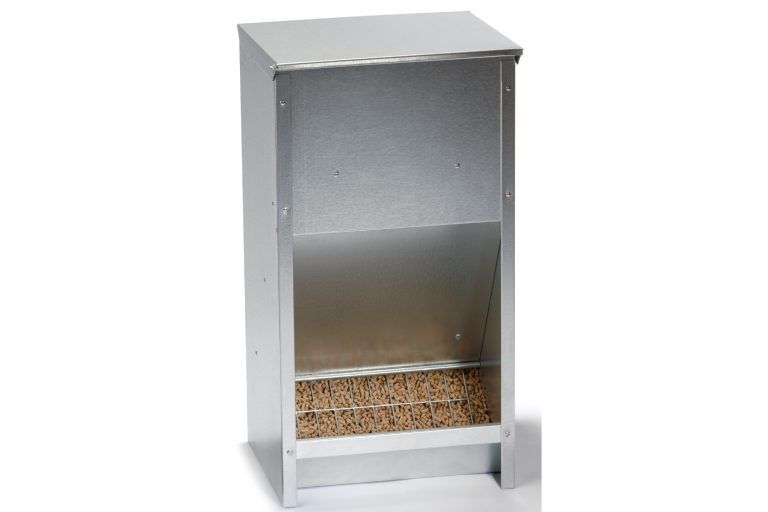 Little Giant Steel Poultry Feeder is an example of a semi-automatic feeder.
This feeder uses gravity to dispense grain or pellets into a feeding tray.
While you can mount an automatic feeder against a wall or fence, it does not guarantee that it will be rodent proof.
Conclusion
If you are concerned on how to save money or you have struggled to find the best chicken feeder, take the time to compare automatic chicken feeders.
As a chicken keeper, I know that my hens love their feed but tend to mess it around the run.
Over time, my feeder wasted more grain than my hens were eating, and rodents became a problem.
This was when I decided to invest in the best automatic feeders to prevent an infestation.
Top Pick
The best chicken feeder is robust, automatic, and makes it easy for hens to get to their feed. A treadle chicken feeder, such as Pawhut's automatic feeders, works with gravity and keeps the contents covered until the chicken steps onto the platform.
This makes Pawhut one of our best picks.
Best Value
If you want to know how to spend less money, the RentACoop automatic chicken feed dispenser might be up your alley.
Editor's Choice
Otherwise, if you want my favorite chicken feeder, look out for the Little Giant.
Things to Remember
If you have a rodent problem, a covered chicken feeder keeps grains, crumble, or pellets in the feeder.
It stops hens from scratching product around, which means the inside of the hen house stays clean and pest free.
It also makes feeding a breeze! A feeder with automatic operation provides hens what they need for optimal laying.
They can access the formula and continue to lay eggs without the disruption of pests around the run.
Happy Feeding
I hope that our guide on automatic chicken feeders helps simplify your decision!
When you get reliable, valuable, and lasting automatic feeders for your flock, it saves time and means much-needed convenience. It also makes going away for vacation for a few days much less stressful.