Constantly checking if your chickens have enough water or finding their poultry drinker full of dirt can be frustrating even at the best of times! Chickens need access to fresh water but filling their drinkers on the hour is just not practical nor realistic.
A simple way to provide clean water is with an automated poultry waterer! If you're interested in an easy to fill drinker for your flock, we'll help you find the right automatic chicken waterer for your birds.
Our Picks for the Best Automatic Chicken Waterers of 2020
Here's a quick look at the top 3 best automatic chicken waterers from our list…
Top Pick
Made from food-grade and bpa free plastic. Designed to allow 4 chickens to drink simultaneously without wastage.
When I choose a drinker for my chickens, I want it to be easy to maintain, fair quality, and, most importantly, a good water access provider when my birds need it.
This 5 gallon RentACoop Chicken Waterer is the top pick in our waterers' winning category because it meets our quality checklist.
It's food-grade, and BPA free plastic is a safer choice for your pet chickens.
Along with a durable design, its horizontal nipples provide clean water with minimal waste.
This food grade and BPA-free automatic chicken waterer is easy to fill and to keep clean.
Best Value
A convenient waterer that provides access to clean water, is easy to clean, reasonably priced, and built to last.
For a cost-effective and automatic waterer for chickens, the drinker by Harris Farms tops our list.
Its simple bucket style with a carrying handle makes for ease of transport, whether full of water or empty.
The drinker also consists of BPA free plastic and a durable design so you can place the waterer inside or outside of the chicken coop.
The Harris Farms Poultry Drinker earns the title of best value because it is built to last, made from bpa free plastic, provides access to water, is easy to clean, and is reasonably priced.
Editor's Choice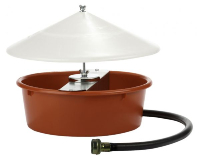 It's easy to fill and has an automatic design that makes short work of providing a constant water supply.
Every chicken needs access to a fresh water supply, and the easiest way to provide this is with the Little Giant Automatic Poultry Waterer.
The automatic waterer for chickens attaches to a standard garden hose.
When water levels drop, it automatically refills the drinker.
Prevents Contamination
The Little Giant product includes a cone-shaped lid to prevent water contamination by dirt or roosting chickens along with auto-refills.
It is simple to maintain and large enough for backyard chicken flock, which is why it gets the award of editor's choice!
NOTE

Remember that even the best chicken watering system requires regular cleaning to prevent algae formation.
Our Top 8 Auto Water Feeders of 2020
Let's take a look at the best chicken waterers in this review.
An easy fill poultry water drinker, that is a breeze to keep clean. Helping ensure that water is always available to your flock.
The animal drinker is an auto chicken watering system for chickens. It is designed as an easy fill drinker, ensuring that water is always available.
The chicken waterer can hold up to 4 gallons of water.
Build
This waterer comes with a wall bracket making it easy to mount on a fence or against a wall. Speaking of fence, if you're looking for the best chicken fencing for your flock, click here.
For chickens to access the water, the drinker should be placed at a low level.
Do not use this product with bantam fowl or young chicks as they could fall into the bucket and drown.
Usage
To keep the waterer filled, simply use its standard ¾ inch hose connection.
The connector is made of plastic, which can wear or damage easily.
TIP

Make sure that you are careful when attaching the hose. Alternatively, you can replace the plastic part with a high quality metal adapter. This will last against the elements and reduce the possibility of leaks.
Float Control
A bonus feature is the float control mechanism, which is activated when water levels drop. The connected hose will fill the drinker with water, and all chooks will have plenty to drink throughout the day.
This range of auto waterers does not include an electric heater, so look out for iced-over buckets in winter.
As an easy fill poultry water drinker, it is a breeze to keep clean!
Specs
BPA Free Plastic: No
Waterer Type: Automatic
UV Resistant: Yes
Pros
Easy to setup
Attractive and robust design
Holds 4 gallons of water
Cons
Too large for small chickens
Easy to use, set up, and refill. It's also safe to use for chicks
When you need a small waterer that is safe to use with chicks, the Premier 1 Supplies chick waterer is easy to use, set up, and refill.
Placement
The nipple drinkers can be elevated above the ground to reduce mess and wastage. It comes with metal brackets that can be secured to the side of a cage.
With this chicken waterer, 2 chicks can drink simultaneously by using the double nipple containers.
Usage
The drinkers are strong enough to be placed directly on the heating plate.
This will keep chicks and their water warm during the winter.
Each nipple protrudes from the container at 1.5 inches.
This makes it easy for chicks to reach.
TIP

You can also attach adapter cups if chicks struggle to use the nipples. It can also be removed for cleaning without any hassle.
Specs
BPA Free Plastic: No
Waterer Type: Semi-Automatic
UV Resistant: No
Pros
Easy reach for chicks
Safe for chicks
Minimizes wastage
Comes with brackets
Cons
May require an adapter for chicks to drink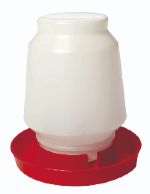 An easy to use drinker for all breeds of chickens. Made from durable materials to withstand heat and cold.
The Plastic Poultry Fount is an easy to use drinker for all chicken breeds.
Its transparent plastic top allows you to check the water level from afar.
The chicken drinker base is manufactured from heavy duty polystyrene that protects against damage when exposed to heat or cold.
Design
Many automatic chicken waterers have hose attachments to keep the water levels at a constant.
This chicken waterer includes a simple design without hose attachments.
It consists of a removable cap and screw on the base. Simply fill the top with water and allow gravity to keep the bottom rim filled.
Make sure you screw the bottom rim on securely to prevent water leaks.
Maintenance
As an easy to clean poultry waterer, you simply have to remove the container to give it a good wash and rinse.
If dirt, sand, or food get into the base, turn the chicken waterer upside down to remove the debris and refill once in the correct position.
Size
Owing to its smaller size, it is ideal for young chicks.
It does not require any attachments or special fittings and is easily placed in an accessible part of the chicken coop.
Poultry will have a constant supply of clean water.
Specs
BPA Free Plastic: No
Waterer Type: Gravity control
UV Resistant: Heat and crack resistant base
Pros
Easy fill container with removable cap
Transparent to check the water level
Minimal waste
Does not overflow
Cons
Too small for large-billed poultry
It cannot be used for chicks
Top Pick
Made from food-grade and bpa approved plastic. Allows 4 chickens to drink simultaneously without wastage .
Provide your chickens enough water with the 5 gallon RentACoop chicken water nipple cup.
BPA Free Plastic
Its large 5 gallon bucket size makes it easier to store water while its heavy duty design prevents damage.
This waterer kit is made from food grade and BPA free plastic.
Plastics that do not contain BPA (bisphenol A) are a safer choice because it prevents the release of chemicals into food and water.
Feature
An exciting feature of this product is the automatic chicken water nipple.
The automatic chicken water nipple allows poultry to drink freely without wastage.
The nipples are located on the 5 gallon kit's horizontal side, so 4 hens can easily drink water simultaneously.
It provides automatic watering for chickens and has a cone-shaped lid to prevent chickens from roosting, which keeps your chicken waterer 2 times cleaner than a standard bowl or bucket.
TIP

Make sure the nipple drinker is located at the correct height, so all birds have access to water.
Specs
BPA Free Plastic: Yes
Waterer Type: Works with gravity
UV Resistant: Yes
Pros
Food grade manufacture
5 gallon size lasts 4 hens up to 10 days
Cone top prevents chickens from roosting
Cons
Difficult to clean
Large size must be secured above ground level
Editor's Pick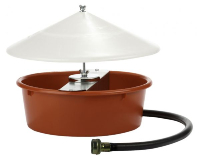 It's easy to fill and has an automatic design that makes short work of providing a constant water supply.
It is certainly worth mentioning in our best chicken waterers reviews that this drinker consists of a bowl with a hose attachment for automatic refilling when water levels dip.
Build
While many automatic waterers require separate attachments and accessories to work, the automatic poultry waterer will connect to any standard 0.75-inch hose! Set it up quickly and easily with no hassle and no fuss.
The only problem I have is keeping the water clean! This automatic poultry watering system resolves this problem with an anti-roost cone top.
Not only does it keep the water bowl covered to prevent debris, but it also stops chickens from roosting and contaminating their drinking water. Helps ensure that clean water is always available for your chickens.
Usage
An easy to fill and automatic design makes short work of providing a constant water supply. The heavy duty plastic bowl holds 1.25 gallons of water.
Aside from being durable due to the heavy duty plastic material. It's also convenient and straightforward to use, this waterer is suitable for larger fowl.
Smaller chicks and hatchlings can benefit from alternatives such as poultry water nipples and drinker cups as they may fall into a large bowl of water.
TIP

Place the 1.25 gallon chicken waterer kit inside or outside the chicken coop; however, you need to consider frost in cold winter regions.
Specs
BPA Free Plastic
Waterer Type: Bowl with hose attachment
UV Resistant: Yes
Pros
Water is always available with automatic fill
Easy to clean bowl
Automatically maintains water level
Cons
Bowl topples over when chickens sit on the edge
Must be placed on a level surface to avoid overflows and waste
This waterer comes with a sealable design that prevents contamination while providing a constant water supply.
The OverEZ Automatic Chicken Waterer is a semi-automatic system with a large 12 gallon water capacity.
Design
Considered a convenient chicken waterer, OverEZ allows 3 chickens to drink simultaneously and comes with a sealable design, so your chickens never contaminate their drinking water with dirt or waste.
The semi-automatic waterer utilizes gravity and a nipple system across the horizontal side.
Size
This water tank is 22 ¾ inches in length, which can take up a significant amount of space; however, it is developed for a larger number of chickens and the convenience of less frequent cleaning.
What is great about the horizontal nipples is their ease of access.
Build
This water tank is durable and constructed from food grade and BPA free recycled plastic. It is also UV resistant to prevent degradation when placed outdoors.
Along with UV resistance, its unique heating feature can prevent the water from freezing in winter!
It provides access to a power cord through a port, which allows you to incorporate de-icers and heating pumps (sold separately).
NOTE

If simple maintenance is what you need for your backyard chickens or moderately sized flock, then the OverEZ waterer is placed on the ground for cleanings and refilling.
Specs
BPA Free Plastic: Yes
Waterer Type: Semi-auto nipple drinker
UV Resistant: Yes
Pros
Large nipple drinker
Easy access lid and port for refilling and heating accessories
Quick cleaning
UV grade and BPA free
Cons
Must be raised to provide chickens ease of access
If you are looking to make your own waterer, this helps provide a quality, durable, and easy to install solution.
If you are looking to make your own waterer, the MEWTOGO chicken drinker helps provide a quality, durable, and easy to install solution.
This one is great for chicken keepers!
Usage
You can use a durable plastic bucket with a lid to keep dirt and contaminants out for the best results.
Alternatives for your DIY chicken waterer include barrels or waterproof containers with the thickness of PVC pipe.
Design
The nipples waterer consists of strong ABS plastic with a stainless steel tip.
It threads easily into a thin plastic, whether it's a 5 gallon bucket or a container holding 25 gallons of water! Each nipple is 1.33 inches in width with an 8mm thread.
DIY
You can easily create a DIY water supply for chickens with some creativity.
A container or drum with a thickness similar to a PVC pipe is required for the nipples waterer to be effective.
Specs
BPA Free Plastic: No
Waterer Type: Nipple waterer
UV Resistant: Yes
Pros
Thread makes it easy to install
Durable plastic
No leak feature (no seal required)
Affordable drinker solution
Cons
Must be adequately secured to prevent leaking
Tend to pop out
Best Value
A convenient waterer that provides access to clean water, is easy to clean, reasonably priced, and built to last.
Harris Farms offers the classic waterer for your flock.
I've used a similar drinker style, which worked best for very young chicks; however, the brand has upsized the traditional drinker, so water is always available for all sized chickens.
The 3.5 gallon drinker is suited to a group of 56 backyard chickens or game birds.
A convenient feature is its simple assembly with a carry handle and a removable cap.
Design
You can put this waterer together quickly and move it around as needed.
To make water readily available, the product is designed with a float in the base to bring water to the rim.
It is not recommended to use the poultry waterer with hatchlings or young chicks.
It is also easy to clean with a removable cap.
With an easy fill waterer, you can provide chickens with fresh water daily.
Build
Its durability makes it suited for both indoor and outdoor use.
For icy areas where frost is a concern, you can use the compatible Harris Farms heated drinker base. Every chicken will love their new heated chicken waterer!
Specs
BPA Free Plastic: Yes
Waterer Type: Bucket
UV Resistant: Yes
Pros
Easy to assemble
Durable for indoor and outdoor use
Carry handle for simple transport
Cons
Floater requires regular maintenance
What You Should Know When Buying Automatic Chicken Waterers
Having a waterer is helpful when raising chickens but which one is ideal for your flock? Choosing a chicken waterer depends on your flock's size, the average maintenance required, and the drinker's durability.
The best features keep the water clean while making it accessible to fowl.
Let's look at the factors to consider when choosing the best automatic chicken waterer.
The Size of the Waterer
Small chicks do best with a nipple drinker, while large-sized flocks need large buckets of water throughout the day.
Choose your waterer according to the following features:
The size/dimensions of the product.
The size and age of your flock (hatchlings vs. hens)
The available space for the drinker
Will it be placed indoors or outdoors?
You can find automatic chicken waterers from a 5 gallon product up to 25 gallons. Chickens need 1-2 pints of water per day, so you'll need one waterer for every 6 to 8 chickens depending on the size of the waterer.
Along with the dimensions, determine how you will secure the drinker.
You can use a wall bracket for smaller containers to prevent them from tipping.
Larger nipple drinkers must be elevated to help birds reach the water source.
TIP

If you do not plan on moving the waterer, galvanized steel to secure the product can be used outdoors because it will not rust.
The Waterer Style
To provide poultry with the best drinker, you need to choose the right design.
The RentACoop nipple drinker is ideal for smaller birds, while the Harris Poultry Water Drinker with the broad rim is suited to larger fowl.
The design will also influence the level of maintenance involved and whether it is easy to fill.
A five gallon waterer can provide 4 hens with water for up to 10 days.
NOTE

Knowing how frequently birds drink assists in choosing the right size for their needs.
Prevent Contamination
Along with its water capacity, consider protection against dirt.
A chicken loves to roost and won't think twice about defecating in the feed or water.
Anti roost cone tops that prevent chickens from roosting are ideal to prevent contaminated water by droppings or dirt.
The Best Types of Automatic Chicken Waterers
What is an Automatic Chicken Waterer?
Automatic chicken waterers work just like an automatic chicken feeder, but instead of feed, they provide a constant and fresh supply of water to poultry.
Auto drinkers can include a hose attachment—these work by detecting a drop in water level and refilling without turning the faucet on.
You will also find drinkers that are gravity fed, known as semi-automatic chicken waterers.
The Difference Between a Semi-Automatic and an Automatic Chicken Waterer
What are the differences between these types of chicken waterers? Which one is ideal when raising chickens?
The best automatic chicken waterers require little attention once connected.
It will refill on its own when the water level drops using a low-pressure system, so you never have to fuss with topping up containers or buckets.
A semi-automatic waterer does not use a hose or pressure system but instead utilizes gravity.
These are usually elevated with attached nipple drinkers for different sized birds.
Apart from automatic waterers, watering cups are also a popular choice for backyard chicken coops.
What are Automatic Chicken Watering Cups?
Automatic chicken watering cups are designed to make it easier to water chickens.
Modern design at a higher price consists of a low-pressure valve that releases water as they drink.
These cups are easily attached to a surface or fence using galvanized steel brackets.
A significant benefit of using an automatic chicken water cup is that it does not require an electrical connection. It can be attached to a hose or a gravity fed drinker.
The Difference Between Nipple Drinkers and Automatic Watering Cups
Nipples or cups? Which one should you choose?
Nipple Drinker
A nipple drinker consists of a small attachment that releases droplets of water.
A problem with the nipple design is its tendency to drip onto bedding and soil, creating dampness.
Here is a nipple drinker waterer in action…
Automatic Watering Cup
An auto watering cup is a small container.
It minimizes waste by preventing drips (as with the nipple drinker).
It is a closed system that reduces backflow and is easily attached to a hose or semi-auto drinker.
The RentACoop Automatic Chicken Water cup offers a complete kit for chicken keepers.
The Benefits of Automatic Chicken Watering Cups
The automatic watering cup is a simple drinker. It offers the following list of benefits:
Prevents Spillage
Water is poured into the container and carefully controlled by a low-pressure release valve. A chicken must place its beak onto the release for water to enter the cup.
It prevents unnecessary spills.
Easy to Install
You can connect the cup to a container, tubing, PVC pipe, or drinker of your choosing.
Durable
Made from rigid plastic, the chicken waterer cups are designed to last. It can be used both indoors and outdoors.
Choosing a Chicken Waterer for the Winter
A heated chicken waterer will prevent water from freezing in the cold of winter.
If you need a heated chicken waterer, products including the poultry drinker from Harris Farms offer a compatible heated base (sold separately to the drinker).
Not all waterers include heater accessories to keep water from freezing, and in some, a DIY solution may be necessary. For frost-prone regions, determine which products include options for heaters.
What are the Advantages of Automatic Poultry Drinkers?
Using a chicken waterer prevents contamination.
I remember being horrified the first time I used a bowl to give my hens water! Sand, droppings, you name it!
Poultry water drinkers make it easier to keep those pollutants at bay.
Chickens tend to tip their bowls over.
A weighted, wall-mounted, or hanging drinker prevent chooks from spilling their water.
TIP

Keep your chicken accessories in fair condition with no-roost and covered drinkers. Chickens cannot scratch at waterers, so provided they behave, your drinkers can last for many years!
How Much Water Does My Chicken Drink During the Day?
A chicken can drink ¼ gallon of water per day during the summer.
This is less in winter and around an ⅛ of a gallon. Choosing the right waterer prevents your flock from running out of water.
The Best Chicken Waterer for Your Flock
So, after reviewing the top picks for automatic chicken waterers and taking a closer look at the range of products available, I hope you are a few steps closer to choosing a compatible drinker for your flock.
Let's recap our top picks for the best chicken automatic waterer…
Top Pick
Coming in at the top of our list of the best automatic chicken waterers is the RentACoop automatic waterer with a horizontal nipple system. The nipple design is excellent for young chicks and birds of all sizes.
Best Value
If you are looking for value, then Harris Farms delivers with an affordable, durable, and BPA free drinker.
Editor's Pick
Last but not least, my pick is the Little Giant Automatic Waterer.
This product attaches to a regular hose.
It works with a pressure system, so you won't have to worry about your chickens running out of water.
Pick a Setup That Works For You
Automatic chicken waterers are a must have for chicken keepers. Choosing an automatic chicken waterer will depend on your budget, the size of your flock, and the amount of maintenance that will go into keeping the drinker clean and full.
You will also need to consider the water capacity and where it can be freely accessible for all poultry.
Have fun choosing your new chicken waterer!
Thanks for reading!
If you find this best chicken waterers article useful, please share it with your friends. And take a look at the other posts on the site as well, such as this guide on chicken feeders or this Best Chicken Waterer review if you need more options.