Whether good layers for eggs or cold hardy birds for harsh winters, there are many different breeds to choose from when you're interested in keeping chickens.
You can find friendly chicken breeds that make good pets, birds that lay plenty of eggs, or chickens that like to forage and are perfect for homesteading.
Having raised backyard chickens of many breeds, from Brahmas to Leghorns, over the last 10 years, I discuss the top 25 breeds of chicken, including dual-purpose breeds, the best egg layers, friendly birds, and characteristics that you might be looking for in your next flock.
How Many Chicken Breeds are There?
There are hundreds of chicken breeds across the world; however, the American Poultry Association (APA) only recognizes 65 breeds consisting of both large and bantam fowl. The reason is that only heritage breeds that have passed the APA's certification program are accepted.
What are the 4 Classes of Chicken Breeds?
The breed of chicken refers to the specific group of poultry that shares ancestry, are similar in appearance, temperament, eggshell color, and will always breed true.
When we talk about different types of chickens, they're generally grouped according to breed utility or purpose such as dual-purpose, egg type, game, and meat-type but according to the APA, chickens are classed according to their origin.
Let's look at the 4 main classes of chicken breeds with examples of fowl from that class:
American – Plymouth Rock, Wyandotte, and Rhode Island Red
English – Orpington, Sussex, and Australorp
Asiatic – Cochin and Langshan
Mediterranean – Leghorn and Blue Andalusian
You'll also find that fowl are classed according to their variety, but this is considered a subdivision of the main breed class and includes features such as comb types, plumage colors, and eggs produced per year.
What are the Most Popular Chicken Breeds?
The most popular chicken breeds are hardy, friendy, and excellent egg layers such as the White Sussex, Leghorns, and Rhode Island Reds.
In the US, some of the best selling breeds include Rhode Islands, Plymouth Rocks, and the Easter Egger. The Easter Egger is particularly popular because of their ability to lay eggs in the colors of the rainbow from blue and green to pink, and brown.
To help you find the right breed of chicken, we explore the top 25 chicken breeds below…
Australorp
The Australorp originated in Australia in 1920 and today they are a popular meat and egg breed across the world. Australorps are docile and prolific egg layers.
Appearance
Australorps are large birds weighing up to 11 lbs. They have gray legs and black plumage but white and blue varieties also exist.
Egg Production
The Australorp lays between 250 and 300 light brown eggs per year.
Meat Production
This breed provides ample meat owing to their large size.
Temperament
This breed is friendly and calm, known to follow you around the yard, especially with their favorite treats on hand.
Araucana
The Araucana is a South American chicken known for producing beautiful blue eggs. It is the parent breed of the Ameraucana and a cold-hardy bird owing to its dense plumage.
Appearance – The Araucana weighs around 4 lbs and is distinguished by fluffy ear tufts but they have no tail (rumpless) and no beard. You can find them in a variety of colors.
Egg Production
Araucanas lay an average of 200 eggs every year with a unique blue color eggshell. They will stop laying in winter.
Meat Production
At 4-5 lbs the Araucana does not make a good meat bird.
Temperament
They are friendly and make excellent pets for children.
Ameraucana
The Ameraucana is an American bird, hence the breed name, and they are related to the Araucana. They tend to be curious yet flighty and should be gradually introduced to new animals and other chickens. They are because of their adaptability.
Appearance
They are medium to large size weighing up to 5 lbs. Ameraucanas have fluffy beards and are available in different colors.
Egg Production
These chickens lay a beautiful light blue egg color and up to 150 eggs per year.
Meat Production
The Ameraucana is not a typical meat bird as it lacks sufficient size.
Temperament
They are intelligent, curious, and friendly but some birds can be shy and flighty.
Ayam Cemani
Known as the world's gothic chickens, the Ayam Cemani is black inside and out. Owing to their black skin, plumage, nails, and organs, they are part of ritualistic and spiritual practices in Indonesia.
Appearance
Ayam Cemanis are medium-sized chickens with black skin, legs, feet, feathers, combs, and wattles. Even their internal organs and their eyes are black!
Egg Production
Hens lay 100 eggs a year with a cream colored eggshell.
Meat Production
The Ayam Cemani is considered a delicacy in parts of Europe and Asia for their dark and tender meat.
Temperament
They are calm and friendly in nature and get along well with people.
Barnevelder
Barnevelders are Dutch chickens from the Netherlands that were crossed with a separate breed from Asia to produce their double laced feather pattern.
Appearance
Barnevelders have black plumage but the hens have a distinct brown double laced feather pattern across the wings and tail. Their legs are yellow or slate in color.
Egg Production
Hens can lay 200 speckled or smooth dark brown eggs a year.
Meat Production
These heavy dual purpose chickens are suitable for meat production.
Temperament
Barnevelders are gentle and friendly chickens making them a good choice for children and beginner chicken keepers.
Barred Plymouth Rock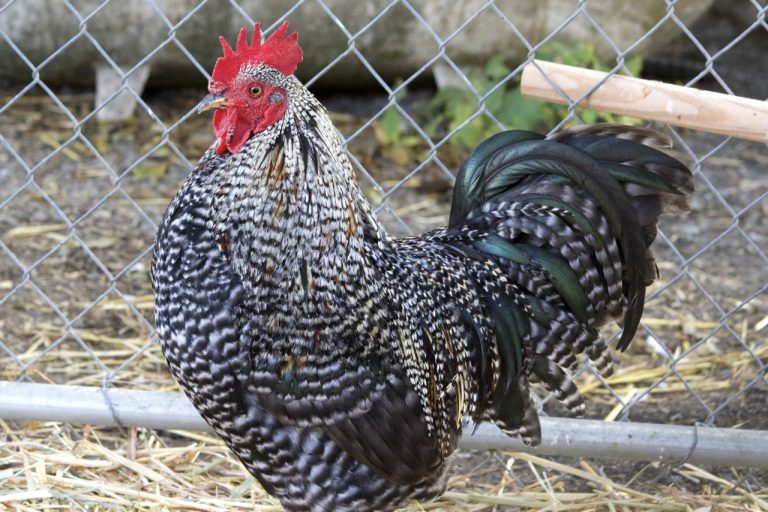 The Barred Plymouth Rock is a large bird weighing up to 10 lbs. They are prized for their unique barred feather pattern that is seen in both hens and roosters.
Appearance
Barred Plymouth Rocks have black feathers with white barring.
Egg Production
Hens can lay 280 large brown color eggs through summer and winter.
Meat Production
They provide ample meat as they are large dual purpose chickens.
Temperament
This breed is friendly and calm, ideal for a mixed flock.
Black Copper Marans
The Marans originated in France in the 1920s and include color varieties white and wheaten with black being the most popular. These chickens are independent and like to forage.
Appearance
The Black Copper Marans hen is all black with copper-tone feathers across the neck and head. The roosters have black feathers with an iridescent green sheen and copper-colored saddle and neck feathers. Black Copper Marans have feathered legs.
Egg Production
They produce up to 210 chocolate brown eggs every year.
Meat Production
Marans are good meat chickens as they were bred to be dual purpose.
Temperament
Friendly, docile, and a low maintenance bird.
Black Star
Black Stars are hybrid birds from crossing the New Hampshire rooster with Barred Rock hens. They are sex linked which means that males and females can be identified by their coloring when they hatch.
Appearance
These birds have yellow legs and black plumage adorned with gold and silver flecks. They are medium-sized, reaching 5-8 lbs.
Egg Production
They are superstar egg layers producing up to 300 eggs a year.
Meat Production
As a dual purpose breed, they can be used for meat or eggs, or both.
Temperament
Quiet and docile, Black Star chickens are a wonderful addition to the backyard flock.
Brahma
The gentle giant of the poultry world, Brahmas are large birds with hens weighing 9 lbs and roosters reaching 11 lbs. They are friendly and known to follow their keepers around especially when treats are on hand.
Appearance
Large birds with dense plumage including heavily feathered legs. You can find Brahmas in different colors.
Egg Production
Brahma hens can lay between 150 and 200 eggs every year.
Meat Production
Despite the size of these birds providing sufficient meat, they take too long to mature to be considered for meat production. Roosters can take up to 3 years to reach full size compared to faster-growing broilers of only 7 weeks.
Temperament
The Brahma is a big bird but very sweet and good with children. They can be kept with other birds of a similar nature.
Buff Orpington
The Orpington is a British chicken breed that was developed in the late nineteenth century. The Buff Orpington is a color variety of the Orpington breed and is well known for their striking gold plumage and fluffy appearance.
Appearance
Densely feathered with a broad and compact body shape, the Buff Orpington is easily identified by the golden feather color.
Egg Production
Orpington chickens can lay around 280 eggs a year with a light brown eggshell color.
Meat Production
Originally bred as meat and egg birds, they took too long to mature for meat production in the late nineteenth century and today are popular as show birds and good egg layers.
Temperament
They are intelligent and enjoy attention from their keepers. They also tend to eat a lot which can lead to rapid weight gain so feed treats in moderation.
Cochin
The Cochin is a large and very friendly chicken perfect for beginners. They are a generally healthy breed and are cold hardy owing to their dense feathers.
Appearance
Cochins can reach 11 lbs and often appear larger than they really are because of their dense plumage. They have feathered legs but their long body feathers cover their legs and feet.
Egg Production
You'll be surprised to discover that Cochins only lay about 180 medium brown eggs. They prefer to lay in winter making them a good choice for those who want eggs during the cold season.
Meat Production
Cochins are not popular as meat birds because of their slow growth rates; however, they do have dark and textured meat that many enjoy. These chickens can be slaughtered by 12 weeks but will be small in size.
Temperament
The Cochin is a wonderful breed that is gentle and tends to get along well with other docile chickens such as Brahmas.
Easter Egger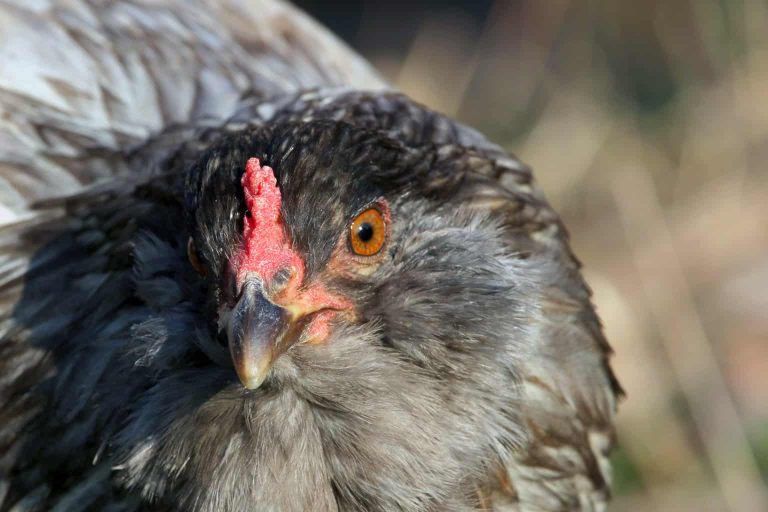 The Easter Egger is a hybrid breed including Ameraucanas and Araucanas and a popular choice for the backyard because they are friendly and hardy.
Appearance
An Easter Egger takes on the appearance of its parents and may have a fluffy beard, fluffy cheeks (tufts), or both. Easter Eggers are small to medium in size and are available in colors from black and copper to brown and mottled.
Egg Production
They lay up to 200 eggs throughout the year including blue, green, pink, and light brown eggshell colors, hence their name.
Meat Production
Due to their small size, they are not ideal as meat birds.
Temperament
Friendly, bold, and calm, they make good pets and lap chickens.
ISA Brown
The ISA Brown is the best medium-sized hen for egg laying. They are cross-bred with chickens such as Rhode Island Red, which have produced a sex-linked feather color. This means that you can tell hens apart from roosters by their feather color as chicks.
Appearance
These chickens have a broad chest and rectangular-shaped body. Both hens and roosters are brown with a few white feathers on the tail.
Egg Production
These hens top the list for egg laying prowess, producing more than 300 eggs a year.
Meat Production
This breed was developed for egg laying and not meat production.
Temperament
ISA Browns are very friendly and good-natured birds making them ideal for a backyard flock.
Jersey Giant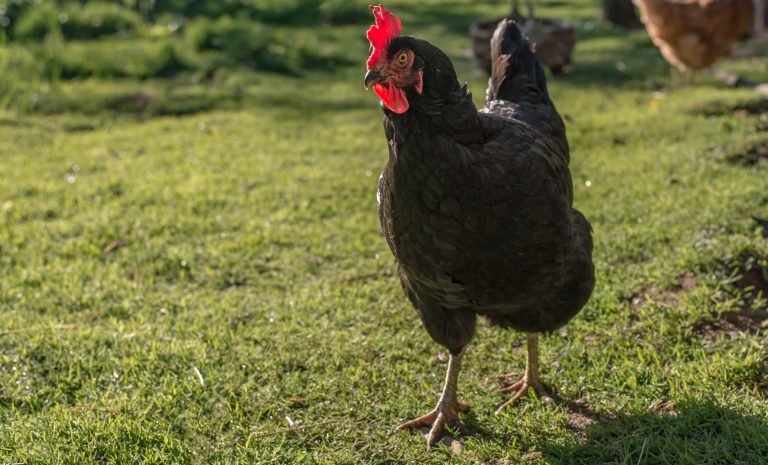 Jersey Giant chickens may be one of the largest breeds reaching 15 lbs in weight but they have the sweetest personalities making them good pet chickens for those with enough coop space to house them.
Appearance – These birds are clean-legged, have yellow skin, and include blue, black, and white color varieties. They are tall and heavyset birds, weighing more than the Brahma which is a very large chicken.
Egg Production
They can produce between 150-200 eggs every year but when a hen becomes broody, she tends to set and break her eggs because of her weight.
Meat Production
Jersey Giants are good meat birds and able to feed a family of four.
Temperament
These easy-going chickens have a calm temperament and make wonderful additions to the backyard coop.
Leghorn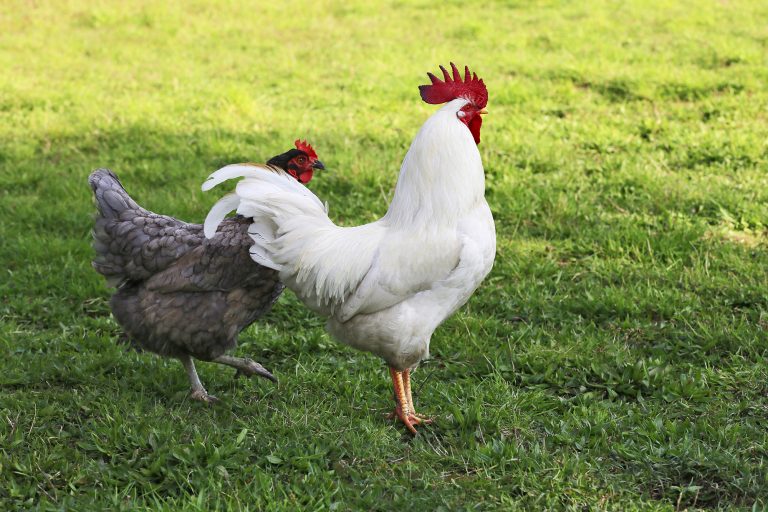 The streamlined Leghorn with its large floppy comb was first bred in Tuscany Italy. It is a popular backyard and farmyard breed and suited to all climates provided they have access to insulated chicken coops in winter to keep warm and dry.
Appearance
Leghorns are described as aerodynamic because of their slim shape. They are easily identified by their bright yellow legs and skin with a large red single comb that tends to flop to one side. The breed is available in different colors including white, brown, and speckled.
Egg Production
Leghorn chickens are favored for their large white eggs and can lay up to 280 eggs a year.
Meat Production
They are not ideal meat birds and only reach a weight of 5-8 lbs
Temperament
Leghorn chickens are very active birds and do best when they can free range. They are generally friendly but some can be flighty. These chickens can also fly and need a 6 ft fence to remain secure.
Maran
The Maran is a gentle-natured bird and large in size, weighing up to 10 lbs. They are hardy chickens and thrive in most types of environments which are the reasons they are favored for backyard flocks.
Appearance
You can find Marans in many different colors including red, golden cuckoo, and wheaten with the Black Copper Marans being the most popular.
Egg Production
The Maran tends to lay dark brown eggs with production averaging 150 eggs per year.
Meat Production
This breed is a good meat bird providing ample flesh on the carcass. Despite their growth rate being half that of commercial breeds such as Cornish crosses, they are favored for their firm and flavorful meat.
Temperament
These chickens tend to be quiet and have a gentle nature, so they'd certainly make good pets.
Naked Neck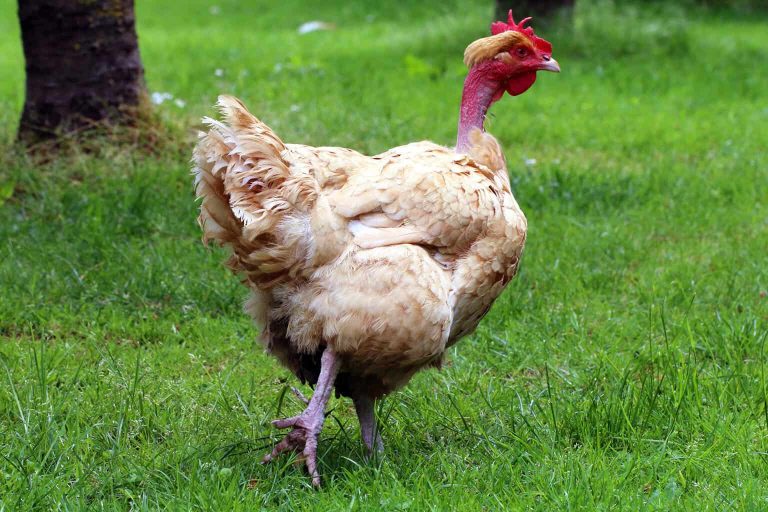 The Naked Neck Chicken was developed in Transylvania and carries a dominant that prevents the growth of feathers around the neck. The purpose is to help these birds tolerate heat and makes them easier to pluck.
Appearance
These chickens have no feathers around their necks and include color varieties of black, brown, buff, and white. Owing to their skinny feather development, they are ideal for warm climates.
Egg Production
They are fair egg layers producing up to 180 medium eggs a year.
Meat Production
These chickens are favored for the sweet flavor and tenderness of their meat.
Temperament
Naked Necks are calm and placid birds that get along well with their flock mates.
Polish
The Polish chicken is a small breed weighing only 4-7 lbs. These birds are popular for backyard coops because of their glorious head of feathers.
Appearance
The Polish have a crested head of feathers that cascades over their eyes. They are truly unique in their appearance and are available in different colors including white, black, and mottled.
Egg Production
They are not prolific layers producing 150 white eggs each year.
Meat Production
Polish chickens are not good meat birds because of their small size.
Temperament
They are friendly and curious but also tend to be skittish as their head feathers make it hard to see their environment. Slowly approach them with a gentle call to avoid startling them.
Rhode Island Red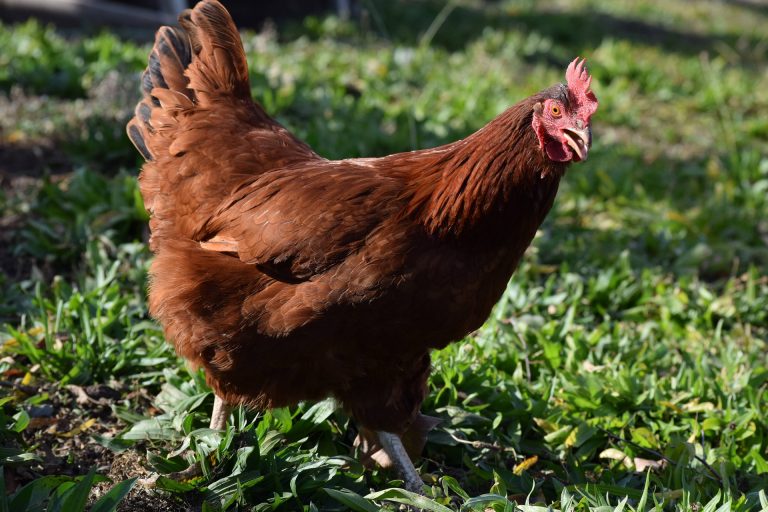 The Rhode Island Red is the official state bird of Rhode Island and a much-loved egg layer known for their friendliness and beauty. They can reach up to 9 lbs and are a great choice for new and experienced chicken keepers.
Appearance
The breed is a deep mahogany color with a slim rectangular body. They have yellow legs and orange eyes.
Egg Production
Rhode Island Rends will lay anywhere between 200 and 250 eggs every year. Hens tend to lay fewer eggs in winter as their reproductive systems take a break.
Meat Production
The heritage breed is good for meat; however, the production line chickens are more suited to egg laying.
Temperament
If you are looking for a hardy bird with a friendly personality that lays well, then Rhodies, as they're more fondly known, are the perfect chicken for you.
Sebright
An old British bantam breed developed in the 1800s, the Sebright is a small chicken with beautifully laced plumage. They are best for experienced keepers owing to their tiny size, susceptibility to cold and to predators.
Appearance
Weighing 20-22 ounces they are tiny in stature but present a striking laced feather pattern in gold, silver, and buff laced color varieties.
Egg Production
Hens can lay between 60and 80 small eggs a year.
Meat Production
They are not suitable for meat.
Temperament
Gentle and easy to tame, but they should be housed with docile birds to prevent them from being bullied.
Silkies
Silkies are small chickens known as bantams and only reach a weight of 2-4 lbs. They have Asian origins and were called Silkies owing to the softness of their plumage.
Appearance
Silkies are about the size of a rabbit and are fluffy from head to toe including feathered legs and feet. They have 5 toes on each foot (most chickens have 4 toes) and have a blue comb and wattles with dark skin.
Egg Production
They are poor egg layers producing only 100 eggs a year.
Meat Production
Silkies were bred for their plumage and are too small to serve as good meat birds.
Temperament
Most chicken coops house Silkies because they are friendly, fun, and brave little birds to have around. Some even make great lap chickens while others can be a little bit bossy of other chickens despite their small size.
Speckled Sussex
The Speckled Sussex is one of the oldest breeds having originated in Britain more than a century ago. They are hardy and dual purpose birds donning a beautiful speckled feather pattern.
Appearance
The Speckled Sussex is a combination of red, brown, and white speckles. They are tall chickens with wide shoulders and a red single comb.
Egg Production
Sussex chickens can lay 200-250 large-sized eggs every year. They also lay in winter.
Meat Production
At a weight of 6-10 lbs, they are fair meat birds.
Temperament
They enjoy getting treats from their keepers and do well both inside the coop and while foraging in the yard.
Swedish Flower Hen
If you are interested in a rare poultry breed that is truly unique in appearance, then Swedish Flower Hens or Bloom Hens are for you.
Appearance
These chickens have a mottled feather pattern but no two chickens have the same mottling, making each bird unique.
Egg Production
You can expect 150 large eggs a year.
Meat Production
They were used for both meat and eggs when they were first developed but today Swedish Flower Hens are listed as endangered and they are no longer considered for meat purposes.
Temperament
They are described as graceful with a friendly personality and enjoy spending time foraging outdoors.
Welsummer
The Welsummer comes from the Netherlands and is a Dutch breed. It is believed to come from a combination of breeds such as Leghorns, Barnevelders, Wyandottes, and Rhode Island Reds.
Appearance
Welsummers are stocky chickens with a large upright tail. They are typically brown in color with light golden plumage around the neck. Roosters are a mixture of red and black feathers with green iridescence.
Egg Production
The Welsummer is a great egg layer providing 200 eggs per year.
Meat Production
The carcass offers a fair amount of meat with cockerels reaching 4 lbs by 16 weeks.
Temperament
These birds don't mind being handled, are sought-after for backyard chicken coops, and do best when given time to free range.
Wyandotte
Wyandottes are stunning birds that are popular among fanciers owing to their unique laced feather pattern. The Silver Laced and Gold Laced Wyandottes are the most popular colors that will instantly beautify your coop.
Appearance
Wyandottes are identified by their double laced feather pattern and rose comb. They are densely feathered and tolerate the cold well. Color varieties include gold laced, silver laced, red and blue laced
Egg Production
Hens can lay an average of 200 large brown eggs every year.
Meat Production
Weighing up to 10 lbs, they provide good meat but take longer to mature making them undesirable for production purposes.
Temperament
These calm-natured birds enjoy being around their keepers but are also quite independent and tolerate confinement well.
What Chicken Breed Should I Get?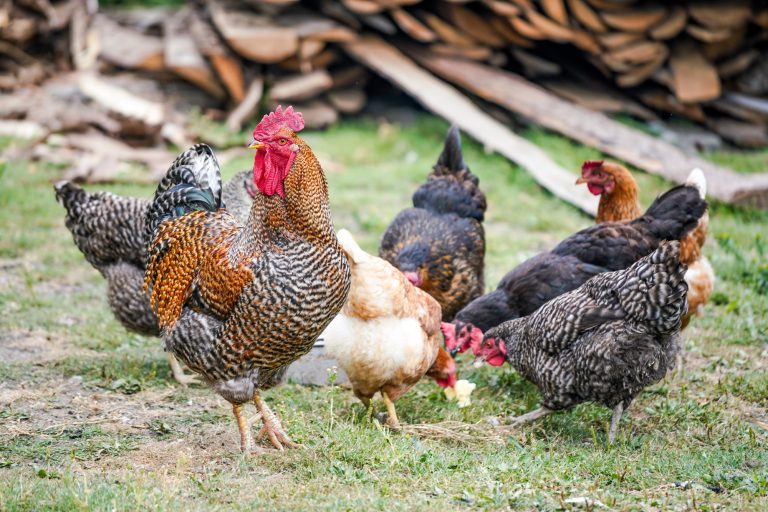 If you're new to raising chickens, how do you know which breed is right for your future flock?
Every type of chicken has its own personality, appearance, and traits. Breeds such as Leghorns and Sussex will lay in excess of 200 eggs throughout the year while other breeds including Wyandottes and Welsummers lay up to 200 eggs yearly.
Then you'll find chickens such as Brahmas and Cochins that have feathered legs to protect them against the cold in winter compared to slimmer birds with fewer feathers such as the Naked Neck chicken bred for warmer climates.
With so many chicken breeds to choose from, deciding which one is best for your backyard chicken coop can be quite a challenge. Fortunately, we've made it easier by presenting a few things to consider before buying your next chicken.
Things to consider
Purpose
Are you looking for egg layers, meat, birds, pets, or chickens that will do well to forage about the yard? Every breed has a purpose so base your decision on what you need them for.
Required Space
The general rule of thumb is 2-3 square feet for each chicken inside the coop. This rule applies to medium and large sized chickens such as Plymouth Rocks and Cornish hens.
If you're limited on space, smaller chickens such as Silkies are best. Keepers with small yards should steer clear of Leghorns and breeds that like to roam and free range as a lack of square footage may lead to stress and bullying.
Climate
Birds with dense plumage and feathered legs are bred to withstand cold climates such as the Brahma and Cochin. Chickens with less down and without feathered legs and feet such as the Naked Neck and the Leghorn, do well in warmer climates.
Adaptability
There are many types of chickens that will thrive in both hot and cold climates when provided the necessary food, shelter, and access to water.
For example, if you have a Brahma in a warm climate, they'll need well-ventilated coops, plenty of shade, and access to clean water throughout the day. A bird such as the Leghorn will need some help in frost and snow with a well-insulated and warm coop.
Chicken heaters provide a safe way to keep coops warm in winter.
Along with bedding materials such as straw for insulation, most chickens can manage the cold.
Temperament
If you have a family and you want children to raise chickens, then consider temperament. The Silkies and Black Stars are easy-going and friendly, making good pets for kids compared to flighty and delicate birds such as the Polish chicken and Sebrights.
Egg Production
Are you looking for chickens that are good at laying eggs? Well, some breeds lay many eggs, others lay blue eggs, and then a few chickens lay in winter. For consistent eggs, you'll want chickens that lay in excess of 200 eggs a year such as the Australorp and Leghorn.
Meat Quality
Medium to large-sized birds that mature quickly are best for meat production; however, meat quality is also determined by the flavor and the tenderness of the meat. Breeds including the Maran and Naked Neck are praised for the flavor and tender texture of meat.
What Chicken Lays the Most Eggs?
The ISA Brown and Black Star lay the most eggs tipping the scales at 300 eggs per year!
They are closely followed by the Leghorn which can lay around 280 eggs every year.
Other good egg layers include:
Sussex
Australorp
Leghorn
Barred Plymouth Rock
Rhode Islands
What are the Friendliest Chicken Breeds?
Who wouldn't want chickens as pets? With their quirkiness and unique personalities, friendly chickens make wonderful pets.
Some of the friendliest breeds include:
Brahmas
Cochins
Jersey Giants
Silkies
Australorps
Black Star
Orpingtons
Barnevelders
What Chicken Breed is Best for Meat?
Breeds that are best for meat are medium to large in size and have a fairly rapid growth rate.
The following breeds are considered good for meat:
Jersey Giant
Australorp
Barnevelder
Maran
Welsummer
Cornish Crosses
What Chicken Breeds are Known for Their Appearance?
The Polish is a fancy breed recognized for their stunning crest of feathers on top of their heads.
The Wyandotte is better known for its double laced feather pattern than its egg or meat qualities.
Silkies with fluffy plumage and dark skin and the Ayam Cemani with black skin and feathers are also known for their appearance.
What is the Best Chicken Breed for Beginners?
Some of the best breeds for beginners include Rhode Islands Welsummer, ISA Brown, and the Barnevelder. These birds are generally healthy, hardy, and do well in a secure coop with some time to free range.
Is it Okay to Have Only 1 Chicken?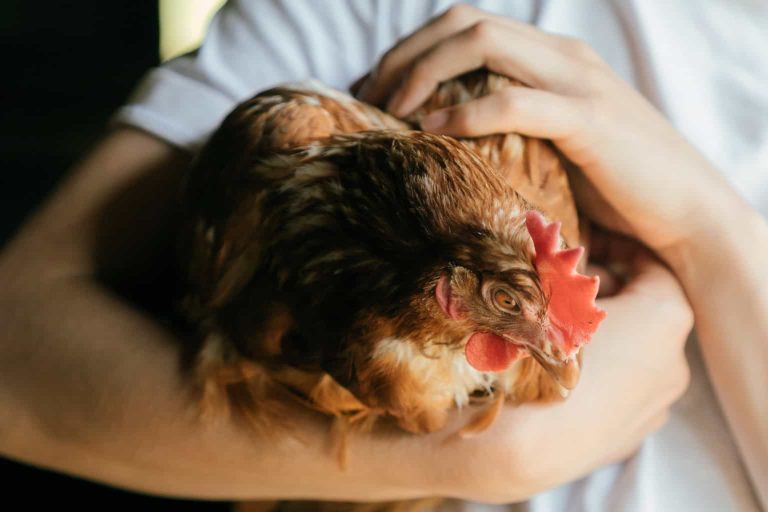 Chickens are social and flock animals so having one bird leaves them stressed and anxious. I had one Buff Orpington chick that would follow me all through the yard and the house until I got three chickens to keep her company. She settled within a week and learned to become a confident chicken again!
Final Thoughts
You can find the perfect chickens for your backyard, homestead, or smallholding with a little bit of knowledge of each type of breed. Fortunately, our summary of some of the most popular chicken breeds makes it easier to decide which chicken is best suited to your needs.
Egg Laying Breeds
If you want a bird that will provide ample eggs, then prolific egg layers such as ISA Browns, Leghorns, Rhode Islands, Sussex, and Black Stars are best.
It is important to remember that chickens that lay more than 250 eggs a year, such as the Rhode Islands, tend to lay less frequently by 2-3 years of age until they stop laying altogether.
Choosing The Right Chicken For You
Choosing the best chickens should be based on their purpose, adaptability, size, and temperament. By considering these factors, you can narrow your list of top contenders and compare the qualities of each breed to pick the right one.
Feel Free To Share
If you know fellow poultry keepers looking to introduce a different breed to the coop or someone who is new to raising chickens, take a moment to share this guide with them. They'll find it easier to pick the perfect chickens and enjoy their backyard, homestead, or smallholding.
We thoroughly hope that you've enjoyed reading about the many breeds of chicken and that you're one step closer to finding the best birds for your flock.