If you're spending hours plucking and cleaning chickens or struggling to remove feathers from the carcass, it's time to invest in reliable chicken scalders.
Whether you're a homesteader or a backyard chicken keeper who wants to process your own birds in a fast and easy way, the best chicken scalder makes quick work of softening the skin and preparing the carcass for plucking.
Our guide to the best chicken scalder is based on more than 10 years of experience using scalders and we hope to help you find the right chicken processing equipment for your needs…
The Best From The Reviews
Here's a summary of the Top 5 chicken scalders in the review.
Top Pick
The aluminum drum with steel base provides durable and rust-resistant construction. The sturdy steel stand makes it safe and easy to prepare poultry outdoors.
The aluminum drum with steel base provides durable and rust-resistant construction. The sturdy steel stand makes it safe and easy to prepare poultry outdoors.
The top choice of chicken scalders is the Barton Deluxe Deep Fryer Pot offering a spacious drum to accommodate poultry up to 20 lbs.
The sturdy poultry hook makes it easier to keep your bird in place during the scald.
Best Value
The Whizbang Chicken Scalder is a step-by-step guide that provides an affordable way to build a strong and efficient scalding system.
The DIY Whizbang Chicken Scalder describes how to make a poultry scalder for small farm and backyard poultry keepers. You will have to source and assemble the parts to build it from scratch.
The 66 page paperback includes diagrams and clear details on designing an efficient system.
Editor's Choice
The Creole Fryer Pot consists of a multi-use design for boiling, deep frying, and steaming poultry including turkeys of 12-18 lbs.
As an easy-to-use scalder, this range includes a heavy duty welded stand with an aluminum pot to cook or scald outdoors and withstand high heat.
It comes with adjustable perforated baskets for steaming and boiling purposes.
Most Durable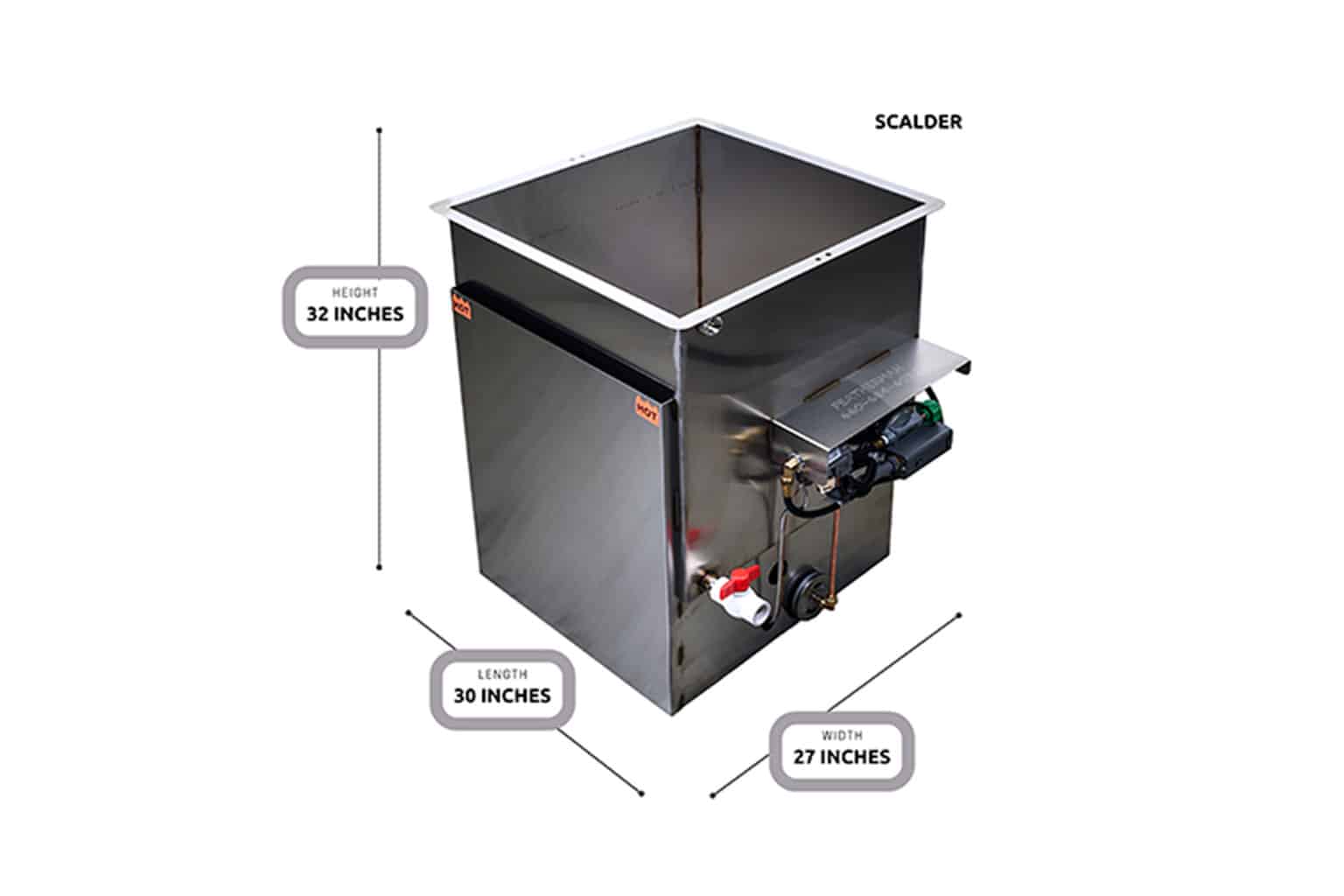 The Featherman scalder evenly distributes heat which prepares carcasses by softening the skin and making it easier to remove pin feathers. The scalder can process 4 chickens at a time.
The 16 gauge stainless steel construction makes the Featherman Stainless Scalder durable and tough against high temperatures and outdoor conditions. The kit comes with a 5-degree temperature range for processing birds.
The 100 000 BTU propane burner heats the water quickly and maintains an even water temperature to scald poultry.
Best for Large Fowl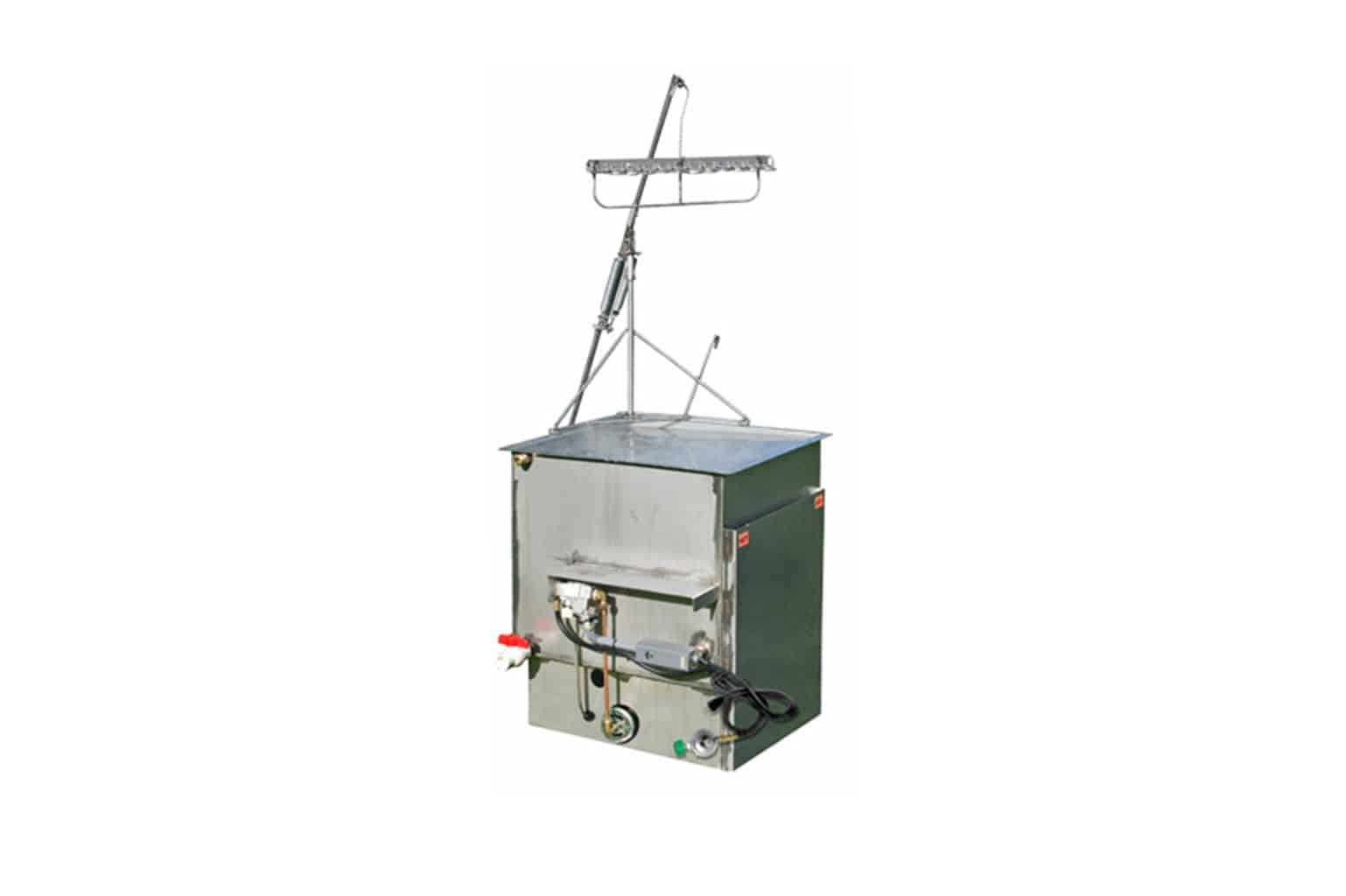 The poultry scalder and dunker in one offer increased capacity for up to 4 chickens at a time of any weight. It includes a 5-degree temperature control to maintain hot water for scalding chickens.
The best chicken scalder with a large capacity is the Featherman Scalder with a manual dunker. It includes a 48-gallon water capacity with enough space to hold multiple broilers or a turkey.
This chicken scalder comes with its own dunker that manually locks into place. The dunker is also connected to an adjustable spring making for effortless and smooth dunking.
Into the Reviews…
Top Pick
The high pressure propane burner is easy to use and consists of cast iron for longevity. The burner stand comes with adjustable and removable legs for convenient storage.
The Barton Deluxe Deep Fryer Pot is constructed from steel and aluminum for durability and rust resistance. It can achieve the perfect temperatures of 120-150 degrees Fahrenheit for softening the skin and removing chicken feathers with ease.
The unit comes with an extended probe thermometer to measure temperatures from 50 to 500 degrees Fahrenheit. The elongated probe allows you to safely test the temperature of both oil and water inside the pot whether for cooking or scalding chickens.
Burner
What makes the Barton Deep Fryer a good choice to scald poultry, is the powerful burner. It has a rating of 200 000 BTU and takes an average of 45-50 minutes to cook a 14 lb turkey.
The poultry rack helps to hold the bird in place during the scalding or cooking process. To remove the bird without coming into contact with the hot oil or water, you can use the lifting hook in a loop that is located at the top of the basket rack.
Good for Outdoor Use
Because you'll be processing chickens outside, you want a pot and stand that are designed for outdoor use. Barton offers a sturdy steel frame for outdoor purposes to secure the pot during cooking that won't corrode or tarnish.
The stock pot does not have a pour spout but it does provide a 30 qt or 28.4l capacity able to hold a turkey of up to 20 lbs. The perforated basket makes it easier to place smaller poultry such as chickens and game fowl including guineas and quails into the pot.
Specs
24 lbs
Stainless steel and aluminum
15"x15"x19" (pot) 16"x16"x28" (burner)
Pros
Highly durable
Designed for outdoor use
Large 30 QT Pot capacity
Cons
Holds one turkey at a time
Does not include an instruction manual
Takes time to reach desired temperatures
Best Value
The detailed guide describes just how to build propane-fueled Whizbang Scalders helping you save money on the purchase of ready-made equipment for small bird processing.
Anyone Can Build a Whizbang Chicken Scalder is a paperback guide detailing how to build your very own inexpensive pro scalder. It was written by Herrick Kimball who developed the Whizbang Scalder for small farm owners and backyard keepers who process their own chickens.
The book is well-illustrated offering clear images and diagrams for each stage of building the chicken scalder. The guide provides all the information that you need to construct the Whizbang Scalder, an efficient yet powerful scalding system with propane burner.
Features
The DIY poultry scalder includes programmable features such as setting and monitoring the water temperature. It is also large enough to dip 3 chickens at once offering a capacity of 120 chickens per hour. The homemade scalding product is not meant for large fowl but does have the option to connect to a scalding tank to accommodate larger poultry.
Not only is the DIY scalder designed for efficient processing, but it is also built with high-quality parts to last many years. Every part needed for the build is carefully described in the guide.
Specs
5.6 ounces
Paperback
66 page book
Pros
High-quality burner kit
Illustrative and detailed
Affordable DIY scalder guide
Cons
Time consuming build
Multiple parts need to be ordered
Requires some technical knowledge
Editor's Choice
The pot and stand are easy to maintain and can be cleaned with a simple hand wash. The poultry scalder is also quick to assemble and comes with a thermometer and non-slip handle
The Creole Feast Fryer Pot is our pick for best home use scalders because it offers a user-friendly design, 30 QT and 10 QT pots, and is at an affordable price. The range is ideal as a poultry scalder because it consists of durable aluminum and iron making it rust resistant and it has a powerful 50 000 BTU burner for heating and cooking purposes.
To properly scald chickens, Creole offers a heavy-duty metal stand to maintain high temperatures up to 200 degrees Fahrenheit while securing the pot to prevent it from tipping.
Temperature Setting
You can easily set the desired temperatures using the fully adjustable propane dial. Once you butcher a chicken, the carcass can be placed into two perforated metal baskets based on their size, making it safer to dip birds into the hot water.
Capacity
What is great about this unit is that the tub is large enough to hold up to 4 chickens and a turkey of between 12-17 lbs. It also comes with a metal loop at the top of the perforated basket so you can retrieve the carcass using the safety hook and avoid coming into contact with the hot water. From the pro scalder, the carcass can be placed into the chicken plucker.
Specs
16.92 lbs
Aluminum
13x13x29.92 inches
Pros
Solid design
Simple to clean
Easy to assemble
Cons
Thin base
No pour spout
Manual temperature control
Most Durable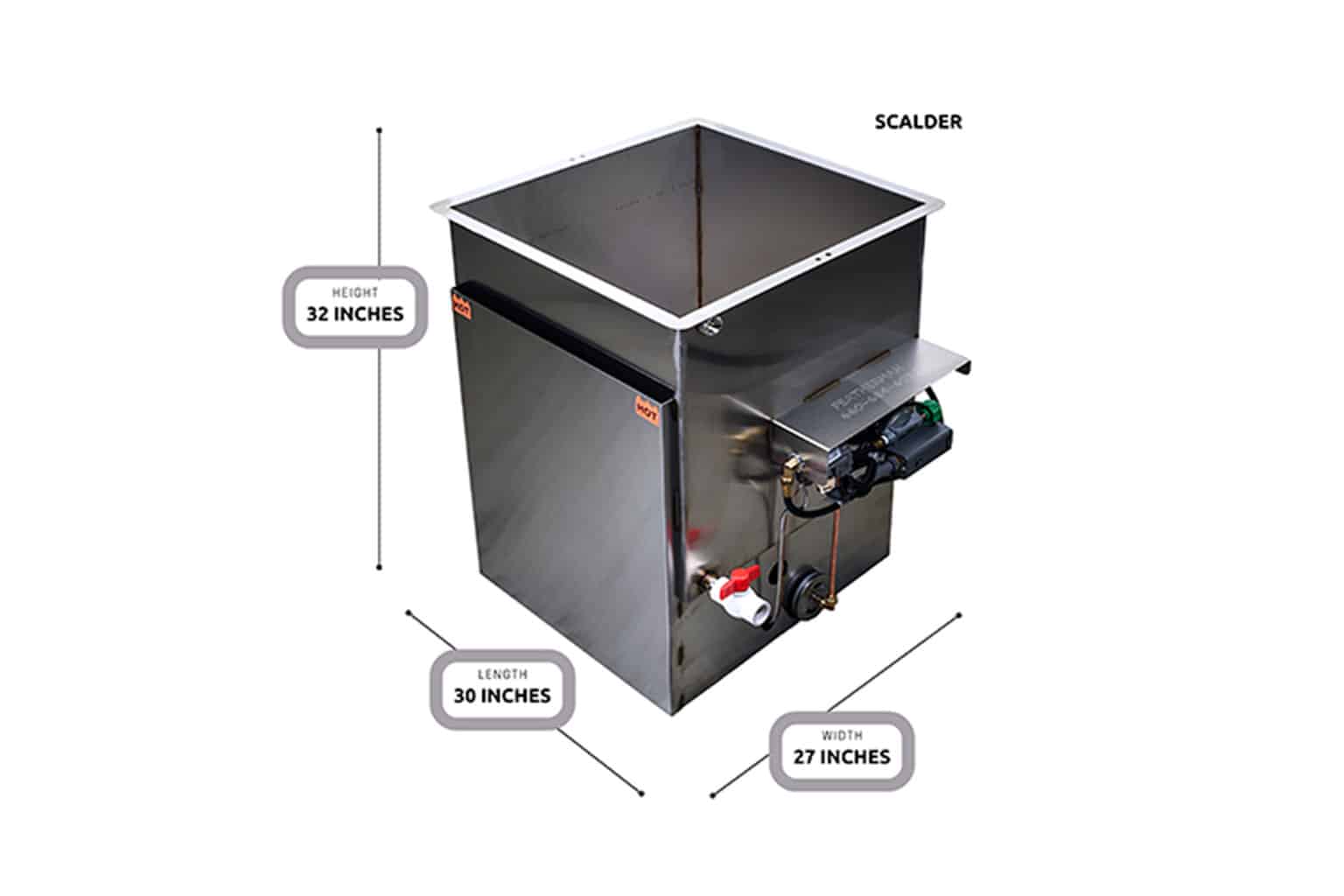 The powerful 100 000 BTU propane burner makes quick work of chicken scalding by maintaining an even water temperature and softening chicken feathers.
Fast, powerful, and efficient best describe the Featherman Scalder. Designed for the perfect scald, it offers effective temperature control within a range of 5 degrees. This helps to keep the water temperature consistent for scalding birds of all sizes and means no more hassles to remove those pin feathers!
Capacity
Once you butcher fowl for processing, you can scald up to 4 chickens at once in the spacious drum. The drum has a height of 32 inches and a 48-gallon water capacity making it ideal for scalding larger fowl such as turkeys and geese.
Despite the unit including manual or hand dunking of carcasses, you can purchase the automated Roto Dunker to make the process smoother. This prepared a chicken quickly for the plucker.
Materials
The best scalders on the market are sturdy and durable and this is what Featherman offers with its 16 gauge steel construction. The drum does not include a stand; however, it can be placed on a flat surface for uninterrupted operation.
Made in the USA, the Featherman range has an electrical plug and uses 120 V for maximum output and preparing carcasses for the plucker. The 100 000 BTU propane burner creates the ideal temperature for softening the skin without breaking it.
Specs
88 lbs
Steel
34x34x38 inches
Pros
Steel build
Easy to use
Automatic temperature control
Cons
Costly price
Dunk by hand
Not user-friendly
Best for Large Fowl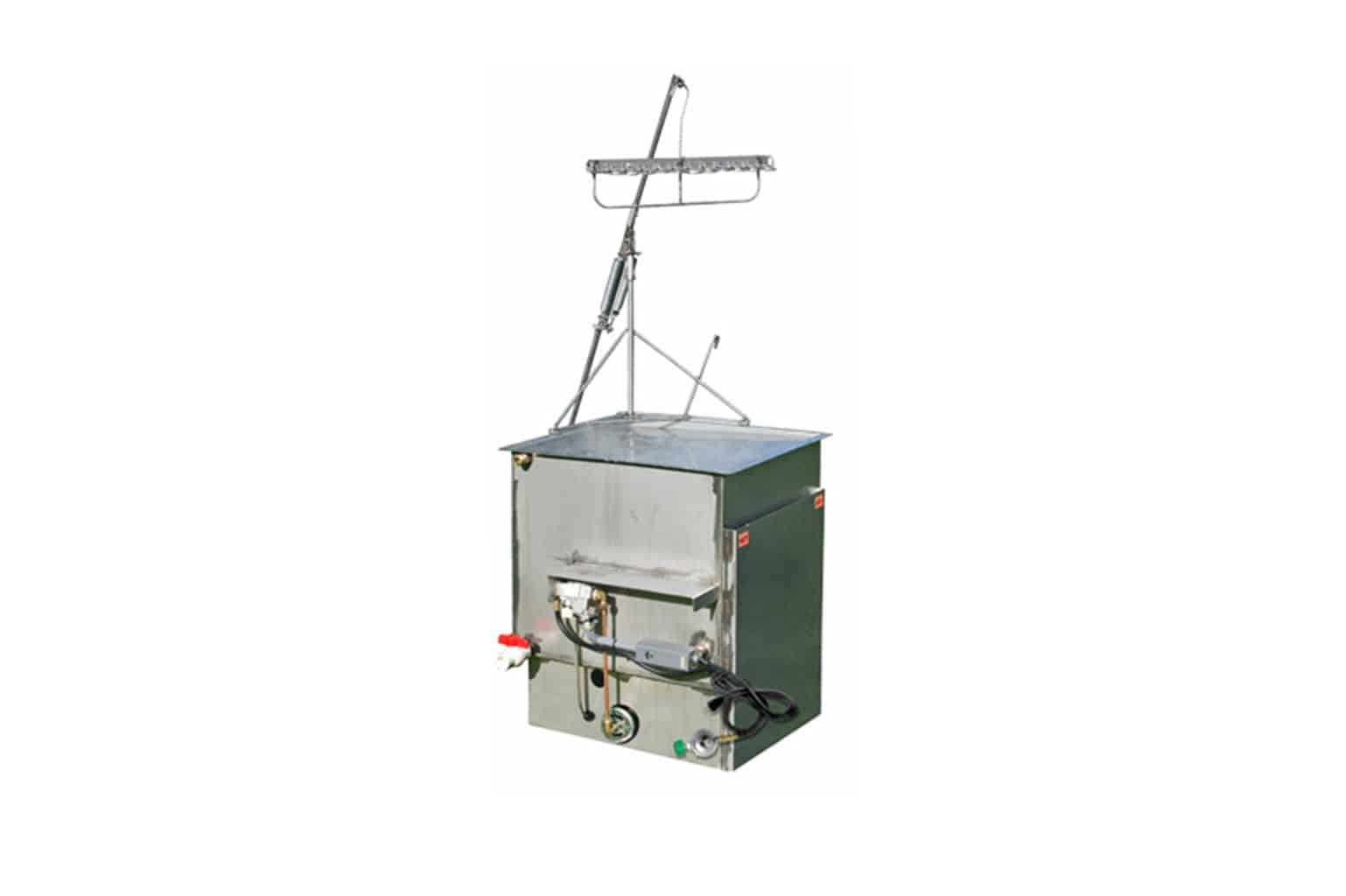 The shackle and dunker do not require tools to attach to the chicken scalder. The shackle and dunker are secured onto the corner of the steel drum and locked into place.
The Featherman Stainless Scalder with Dunker is ideal for processing multiple fowl at once. The spacious drum can hold 4 large-sized meat birds or broilers and does quick work of scalding turkeys of up to 18 lbs. It consists of 16 gauge rust-resistant steel making this system durable against high temperatures and ideal for outdoor processing.
Features
If you are looking for chicken scalders that are durable, powerful, and designed to warm water quickly, then the Featherman range is for you. It is powered by a 100 000 BTU propane burner that is conveniently located at the back of the unit.
Capacity
For a unit that is large enough to accommodate multiple carcasses, the Featherman won't disappoint. Its steel drum can hold 48 gallons of water, the dunker and shackle can hold 5 broilers at a time of any weight and it can secure larger fowl such as ducks and turkeys by means of the dunking pivot arm.
The manual dunker simply makes it easier to handle large fowl in preparation for the chicken plucker as they remain secured to the shackle. The tension spring attached to the shackle can be adjusted to effortlessly dunk the carcasses.
Specs
Steel
34x34x38 inches
88 lbs (scalder) 16 lbs (dunker)
Pros
Heavy duty
Dunker with Shackle
Best for multiple fowl
Cons
High price
Excludes stand
Not user-friendly
What is a Chicken Scalder?
Chicken scalders soften the skin of poultry prior to plucking. Once the chickens are butchered and have bled out, they are placed into a tank containing hot water.
The heated water will soften the skin, enlarge the pores and loosen the feathers making it easier to pluck each bird regardless of their size and without breaking or damaging the skin.
Scalding Kit
The kit consists of a large metal drum with cooking elements to prepare large amounts of water for scalding purposes.
You can find scalders of 50l that are suited to backyard poultry keepers who want to process their own fowl or larger units of 181l or 48 gallons such as the Featherman Scalder and Dunker that are best for scalding 3 or more chickens at a time or larger fowl such as geese.
What is a Chicken Scalder Made of?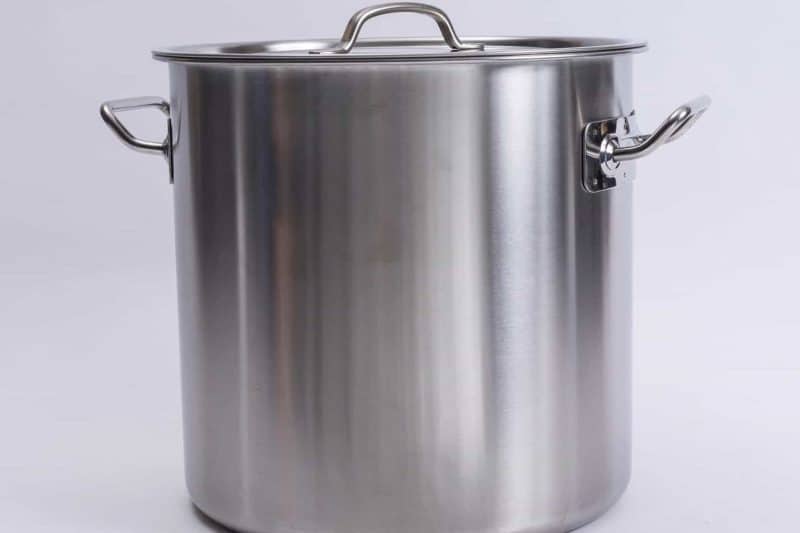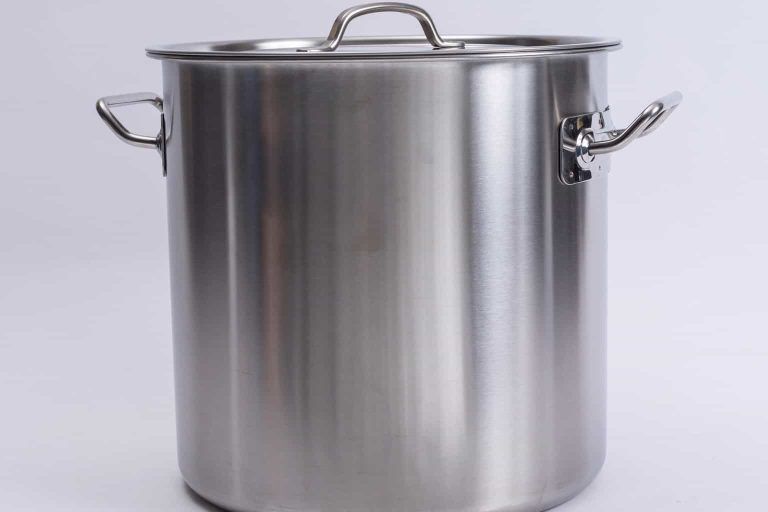 Chicken scalders have a metal drum made of steel or aluminum to withstand high temperatures that exceed boiling water temperatures of 200 degrees Fahrenheit. Most units include a sturdy metal stand to secure the tub and prevent it from tipping as water is boiled and fowl are dunked and scalded.
What is a Chicken Scalder for?
Poultry must be heated to soften the skin and prepare the carcass for the chicken plucker. If the skin of the bird is not softened prior to plucking, there is a risk of tearing the skin as the follicles remain closed.
NOTE

Scalding is performed after you butcher a bird and is meant to make plucking more efficient.
High temperatures help with plucking and removing feathers without tearing the skin of the carcass. Scalders make the process easier because it consists of a metal pot and cooking elements for rapid heating of water and dunking fowl to release the feathers.
Do You Need a Chicken Scalder?
For both backyard chicken keepers and small farm owners who process poultry much faster or prevent damage to the carcass inside the plucker, investing in the best chicken scalder on the market is certainly what you need.
Scalders are designed for even heating and come with a drum large enough to immerse a single bird or a few fowl at once making for easy removal of chicken feathers.
Here are a few factors to consider when you're looking to purchase a poultry scalder…
Things to Consider
Price
When you purchase scalders, compare the features to the price. The larger the size of the unit, the more expensive it is. If you want to save money, then think about making your own chicken scalder such as the Whizzbang DIY Chicken Scalder.
You can source each part in your own time and according to your budget which could work out cheaper than if you purchase a ready-made tub but you will need some technical knowledge to put the mechanism together.
Size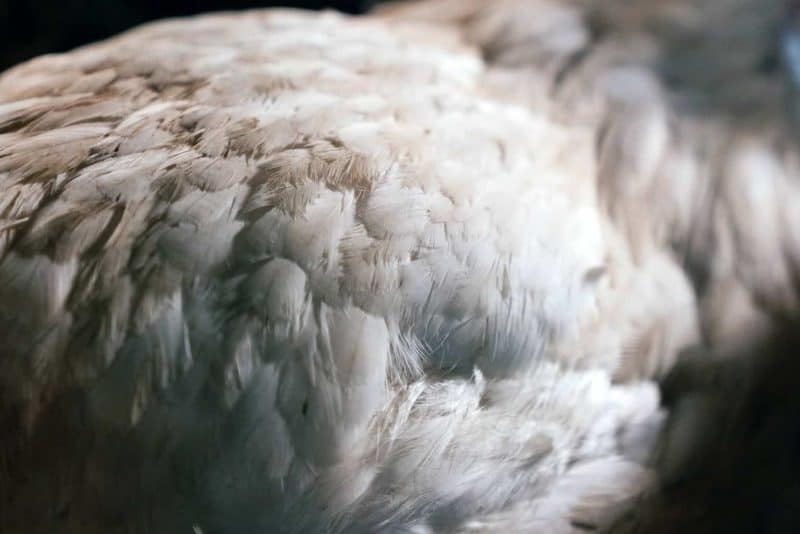 How many chickens will you process in a day? For around 4 to 5 chickens a day, an economical kit of 23 inches is a good choice.
To process more birds, purchase a unit of 27 inches or larger such as the Barton Deluxe Deep Fryer Pot designed to accommodate more carcasses.
A powerful propane burner of around 50 000 BTU is another important feature because it helps to reach high temperatures quickly for removing feathers.
Durability
Chicken scalders should be made from steel or aluminum to withstand high temperatures, moisture, and exposure to outdoor conditions. These strong metals won't rust or corrode when used outside.
Maintenance
Is the unit easy to clean? Both steel and aluminum are excellent materials to withstand heat and the smooth surface makes them easy to clean.
NOTE

As steel doesn't contain pores, bacteria and germs cannot hide on the surface preventing contamination.
Simply wash the drum with warm soapy water and wipe grease and grime off the surface using a soft cloth.
Warranty
A warranty will cover damage such as defects and malfunction within the stipulated period so protect your pocket and your time by looking for a warranty of at least 1 year on your next purchase.
Ease of Use
When you purchase scalders, they should be powerful enough to heat water quickly while proving easy to use. The best home use scalders consist of a pot, burner, and stand that should be simple to set up and operate.
Shipping
What does the kit cost to be shipped? Shipping rates for a large kit can be exorbitant depending on your location owing to the weight of the item, so be sure to consider these costs when making a purchase.
Do You Have to Scald Chickens Before Using a Plucker?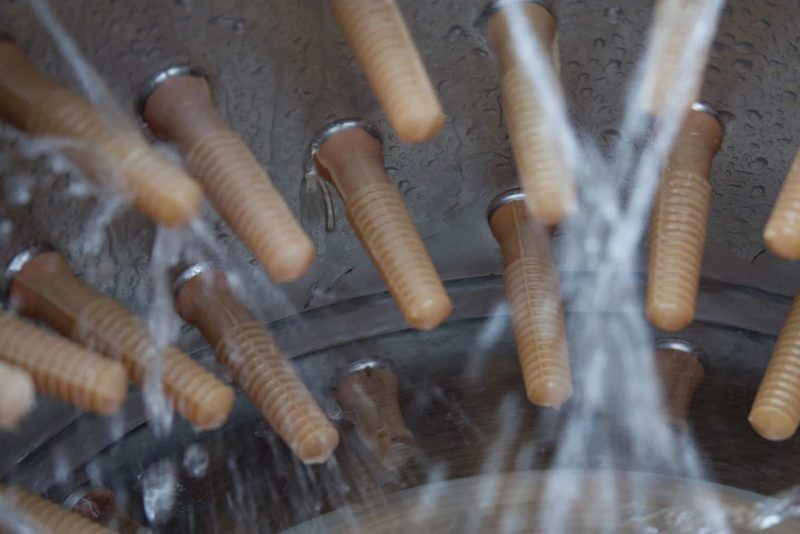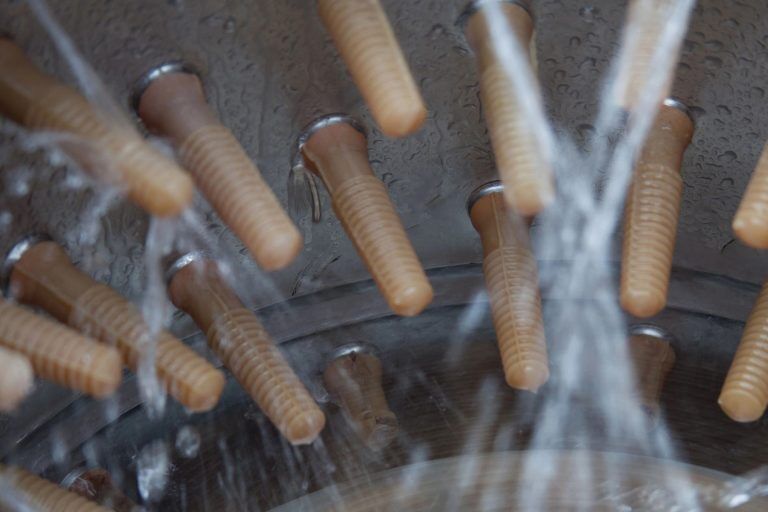 Yes, to successfully process poultry, the carcasses must be scalded before using a plucker because the heat opens the pores and follicles for easy removal of feathers. Poultry must be heated for 30 seconds to 2 minutes to make the skin soft before being plucked. This way, the skin remains intact and you won't have damaged carcasses.
If you are selling poultry for the market, chicken scalders can prevent torn skin and wings, and broken legs. It will help you sell market-ready fowl as it prepares a chicken or turkey for rapid plucking.
How Do You Scald a Chicken
You scald a chicken by heating water to the desired temperature, then using a metal rack or perforated basket to hold the carcass in position and dunk the bird into the boiling water for a 30-second to 2-minute period.
Bird Preparation
Every bird must be butchered and left to bleed out prior to dunking and only once the carcass is ready, can it be scalded.
FACT

Bleeding out prevents the blood in the muscles from spoiling the flesh when exposed to high temperatures.
Water Temperatures
The ideal water temperatures range between 122 to 150 degrees Fahrenheit for softening skin. Mature fowl of 10-18 months of age require higher temperatures for scalding as they have more fat and size than younger chickens.
Dip and Turn
Every few seconds, twist and dunk the carcass as this agitates the skin and ensures that the entire bird is immersed.
Check for Feather Removal
Once complete, remove the stock and gently tug on the feathers. If the feather comes out with ease, the bird is ready for plucking.
Hand Plucking
If feathers remain after a bird is placed into a plucking machine, gently remove these by hand to avoid damaging the carcass.
Ideal Temperature for Chicken Scalding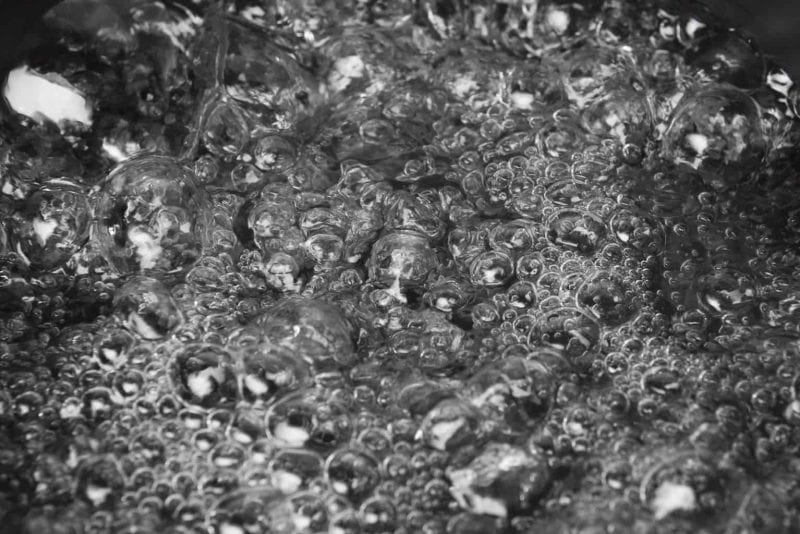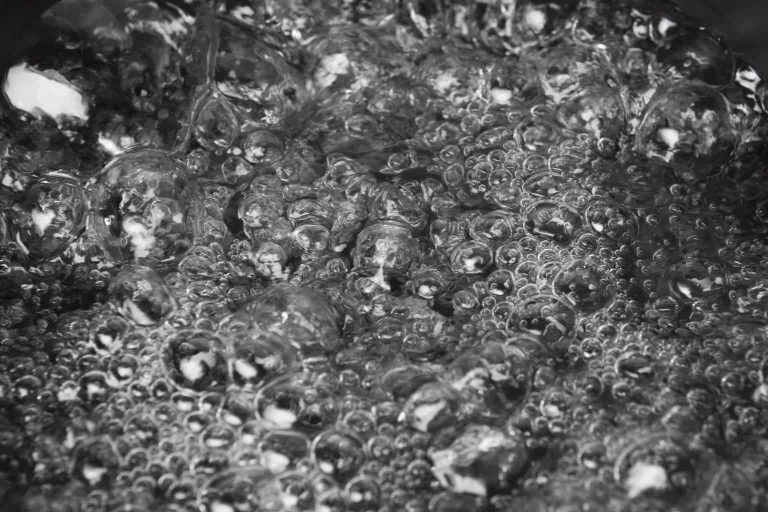 The ideal temperature to scald a turkey, broiler, or hen for roasting is 122 degrees Fahrenheit and considered a mild scald owing to the soft skin of the fowl. Mature fowl older than 10 months can be dunked at around 131 degrees Fahrenheit to produce the desired softness.
FACT

Broilers are chickens that are specifically raised for meat and are called meat birds.
To measure the desired temperatures, always use a compatible thermometer. The thermometer consists of a long probe that can be safely inserted into the water to determine the correct temperatures.
Always use the thermometer that is designed for use with scalders to produce accurate readings and to prevent damage to the measuring instruments.
Should You Cool Down Chicken After Scalding?
Scalded fowl should not be left to cool down for long as this could close the pores making it difficult to remove the feathers. Allow the carcass to cool down just enough to be handled (if you are manually pulling feathers) or when placed into the chicken plucker.
Final Thoughts
I truly hope that you've enjoyed this review and that you feel confident in purchasing your next chicken scalder.
When choosing the best chicken scalder don't forget about the number of fowl to be processed, the cost, and the features. Larger scalders such as the Featherman units are ideal for a farm where multiple fowl are processed while the Barton Fryer Pot offers a smaller size for backyard purposes.
If you need a quick summary of the best buys on the market, take a quick look at our recap below…
Simple to use
Powerful burner
Lasting metal design
Affordable how-to guide
Build your own scalder
Steps are well-illustrated
Spacious drum
Long probe thermometer
Includes perforated baskets for boiling
Top Pick
The best overall scalder is the Barton Deluxe Deep Fryer Pot with sturdy stand and steel construction perfect for outdoor use. This kit is fairly priced and the 15 inch pot size is ideal for the backyard.
Best Value
The Whizbang Pro Scalder is a book offering steps to build your own boiler for fowl. It is a valuable purchase if you want to make an efficient scalder from scratch and can save on the overall cost of ready-made equipment.
Editor's Choice
For a good quality nonstick pan at an affordable price, you'll find value in the Ninja Neverstick Premium Fry Pan. It has a smooth ceramic coating to prevent eggs from sticking to the surface.
For a durable and valuable scalder, the Creole Fryer range is made from aluminum and iron. It is large enough to accommodate turkeys of up to 18 lbs.
Spread the Word
Processing chickens shouldn't be a costly and time consuming task. Once you butcher the fowl, the use of a pro scalder makes plucking easier and it prevents damage to the carcass such as torn skin and broken legs.
The best chicken scalder can provide the perfect farm-to-table preparation of fowl whether for personal consumption or to be placed on the market.
We hope that after reading our review, you feel confident to purchase your next scalder. Please share this guide with your fellow chicken hobbyists and homesteaders who are looking for the perfect chicken scalder from the backyard to the farm.