There's nothing worse than collecting dirty eggs from the nesting box! I've provided my chickens with beautiful straw nests to keep the eggs clean but even then, I'll find dirty eggs that have to be scrubbed and washed by hand.
Scrubbing and cleaning every egg, especially if your hens lays more than a couple dozen at peak efficiency, is a time consuming process and carries the risk of damaging the eggshell. Fortunately, egg washers can prevent cracked shells and sanitize soiled eggs.
For the best egg washer, I'm here to help you with a review of the top products and how to choose the right scrubber for your egg cleaning needs.
Best Egg Washers
Top Pick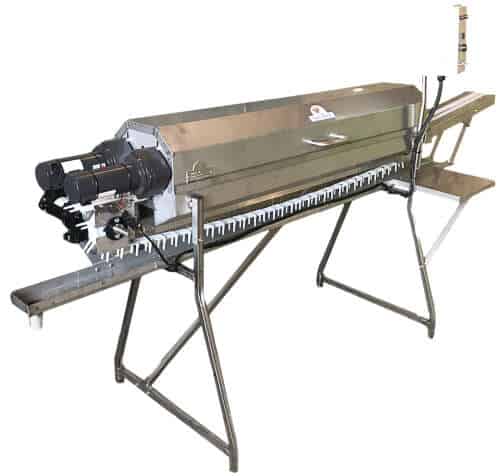 The speed of the Power Scrub Egg Washer can be adjusted to scrub very dirty eggs in half the time it would take for manually washing eggs.
The Power Scrub Egg Washer cleans an incredible 3500 eggs per hour. As one of our top-rated egg washers, it is manufactured in the US with stainless steel sealed bearings to prevent rust and corrosion.
The egg scrubber is safe to use as it is made from food-grade steel and HDPE plastic which is durable and impact-resistant plastic.
The variable speed drive on Power Scrub egg cleaner helps to clean the toughest dirt on eggs without losing efficiency. Washed sizes range from small to jumbo eggs.
Along with washing eggs, you can use the compatible LED candler for close inspection of potentially fertilized eggs.
Specs
Steel and plastic
220 lbs (base unit)
31.5 x 107.5 x 46 inches
Pros
Durable
Low maintenance
1 person operation
Cons
Non-portable
Difficult to repair
Only for small scale farms
Best Value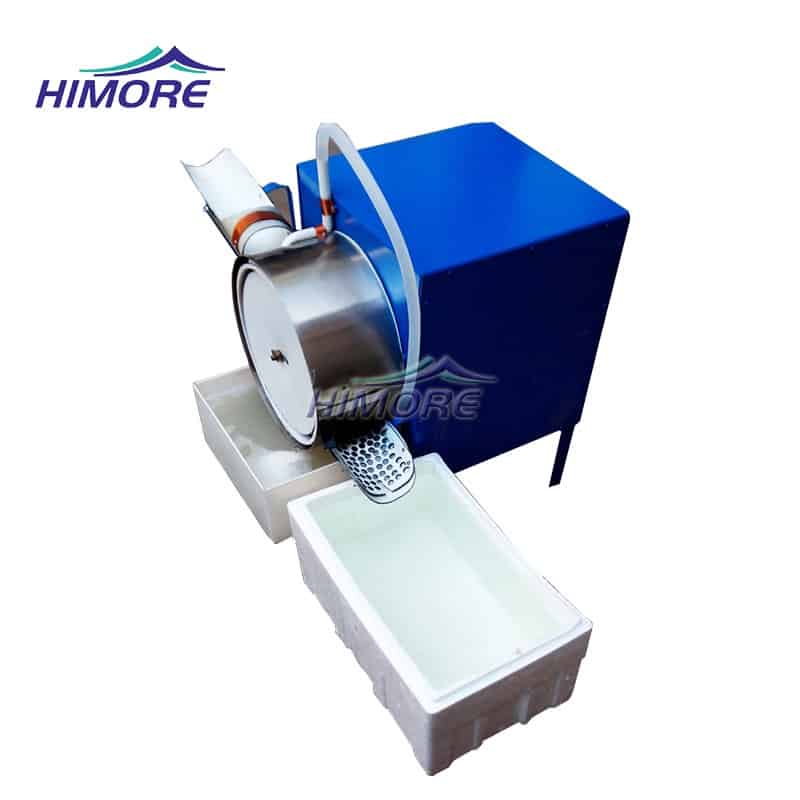 The EW-3000A Egg Washing Machine is a small-sized, portable, and highly efficient device. It can rinse and clean small to extra large eggs without using a lot of water and electricity.
The Himore EW-3000A offers affordability, durability, and modern cleaning features. The classic scrubber is designed to remove pathogens from eggshells to improve the hatch rate of eggs. Eggs are transferred to a disinfection compartment where roller brushes clean even very dirty eggs.
This small egg scrubber includes water and power-saving features making it economical to operate. I am cautiously impressed by its recycled water feature as eggs should be cleaned with pure or clean water.
This standard size egg scrubber will not break eggs while washing as it uses gentle brushes to remove dirt from the eggshell. It comes with a water seal to prevent leaks during the process or operation.
Specs
Iron
110 lbs
28.35 x 26 x 17 inches
Pros
Affordable
Reinforced parts for durability
Uses recycled water to clean eggs
Cons
Small capacity
Made from iron
Very dirty eggs must be soaked
Editor's Choice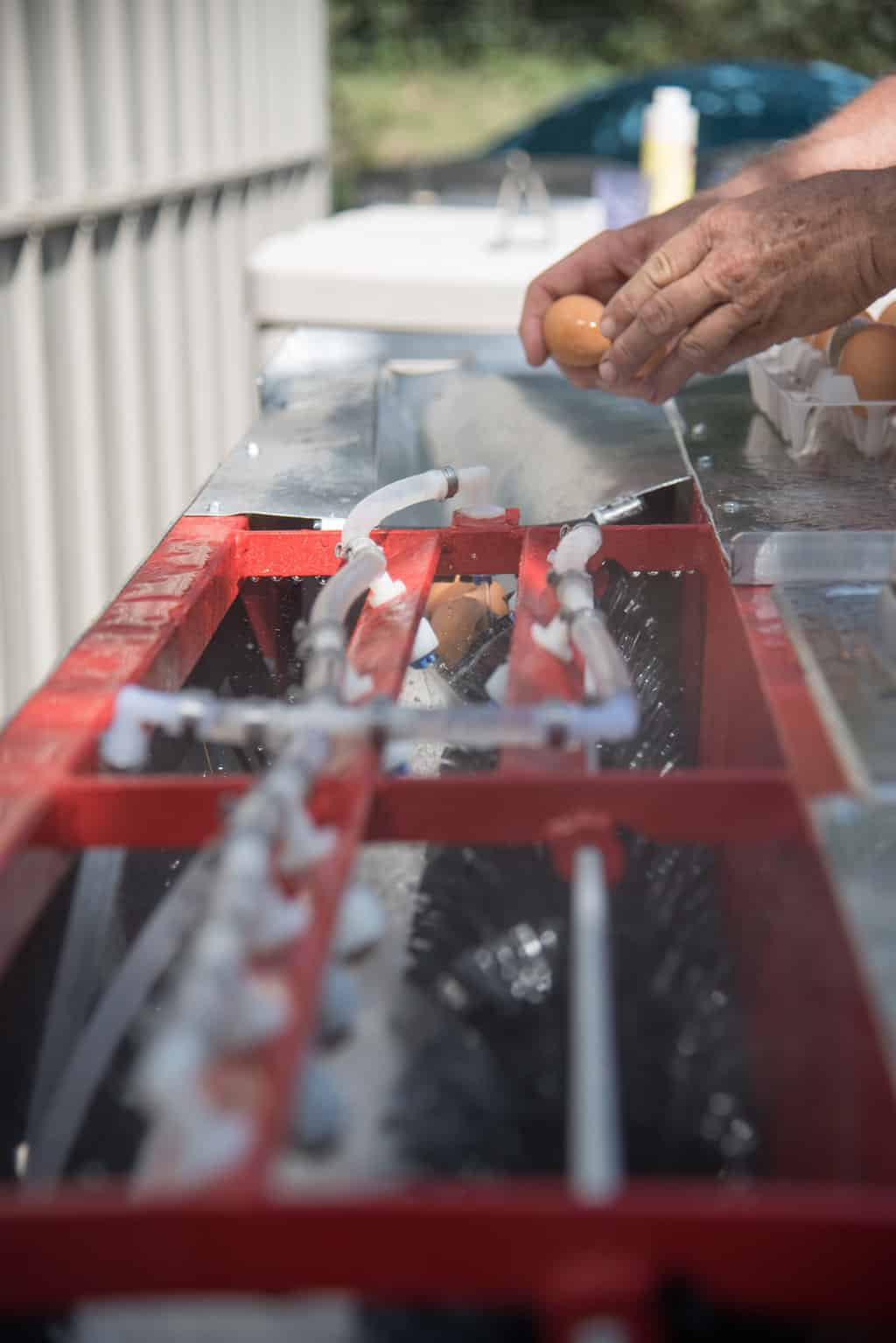 The Egg Washer 3000 consists of lightweight aluminum and is simple to use. It includes a fail safe stop switch in case of emergencies to prevent further damage.
The Egg Washer 3000 is a portable machine with 4 wheels for maneuverability. It makes our list of small scale egg washers because it is fast, won't break eggs, and is durable. -A three point win!
This machine can clean up to 4000 eggs per hour when performing at maximum capacity.
You can wash eggs with warm or hot water using the water heater. Multiple spray heads provide time-saving cleaning so even very dirty eggs are no match for this scrubber.
You can purchase a compatible deluxe egg candler with this machine for close inspection of washed eggs. Eggs soaked in the sanitation rinse protects against pathogens on the eggshells.
Specs
Aluminum
200-300 lbs
30-50 inches in length
Pros
Includes drying rack
FDA approved brushes
Temperature controlled water
Cons
Not energy efficient
Candler sold separately
Best for small to medium farms
Best Small Egg Washer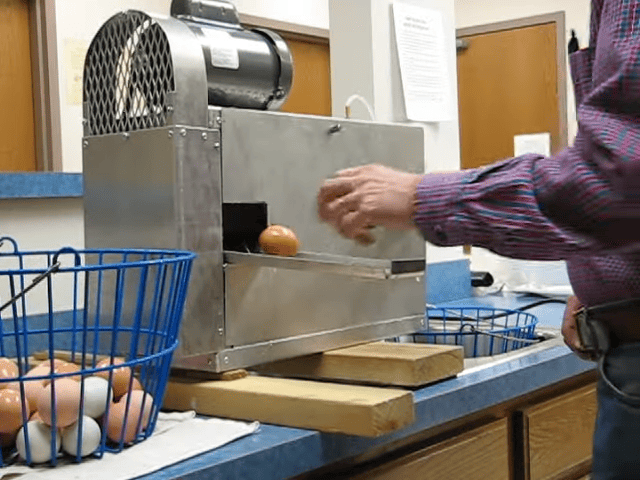 The small motor of 15 lbs is not overly noisy and produces a strong wash to remove dirt from eggshells. Eggs are not immersed as all the water flows onto the eggs that are scrubbed with roller brushes.
The Gibson Ridge Farm Portable Egg Washer is our best backyard egg washer able to clean 1680 eggs per hour. It is suited to small poultry farms of around 2000-3000 birds.
The portable cleaner is a non-immersible machine and uses rinse water and brush pockets to wet and scrub eggs moving through the system.
This machine can easily be used at a kitchen sink and only requires connecting the water hose to wash eggs. All the water will escape into the drain hole at the bottom of the machine.
Sturdy aluminum construction is rust-resistant and easy to clean.
Specs
33.05 lbs
Aluminum casing
24 x 21 x 8 inches
Pros
Small size
Easy to use
Non-immersion
Cons
No egg candler
Frequent maintenance
Future belt replacement
Best Egg Scrubber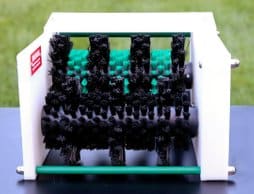 The 2.0 Little Egg Scrubber comes with a strong motor for regular egg washing and a new top plate for sorting eggs. The scrubber can clean three eggs at a time.
To improve the design slightly, the inventor took some suggestions for improvement. The new standard size 2.0 Little Egg Scrubber includes a natural enzyme pre-soak to remove stains and dirt from eggshells. Keep eggs soaked for 10 minutes before using the scrubber.
The tidy compact machine can clean a dozen eggs or up to 720 eggs per day. Washing eggs takes half the time (not counting soaking or cartoning) compared to manually scrubbing individual shells to remove stains and dirt.
Connect this scrubber to a kitchen sink and it will move water forward to the middle of the top plate for easy cleaning. Once turned on, three eggs can be placed in the brush pockets for gentle cleansing.
Washed eggs can be placed on the drying rack with a paper towel where it is easily collected and ready for storage. This little scrubber can handle pre-soaked and washed eggs of different sizes ranging from small to extra large eggs. This versatile egg washer can handle various types of eggs, including chicken eggs, duck eggs, and guinea fowl eggs.
Specs
Aluminum
10 x 10 x 7 inches
120 lbs (approximate)
Pros
Fail safe switch
Durable construction
Brushes for different egg sizes
Cons
Small motor
Requires pre-soak
Requires kitchen sink
FAQs
What is an Egg Washer?
Egg washers are machines that are designed to clean the dirt and droppings off of eggshells. These devices use 50% less time it would take to manually scrub eggshells. Soft bristles prevent cracks and further damage to the shell because it does not apply force.
What Does an Egg Washer Do?
Egg scrubbers remove the matter that is stuck to eggshells. It works by spraying water at the eggs moving in the compartment to soften the dirt and then gently tumbles the eggs to remove dirt.
Bubbler egg washers work with an air compressor that is connected to a hose to produce bubbles in the water. It will move water forward but there is a risk of cracked egg shells. Obviously cracked egg pieces in the machine can affect operation and are difficult to clean.
I'm cautiously impressed by bubbler washers because of the risk of broken and cracked shells despite its efficiency.
How Long in Egg Washer?
Eggs only need to remain in washers for around 10- 15 seconds but never scrape droppings off shells without soaking them first or you'll end up with cracked eggs.
Where to Buy an Egg Washer
You can purchase egg washers online but before you make your purchase, take some time to think about the features you need.
Things to Consider
Budget
Look at equipment within an affordable price range with features that you need.
Price
The price depends on the size and number of eggs the washer can clean.
Efficiency
Efficient equipment saves on power consumption and water usage.
Warranty
A minimum 1 year warranty covers the hardware so that you are refunded or the parts repaired if the machine malfunctions.
Do You Need to Wash Chicken Eggs?
The simple answer is no because eggs are covered by a cuticle which is a protective coating to keep bacteria out of the egg.
When you wash eggs, you remove the protective coating and bacteria can penetrate.
FACT

The cuticle of an egg is also called the egg bloom.
How Do You Wash Chicken Eggs?
Run eggs under clean warm water or spray water on them to remove the dirt, then dry each egg using a soft cloth or paper towel.
NOTE

If eggs are heavily soiled you can use a scouring pad to remove the dirt and stains.
Gently rub the scouring pad against the shell or you'll have cracked eggs.
How Do You Clean Fresh Eggs?
Fresh eggs can be cleaned with hot water at a temperature of 90 degrees Fahrenheit.
How Do You Clean a Lot of Eggs at Once?
Egg washing machines can scrub six eggs or more per minute and cleans in half the time compared to manual cleaning.
What is the Best Method for Cleaning Eggs?
The best way to clean more than 50 to 100 eggs daily is to use a reliable little egg scrubber while three eggs or more per day can be run under clean hot water for 10 seconds.
How Do You Sanitize Eggs for Sale
You can sanitize eggs using natural disinfectants such as diluted vinegar because the acidity will kill bacteria.
NOTE

A solution of vinegar and water is a natural egg cleaning disinfectant.

Special enzyme solutions or diluted chlorine can also safely sanitize eggs for sale.
How Long Do Farm Fresh Eggs Last Unwashed?
Farm fresh eggs that have not been washed, rinsed, or soaked can remain at room temperature for up to two weeks.
Can Chicken Poop on Eggs Make You Sick?
Yes, chicken poop on the shells can make you sick as it may contain bacteria such as Salmonella. So clean the egg before cracking it in a pan or cooking it.
FACT

By washing the egg, the bloom is removed and bacteria gets inside the egg.
Should You Refrigerate Eggs?
Refrigerating eggs keeps them fresher for longer as the storage temperature remains constant.
Why Do Farm Fresh Eggs Not Have to be Refrigerated?
Farm fresh eggs are unwashed and protected by the cuticle. Freshly laid and unwashed eggs can be stored at room temperature for up to 2 weeks.
Final Thoughts
I hope that you enjoyed this review on egg scrubbers and washers. Once you're ready to make a purchase, always consider the efficiency and the number of eggs the machine can clean.
Let's take a quick recap of our top egg scrubbers below: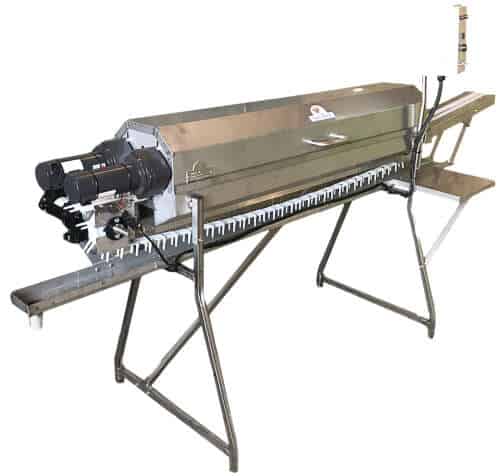 Efficient

Low water use

Single person operation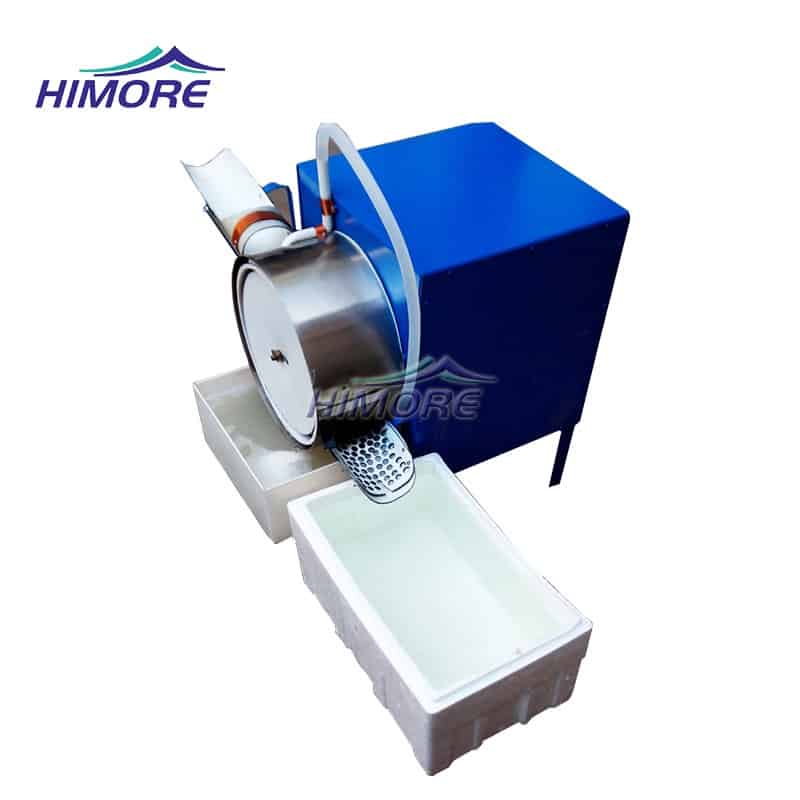 Economical

Water saving

Built-in disinfectant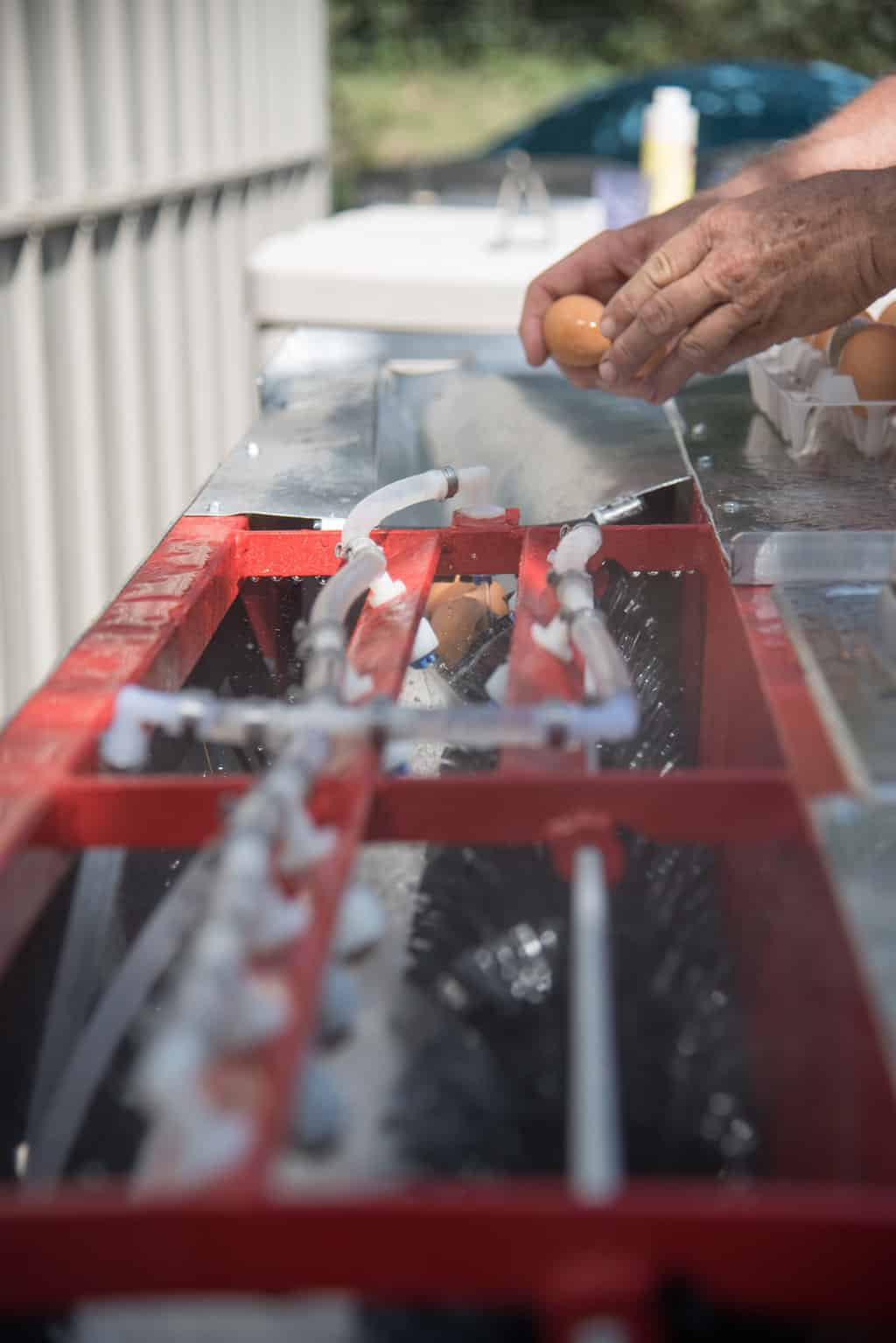 Sanitation rinser

High capacity egg washing

Temperature controlled water
Spread the Word
If you collect more than 50 eggs per day, consider the convenience of a little egg scrubber to wash eggs in half the time compared to manual scrubbing. Egg cleaners are efficient and prevent damaging the eggshells. Obviously cracked eggs are not what you want especially when preparing for sales.
Thank you for reading our best egg washer guide and please don't forget to share this information with your poultry friends and family so they too can keep their eggs clean and healthy.