If you are looking for an easy and safe way to check eggs for embryos inside, then you need a reliable egg candler.
Whether dark and mottled or splotchy eggs or even ostrich eggs, the best egg candlers can help you monitor the incubation process with clarity and ease.
In our latest review, we look at the top 4 egg candler products of 2022 to help you decide which candling range is the best for you.
The 3 Best Candlers From The Review
Here's a quick look at the 3 best egg candlers from the list…
Top Pick
The Titan Egg Candler is the best choice for battery powered candlers. The cold light with high power output provides easy viewing of chicken eggs without the risk of heat damage to the growing embryo.
The cool light of this high intensity candler makes it easier to view the inside of eggs without any concern of heat damage.
The Titan Incubator is the top rated egg candler with a super cool LED light which produces a higher light output.
It is a battery powered egg candler and it comes with 4 AA batteries for convenience.
Its black ring shoulder fitting secures eggs for safety purposes.
Best on a Budget
The battery operation and cordless design make this product simple to use and easy to transport. The CREE light Bulb offers 250 Lumen light power for candling dark eggs.
Designed for simple handheld use, the durable aluminum casing provides the perfect grip while checking eggs against its bright light.
The Incu-Bright egg candler offers a compact size along with a universal rubber ring making it easy to hold while positioning and securing the egg.
Its 250 Lumen light is perfect for lighting up small eggs from pigeons and quails.
Editor's Choice
A handy and versatile product, it is designed for ease of use and is compatible with dark shelled eggs. As the perfect high intensity candler, it can be used on all-sized eggs including light, mottled and darker eggs.
A cost-effective and robust model for testing eggs, the basic design makes it simple to operate along with the bright light and clarity that you need in a candler.
Magicfly Cool LED Candler is the best egg candler with power corded operation. It produces a high intensity light making it easier to view light, medium, and darker brown eggs.
The electric cable comes with a longer length of 1.2m so you can securely position your candler for egg checking with enough room to prevent tipping or tugging on the cord.
Top Egg Candler Reviews
Here are the full reviews of all the egg candlers in the list…
Top Pick
The Titan Egg Candler is the best choice for battery powered egg candlers. The cold light with high power output provides easy viewing of chicken eggs without the risk of heat damage to the growing embryo. It also works with every egg type imaginable.
Quality
Titan Incubators are well-known for offering premium egg candlers with high quality design.
The Titan models are really simple to operate and all you need to do is position the egg and push a button to turn the light on.
This prevents dropping the egg while manipulating the light during the candling process.
Prevent Heat Damage
Another beneficial feature is the high intensity but cool egg candling light so you can easily illuminate fertilized eggs without causing heat damage.
It works with any egg type imaginable including goose eggs, duck eggs, tiny budgie eggs and enormous ostrich eggs.
Power
What we like about the Titan Incubators Candler is its battery operation so you can take your candler wherever you go. It comes with 4 AA batteries so you can start using the candler to see inside eggs with no hassle.
Specs
Weight 7.8 ounces
Plastic manufacture
Size 5.51 x 3.54 x 1.77 inches
Pros
Cold, Intense LED light
Push button for easy use
Compatible with thin and thick eggshells
Cons
Not compatible with all egg sizes
Must be used in a very dark setting
Batteries die quickly due to high power consumption
Best on a Budget
The battery operation and cordless design make this product simple to use and easy to transport. The CREE light Bulb offers 250 Lumen light power for candling dark eggs.
The IncuBright Candler helps you stay on top of the incubation period by offering a bright LED light that won't get hot and cause damage to the developing embryo.
LED
The company incorporates the latest LED technology in its ultra bright CREE bulb which produces 250 Lumens of light power.
The chicken egg candler light helps to view the inside of eggs for light to darker shelled eggs. The universal silicone nesting ring helps to seal against the base of the egg for better grip while candling.
This makes it possible to candle small eggs such as pigeon and even reptile eggs without affecting the incubation process.
Power
The cordless design and battery operation make this a portable device. It is considered an affordable product compared to other egg candlers coming in below the $20 mark.
Specs
Aluminum casing
Weight 7.2 Ounces
Size 5 x 2.3 x 0.9 inches
Pros
Bright cool light
One year warranty
Good for small to medium size eggs
Cons
Small size
Handheld design
Battery power doesn't last
Editor's Choice
A handy and versatile product, it is designed for ease of use and is compatible with dark shelled eggs. As the perfect high intensity egg candler, it can be used on all-sized eggs including light, darker and mottled eggs.
Magicfly offers a powerful bright yet cool egg candler light to illuminate different types of shell, eggs and colors.
You can safely view even the darkest eggs without the risk of damage and as one of the best egg candler models, it is a decent product at an affordable price.
Cord
Magicfly has a US plug and an extra long cord of 1.2m helping you comfortably perform the candling process without tugging at the cable.
The on and off button for the egg candling light is located on the side of the candler body making it easier to operate when checking for viable eggs.
Clear View
This model offers a cup at the top of the candler to secure eggs of various sizes. It is designed to prevent light leakage helping chicken owners view the embryo inside with the utmost clarity.
As a light candler tester, you can hold it in your hand while checking darker, spotted, and plain shelled eggs.
Specs
Weight 7.2 ounces
Plastic manufacture
Size 5.9 x 1.4 x 1.4 inch
Pros
Strong light
Durable design
Compatible with different egg colors and sizes
Cons
Handheld function
Lightweight easy to break
Needs power source to operate
As one of the top egg candlers, this Brinsea products' candling lamp produces a cool strong light for safe illumination. It performs seamless egg rotation and is compatible with a magnification scope.
The Brinsea products candling lamp is a high quality egg candler. Despite its high price tag, it offers features that you won't find in other egg candlers such as the webcam and magnifier.
Magnification
The magnifying feature of brinsea ovascope egg viewer allows you to take an in-depth look at all stages of embryo development. Magnification emphasizes the blood vessels inside the egg making it a great educational tool.
This particular chicken egg candler tester won't need an extremely dark space to work because it is designed to block outside light and has a strong LED light.
Power
The range comes with 4 AA batteries and the gentle rotation will help you view the egg from all sides while illuminated.
If you want to incubate eggs and observe their development, then consider the Brinsea Ovascope product range.
Specs
Weight 1.05 pounds
Plastic manufacture
Size 7.9 x 6.4 x 5.1 inches
Pros
Smooth egg rotation
Intense cool LED light
Operates with a webcam
Cons
Expensive
Not user friendly
Fits eggs smaller than goose eggs
Choosing the Best Egg Candler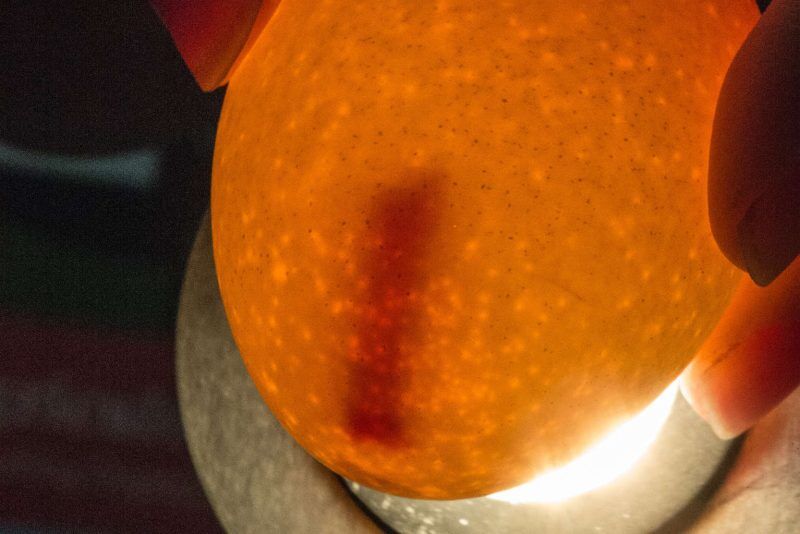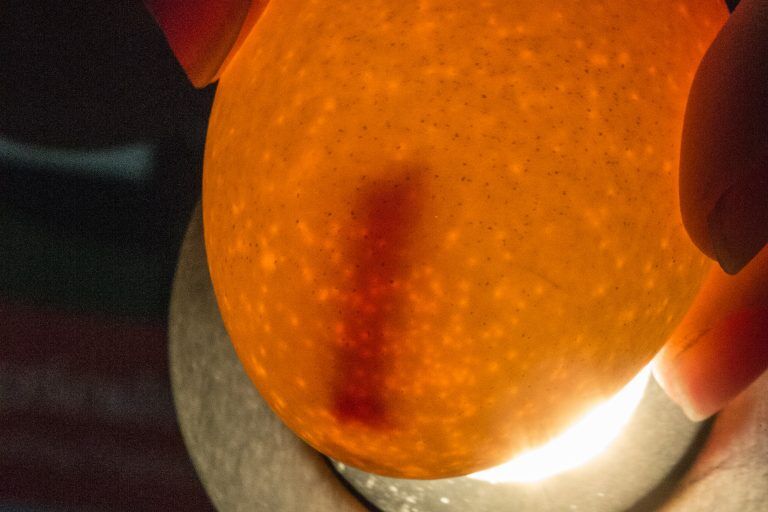 Egg candlers are modern devices that help you glimpse inside the eggs that may have a growing embryo inside.
The best egg candlers are easy to operate while producing cool and powerful lighting to illuminate eggs of all colors, sizes, and shell densities.
To choose the right product for your needs, we learn a little bit about the purpose of candlers and what to look for when you are ready to buy one.
What is an Egg Candler?
Egg candling dates back to the 18th century when people would use a candle and hold it against the eggshell to tell whether eggs were fertilized.
Today, with modern LED light and electricity, we no longer use candles to inspect eggs for embryo development which prevents the risk of heat damage.
NOTE

The use of cooler light sources makes it easier and safer to look for an embryo with the highest levels of clarity.
What Does an Egg Candler Do?
An egg candler is designed to illuminate or light up eggs using bright, cool LED light technology. It is a great tool for hatching eggs and raising chickens as it helps you monitor egg development over time.
How to Identify Fertile Eggs
When hatching eggs, you'll need to look for both fertile and infertile eggs and those that have stopped growing during the incubation process.
DID YOU KNOW

An infertile egg is called a yolker while other eggs that have stopped developing are known as quitters.
The yolker will appear clear when viewed in a candler and be absent of blood rings or a dark embryo.
This way you can discard the unfertilized or bad eggs in a clutch.
In short, egg candlers can help you save time and money by preventing tending to batches of eggs that will never hatch.
Egg Candler What to Look for
Shopping for egg candlers can be quite confusing.
With different designs and features, it's hard to know whether you're picking the right product!
We look at some of the most important factors when choosing candlers below…
Price
Egg candlers can range from just below $20 right up to $60.
You'll pay more for candlers that have extra features such as the Brinsea Ovascope product range.
Size
Some candlers are compact in size while others are large and robust. When choosing an egg candler, make sure to choose a unit that can accommodate the egg your using it for, whether is it for chicken eggs, duck eggs, or guinea fowl eggs.
If you are checking large eggs such as Emu eggs, consider compatible models that are designed to adjust to the larger circumference of the egg for effective candling
Candler Size
Candler dimensions such as the Brinsea Ovascope of 7.9 x 6.4 x 5.1 inches can easily accommodate larger eggs. Smaller candlers that are not designed to house big eggs make balancing and candling eggs difficult.
Light
The light source is extremely important when choosing candling products because you need to see inside the egg especially when candling dark color eggshells.
For safety purposes, look for cool or cold LED lights such as those found in the Magicfly range. It won't heat the egg and hurt the embryo during the candling process.
Egg compatibility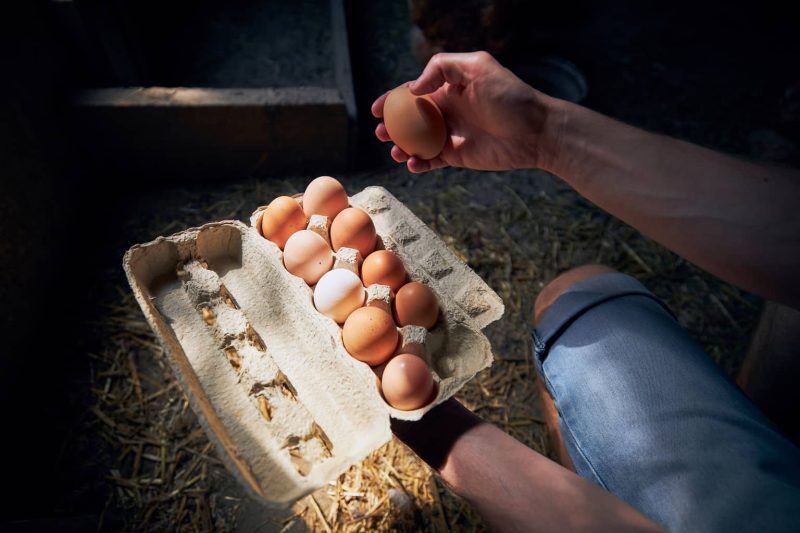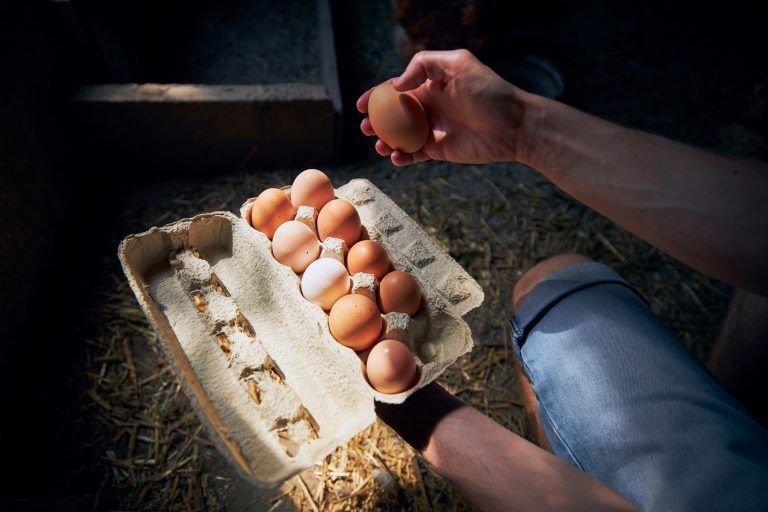 Not every product illuminates mottled, dark, or very large eggs.
You'll need to find a candler that works with the particular egg size and color you want to monitor.
Power Source
Will the device use electricity or rechargeable batteries? Battery operation is convenient but it can also drain this power source very quickly where powerful LED lighting is used.
Corded devices such as Magicfly, provide continued operation but it needs a power outlet and is not portable.
Warranty
Look out for a 2-3 year warranty.
A warranty or guarantee is important because it ensures that the device will be repaired or replaced if defective during the warranty period.
How to Use an Egg Candler
Egg candling should always be performed in a dark room so you can prevent any light leaks and better see directly into the egg.
Place the egg in the egg holder that may consist of a small ring or cup located on the top or in the front of the device.
Here's a video of egg candling…
Candler Covers
Some candling products come with rubber candler covers that fit the specific size of the egg.
The Magicfly LED candler comes with two rubber candler covers to fit small to large eggs making for a more secure way of viewing eggs.
NOTE

Once you have the egg in the right position, turn the candler on to illuminate it and gently rotate the egg so you can get a better view of the embryo.
Final Thoughts
I thoroughly hope that you found this review informative and interesting but most importantly, that you have the confidence to choose the best egg candler for your needs.
Remember to look for cool and bright lighting to help you safely view the inside of eggs.
I know that my favorite egg candler products are easy to use and secure the egg to prevent damage.
If you're still unsure, here's a recap of the top 3 best egg candlers…
Top Pick
If you are looking for the perfect egg candler that is easy to use and fairly priced, then the Titan Incubators High Intensity Candler is the most suitable choice.
Best On a Budget
For checking eggs on the go and at an affordable price, you can't go wrong with the Incu-Bright LED candler. It is safe for use with small pigeon and tiny quail eggs.
Editor's Choice
To candle light to dark color eggs with a powerful yet cool LED light source, you won't be disappointed by the Magicfly egg candling range. It is simple to operate and its corded design maintains power supply.
Spread the Word
Thank you for taking the time to read our review on the best egg candlers. Hope this helped you pick the right egg candler.
Please feel free to share this guide with your fellow poultry keepers or those interested in an affordable and high quality egg candler with all the features you're looking for.
Whether you're waiting to hatch eggs at home or you need candlers for school and educational projects, compare features to find the product that works for you.