If you've tried to hatch fertilized eggs by placing them under your broody hen, only to find she's kicked them out of the nest, it can be really disheartening!
While a good mother hen is certainly worth her weight in gold for hatching eggs, if you aren't lucky enough to have such a hen, you can rely on an egg incubator to do it for you.
Best Incubator with Automatic Egg Turner
The feeling of hatching your own eggs is also a reward in and of itself. You get to form a closer relationship with your chicks and if you have children, it's educational and they get the chance to develop their compassion towards animals.
No matter the size of the clutch or whether it's your first time hatching eggs, we can help you find the best incubators by looking at the top products and effective hatch rate tips.
The Best Egg Incubators From The Review
Here are the best egg incubators from the review sorted by category.
Top Pick
An easy-to-use egg incubator that is great for beginners and experienced hatchers alike.
The Magicfly Mini Auto Incubator is a great option for both beginners and more experienced hatchers.
Features
It is easy to clean, so simple to operate, and it'll allow you to view the eggs as they develop inside the shell.
Although it is a small incubator, it is still a valuable, reliable system that can hatch between 9 and 12 eggs (depending on the average egg size).
Trays
The trays that are included with this range will rotate the eggs very slowly, which reduces the need for manual turning.
If you are concerned about humidity, you can include a hygrometer and adjust the amount of water during the incubation period.
Automatic Egg Incubator
For a fully automatic incubation system, Farm Innovators Model 4250 could be the one to choose.
Size
It's ideal for those who want to hatch large broods (holds up to 41 medium eggs), whether new to the hobby or a more experienced egg hatcher!
What I like about this unit is that it is simple to operate and will allow chickens enough room to move when they hatch.
Features
Along with the basic design, it has a clear picture window to allow you to view the eggs during the incubation period.
You can also use its egg candler to ensure every chick is developing healthily.
Its automatic features include the fan for circulation, two channels to maintain humidity levels, and a pre-set heater to set the desired temperature.
Best Incubator with Automatic Egg Turner
Ideal for beginners who are starting out with hatching eggs and want something that is easy to clean and simple to use.
Another small incubator makes the top list for automatic egg turners! HBLife can help all levels of chicken keepers with every stage of hatching eggs, owing to its standard features and simple design.
Features
It has an automated function to control temperature and humidity levels, which prevents the manual handling of eggs.
What I enjoy about this little incubator is its ease of use, tough manufacture, and the fact that it is so easy to clean.
Size
Because it doesn't take up too much space, you can place the incubator inside the office, kitchen, or living room and still hatch eggs
After 21 days you can expect some chirping hatchlings that you can move into a larger brood box!
Best Egg Incubators
Top Pick
An easy-to-use egg incubator that is great for beginners and experienced hatchers alike.
If you're new to hatching eggs and you're looking for a device that is easy to use, then the Magicfly Digital Incubator could be a great choice.
Function
It is fully automatic with temperature control and can hold around 9 regular or 12 small to medium-sized eggs.
Magicfly can be used to hatch guinea, geese, duck, and chicken eggs and is small enough to be placed on a counter or table during incubation.
Features
Its favorable features include an automatic thermometer, slow turner, and a fan for warm air circulation.
Although Magicfly Digital Incubator does not have its own humidifier, you can add a hygrometer or you can adjust humidity yourself when you remove or add water inside the incubator.
Specs
Forced Air Incubator: Yes
Egg Turner: Yes
Material: PP+ABS
Pros
Temperature display & control makes it easy to regulate
Fully automated
Simple to use
Durable
Rohs, CE, C-tick Approved
Cons
Requires manual humidity control
Tricky to clean
Automatic Egg Incubator
Get ready to hatch up to 41 chicks with the large Farm Innovators 4250 Model! With automatic features turning and digital temperature control, you don't have to find a broody hen because Farm Innovators does all the hatching for you.
Display
What I like about the Model 4259 is the clear digital display.
You can easily check the temperature, humidity, and the days left to hatch which are also adjustable for the breed of poultry.
Should the temperature drop, a flashing light will appear; however, it is important to use independent temperature readings to check on the incubation conditions.
Features
The first thing that Farm Innovators takes care of is automatically turning the eggs every 4 hours.
This reduces the manual handling or removal of the eggs that could affect hatch rates, and it also has a unique egg candler along with a clear cover so you can view your clutch's progress.
Specs
Forced Air Incubator: Yes
Egg Turner: Yes
Material: Hard plastic
Pros
Easy to clean and use
Automatic temperature and humidity control
Holds up to 41 eggs
Cons
The plastic cover can easily crack and damage
Unreliable thermometer
A small but reliable incubator. It has a clear cover which is great for children who want to observe the hatching process.
A small incubator that is worth checking out is the Harris Farms Nurture Right Incubator.
Size
Designed to house 22 chicken eggs and up to 18 duck eggs, it comes with important features to maintain heat, humidity, and air circulation while incubating chicks.
Features
The auto incubator is great for children who will be able to view the eggs and hatching chicks through the clear cover.
It also comes with an egg candler, so you can monitor the development of all eggs.
Owing to its small size, you can place the device in a secure area free from drafts or extreme external conditions.
Egg Turner
This incubating device was specifically designed to reduce the manual handling of the eggs. It will automatically turn the eggs and stop just 3 days prior to hatching.
These incubators provide relative humidity levels based on the type of poultry you are trying to hatch.
Specs
Forced Air Incubator: Yes
Egg Turner: Yes
Material: Plastic
Pros
Clear window provides unobstructed views of eggs and hatchlings
Electronic monitor with heat and egg turning indicator
Digital temperature reading in degrees Fahrenheit
Fan protection
Humidity and moisture control
Cons
Sensitive to external conditions
Plastic manufacture prone to breakage
Best Incubator with Automatic Egg Turner
Ideal for beginners who are starting out with hatching eggs and want something that is easy to clean and simple to use.
The HBlife Digital Egg Incubator is another small device that is designed to house up to 9 fair-sized eggs.
It is ideal for beginners still reading about the hobby who are starting out with hatching eggs and want something that is easy to clean and most importantly, simple to use!
Build
The basic egg incubator comes with a removable black turner and standard turner tray.
The trays can be taken apart for cleaning and you can set the lockdown tray on day 18 before the chicks hatch.
It offers clear sides so you can see your eggs developing, but it doesn't include an egg candler. The digital display makes it easy to check the temperature and humidity.
Auto Features
If you want a small incubator you can easily place in your home, the HBLife could be a valuable choice because it comes with automatic incubating features.
What does this mean?
Basically, you won't have to manually turn the eggs as the automatic design does it for you. It also regulates humidity inside the incubator and is easy to maintain.
Specs
Forced Air Incubator: Yes
Egg Turner: Yes
Material: PC+ABS
Pros
Automatic egg turning design
Regulates temperature and humidity
Easy to clean
Doesn't take up much space
Great for beginners
Cons
Forced Air Incubator: Yes
Egg Turner: Yes
Material: PC+ABS
Comes with a variety of interesting features that help beginners and seasoned hatchers with their broods.
The Hovabator Genesis comes with a variety of interesting features that help beginners and seasoned hatchers with their broods.
Versatile
It can hatch many different breeds of birds, including chickens, quails, ducks, and geese! When you buy the 1588 model, you receive built-in features such as thermostat control, a digital display, and quality insulation.
Size
The large incubator can hold up to 42 chicken eggs and 70 quail eggs at a time.
You won't have to be concerned with internal circulation, since the fan will self-stabilize the inside ventilation and temperature. To maintain humidity levels, you can place a plastic tray inside the incubator with water added to any connected ports.
Egg Turner
What is great about this device is the IncuTurn egg turner.
It slowly rolls eggs 6 times a day to prevent the embryo from sticking to the membrane of the shell.
You could also view your eggs at all hours of the day with its clear top window!
Specs
Forced Air Incubator: Yes
Egg Turner: Yes
Material: Durable styrofoam
Pros
Simple to use and to clean
Air circulation for consistent temperature
Insulated design
Secures eggs within the tray
Cons
Does not include quail egg tray
Extra cost for turner
An affordable incubator designed for hatching more difficult and sensitive breeds of poultry.
If you want a small incubator with complete egg visibility, maybe consider the Brinsea Mini II Advance Incubator.
This incubator has a programmable automatic system, and works by gently turning the eggs throughout the day. It is an affordable incubator designed for hatching more difficult and sensitive breeds of poultry.
Size
This range of egg incubators can hold 7 eggs at a time and comes with a separate power supply. The temperature is regulated by a fan, which circulates the warm air inside the device. A great feature is that there is also a thermometer and temperature alarm to alert you of any changes that might compromise the eggs.
Humidity Regulator
Brinsea includes automatic humidity regulation, which is necessary for the hatching process. There is also an external water top-up feature so you never have to lift the lid and accidentally compromise the temperature inside the unit.
Always consider the number of eggs placed, as young chickens should have enough space to move without risk of injury.
Specs
Forced Air Incubator: Yes
Egg Turner: Yes
Material: ABS plastic
Pros
Automatic turn and save features
Easy to use
Clear display
Cons
Limited egg space
Must buy a separate insert for bantam eggs
How to Find the Best Egg Incubators for Hatching Chicken Breeds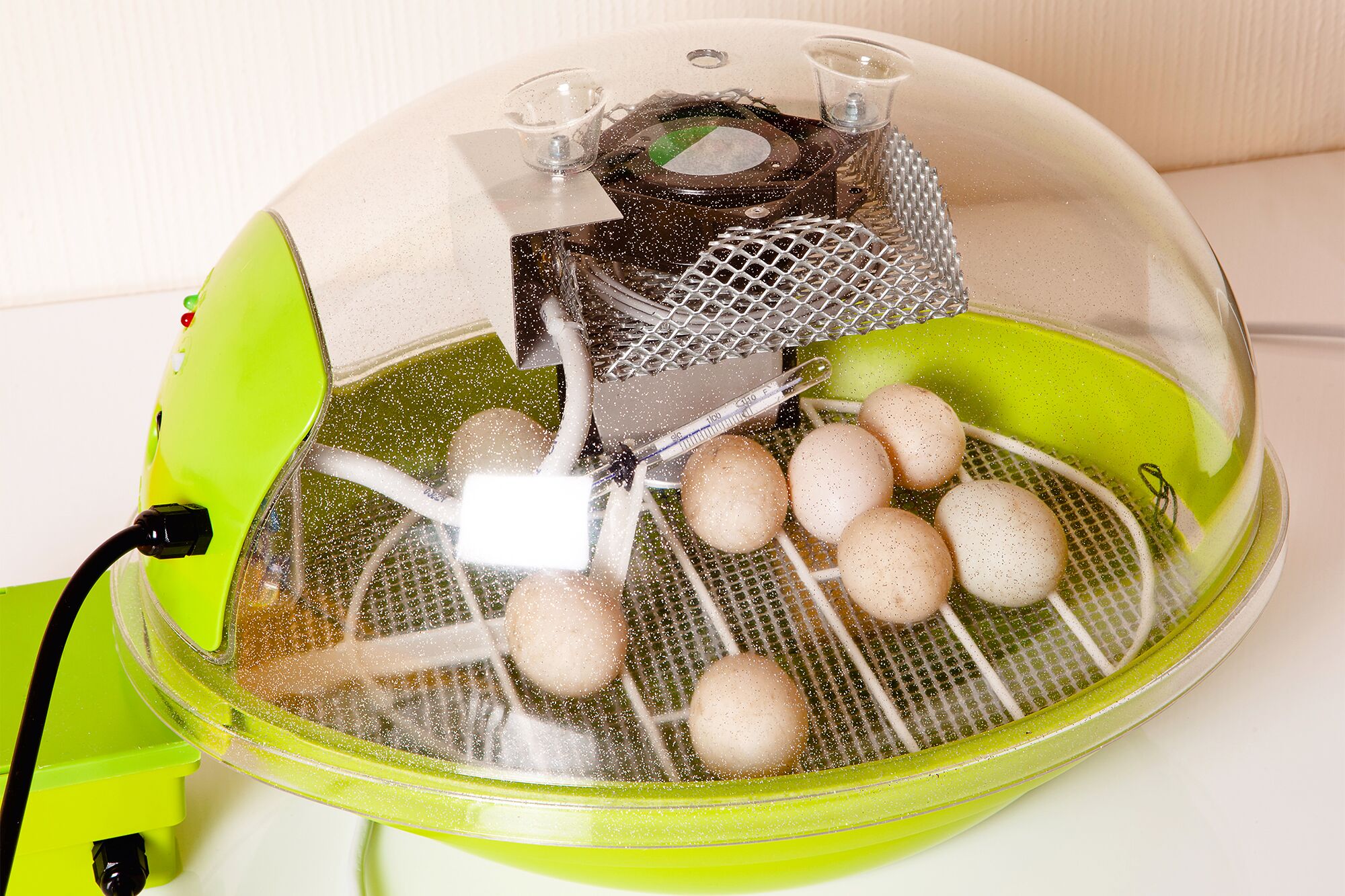 Hatching your own chick is a memorable and enlightening experience!
It is educational for children too, and encourages them to develop compassion for even the tiniest of creatures.
To help you find the best incubator, we need to look at all the different incubators there are and the features unique to each product.
Let me take you through the steps to choose the right incubator and what you can do to successfully hatch your next clutch of eggs!
How to Choose Eggs for Incubation
The first step to hatching eggs is to know how to pick fertile eggs along with the right incubator.
Whether you are collecting eggs from your chickens or having them shipped to you, there are a few signs of healthy eggs and viable embryos:
Strong Eggshells
Clean shells
No cracked shells
Proportionate in size and shape
Once you know how to select healthy fertile eggs, you will need to place these in an egg incubator to hatch. Using an egg candler can help with the process of identifying fertile eggs.
How to Buy the Best Egg Incubators
The smaller incubators such as HBlife and Magicfly incubators are ideal for quail, guinea fowl, and chicken eggs.
Larger systems such as the Farm Innovators Model will be suitable for goose and duck eggs.
Function
Incubators are also designed according to the breed and number of birds you are interested in raising.
It is important to buy an incubator designed for larger types of poultry so hatchlings can move around.
The extra space also ensures that the heat and air inside the egg incubator are evenly distributed to improve the hatch rate.
Let's look at the most important features when choosing incubators…
Size
If you want to hatch goose eggs but the incubator can only hold 9 medium-sized chicken eggs, you're going to have a serious problem!
The incubator should always be large enough to accommodate the breed and the number of hatchlings.
Design and Operation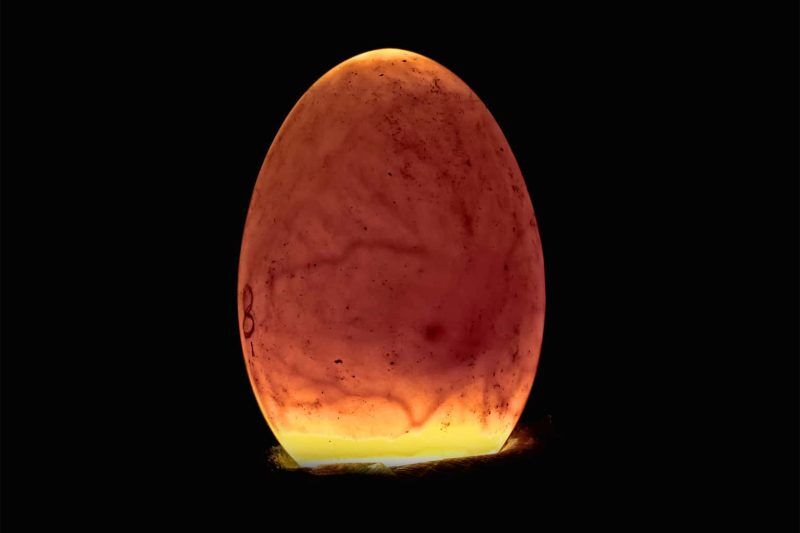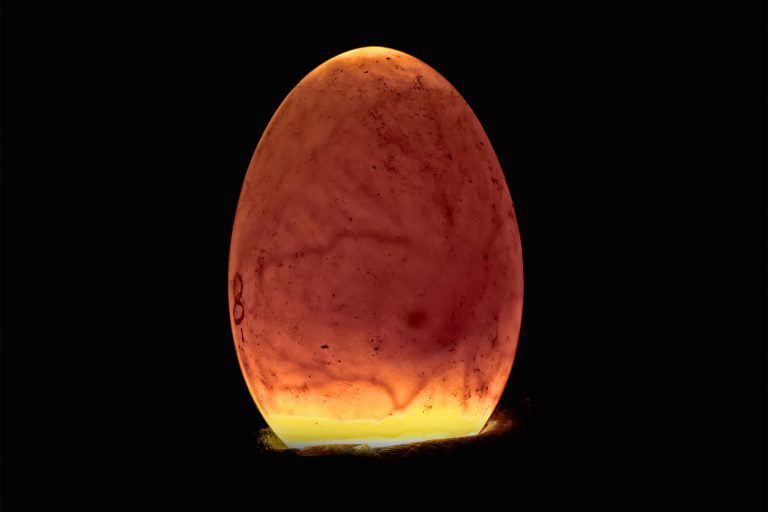 Some incubators offer unobstructed views of each chick through a clear cover, while others make it difficult to see the clutch.
Incubators also differ according to their functions.
Some are fully automated with temperature settings, adjustable humidity levels, and egg rotation while other models rely on manual adjustments.
TIP

If you are new to hatching eggs, I recommend starting out small with the healthiest fertilized eggs.
You can also look for less complex temperature and humidity requirements for each product, which could prevent you from stressing and spending hours watching the unit. The three features that should be a part of your search include:
Instructions that are easy to read
Large space to accommodate birds
Simplified features that first-time chicken breeders find easy to use
What is the Difference Between Forced Air and Still Air?
Forced Air
Forced air incubators come with built-in fans that circulate warm air to maintain the temperature of eggs.
It is also an important part of ventilation and encouraging the correct humidity levels.
Still Air
If you were to purchase still air incubators, you would have to use manual methods to rotate the eggs and create the ideal hatch conditions.
Fortunately, you can find an egg incubator with the automatic features needed to increase the hatch rates.
Here's a short but informative video elaborating on the difference of forced air and still air incubators…
What are Common Incubator Problems?
The thermometer readings can be inaccurate.
If you notice that chick development has slowed, use an independent thermometer to check the temperatures and adjust them where necessary.
If you are new to hatching eggs, then learning about humidity can help you improve hatching conditions.
TIP

Some swear by a hygrometer to measure the humidity, while others will manually adjust these levels by adding or removing water to create an ideal environment.
Size
Size can become a problem depending on the number of chicks you want to breed.
Larger incubators provide extra space to safely place eggs, and are suited to more experienced chicken keepers.
TIP

Take the time to compare incubators in order to choose the right size.
FAQS
How to Use Egg Incubator
To use an egg incubator correctly, you need to first read the instructions.
Once you understand where everything is and how it works, you can set temperatures, humidity levels, and days to hatch.
Remember to place the egg incubator in a dry, safe area where it won't be disturbed by people, children, nor pets.
The next step is to adjust the temperature based on the type of bird.
After 24 hours on the desired setting, place clean eggs into the incubator to avoid contamination.
Each egg should be carefully placed on its side to facilitate rotation without toppling the brood. You can also mark each egg to ensure it is turning every few hours.
Maintain the humidity levels at around 50% and only increase on day 18 before chickens are meant to hatch.
You can also stop rotating the eggs three days prior to hatching, because the embryos are getting themselves into the necessary hatching position.
Once chicks break through the shell, don't be tempted to remove them until they are dry. The warmth from the incubator will help dry their skin and feathers while protecting them against the risk of sudden chills.

How to Take Care of a Bird Egg without an Incubator
If you come across a bird egg but you don't have an incubator, you can try the following methods:
Use a Broody Hen
A broody hen will provide natural warmth and turning of the eggs.
Use a Heated Pad or Warmer
Place pads or warmers on a low setting, wrap the egg, and place it on the pad.
Use a Towel and Lamp
If you don't have a broody hen, you can wrap the egg in a towel and place it under a 40-watt lamp for at least 16 hours daily.
Can You Leave Automatic Egg Incubators to Hatch a Chick?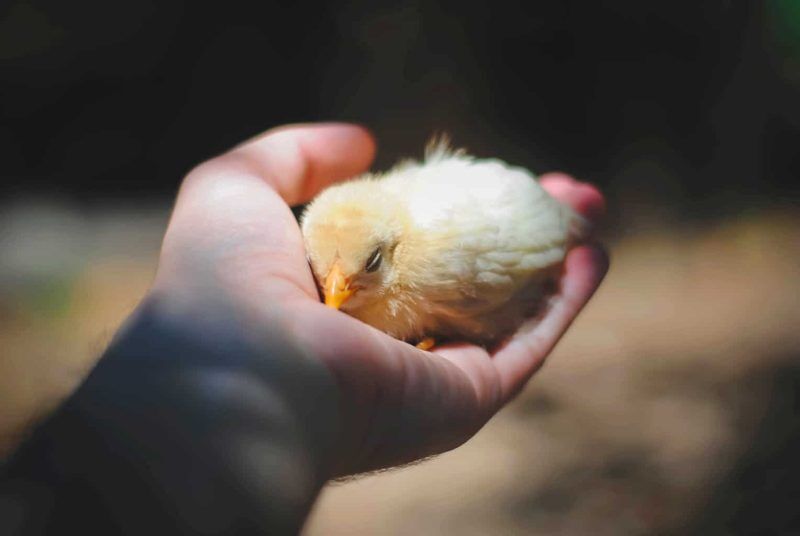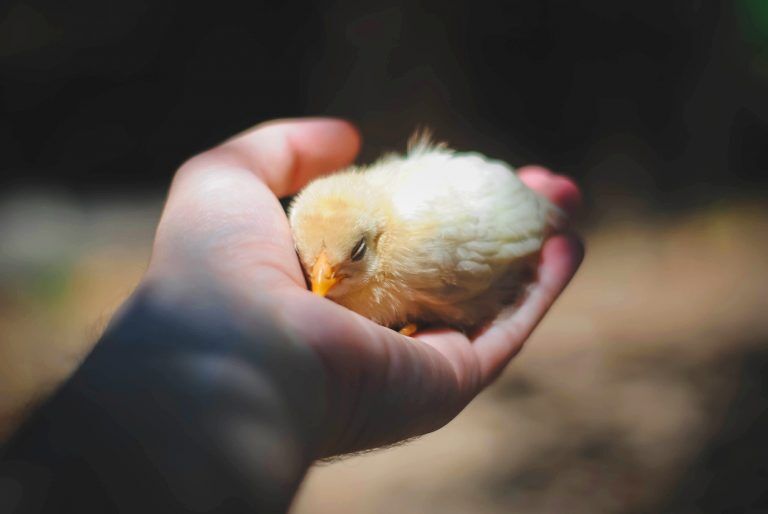 No, while automated incubators assist with rotating the eggs and setting humidity, it does not mean that chicken eggs should be left alone and unchecked for 18 days.
The eggs will still need to be monitored for the healthy development of the embryo.
It is also possible for an incubator to malfunction or settings to change that would affect the viability of the clutch.
Conclusion
From hatching a chicken, a goose, or guinea fowl, choosing the right egg incubator can make all the difference!
There are so many incubators with different designs, which makes choosing the best product a little confusing.
By breaking down the size, the automated features, and the needs of the breed, you can create a list of incubators to match your requirements.
The top three incubators can help you secure a product that is reliable and easy to use.
Best Incubator with Automatic Egg Turner
Top Pick
The Magicfly Mini Digital Incubator is great for first-time chicken keepers, because it is simple in design, small enough to place indoors, and requires little fuss.
Automatic Egg Incubator
For larger clutches with automatic function, the Farm Innovators range can make hatching chicks a little bit easier.
Best Incubator with Automatic Egg Turner
With its simple design and ease of use HBLife can help all levels of chicken keepers with every stage of hatching eggs
Hatch Away!
An egg incubator is a wonderful educational tool, but is also a great way to start hatching your own fertile eggs.
Choose wisely, and you will be greatly rewarded with the tiny chirping sounds and the fluffy bodies of your newly hatched chicks!
Thanks a lot for reading this review, and I hope you enjoyed it. Be sure to share this article with your friends and check out some of my other articles.