When it comes to flooring for your chicken coop, there are many options to choose from. Some would say concrete floors are best because it's easy to clean while others agree that a dirt floor is gentler on a chicken's feet.
There are also materials that could be toxic to chickens so knowing which types of floor for chicken coop to avoid can help you create a safer home for your flock.
To help you find the best floor for a chicken coop, we break down the pros and cons of the most common materials and help you decide which type of flooring material is right for your own chicken coop.
Let's start by looking at the necessity of flooring for a chicken coop…
Do You Need a Floor in Your Chicken Coop?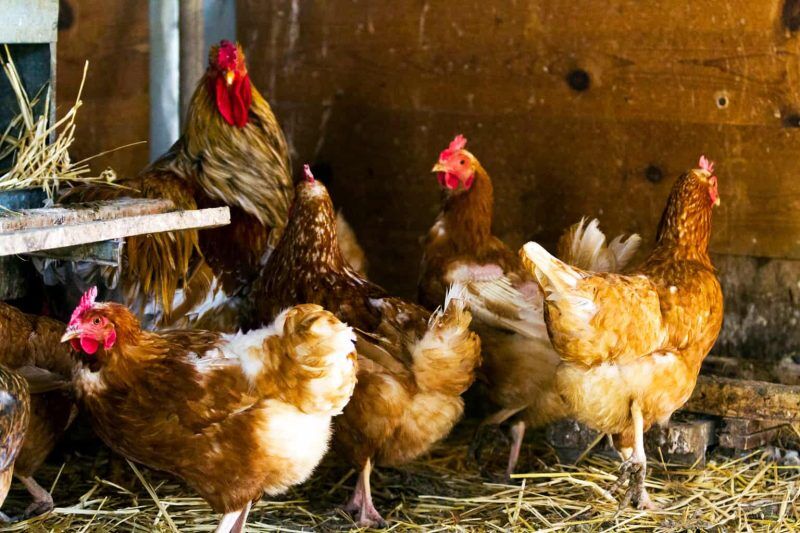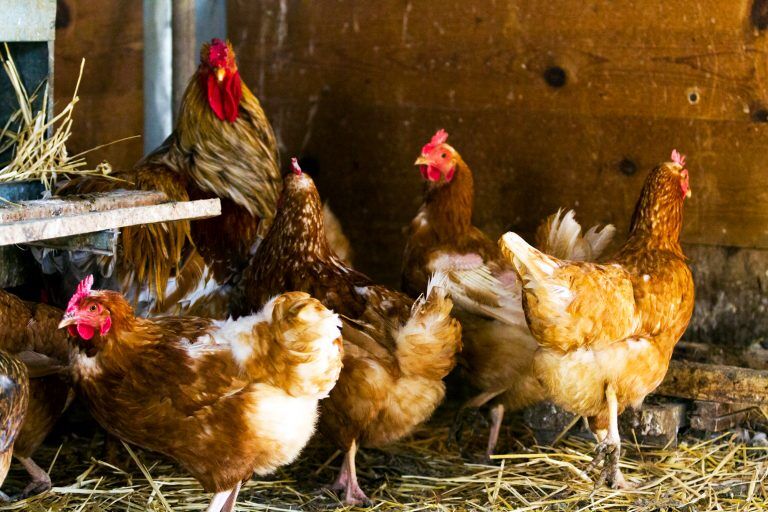 Chickens are tough animals and will do well in most types of environments provided that their basic needs are met.
Food, water, and a safe place to roost are important factors but floor for chicken coop has become just as important because it means the difference between comfort and safety risks.
But the question is, when keeping chickens do you really need a special type of coop floor?
Environment
The answer depends on the environment. For large numbers of free ranging chickens, dirt or straw-covered floors allow flocks to sand bath to keep pests away and are also considered cheaper to maintain compared to building large concrete or wooden structures.
For the backyard chicken coop or small flocks in enclosures, the choice of coop floor is just as important as the coop structure itself. This is because chickens are threatened by predators so they need a solid and secure coop to prevent pests or burrowing predators like raccoons from getting into the coop.
Maintenance
Chickens are also messy creatures but apart from their droppings, they tend to tip their feed bowls that attract pests such as rodents. The floor should be easy to clean, to help you maintain the hygiene and condition of the chicken coop.
Concrete flooring is a great example of a material that is easy to clean and considered a hygienic choice for a chicken coop; however, this solid flooring gets incredibly hot in summer and provides no enrichment for chickens.
They may burn their feet on the hot surface unless it is hosed with cool water and they cannot sand bath or scratch around to forage.
Flooring Options
Because there are so many chicken coop flooring materials to choose from, we explore the benefits and the limitations of each to help you invest in durable flooring that is affordable, easy to maintain, and ultimately safe for chickens.
What to Use for Chicken Coop Floor
Depending on the location and size of chicken coops there are many floor options to help you improve coop safety, hygiene, and overall comfort when raising chickens.
Picking the best floor for chicken coop not only keeps chickens happy, but it also makes for happy chicken owners! You'll be the one building and cleaning it, so be sure to choose a chicken coop floor that you can manage.
So, what kinds of material can you use for a chicken coop floor?
The following floor materials are the most popular and can be used in chicken coops:
Wood
Construction sand
Linoleum
Concrete
Ground cork dust
Rubber
Dirt and sand
NOTE

Remember that flooring materials will differ according to the overall cost, level of maintenance, and the comfort it offers chickens.
What is the Best Floor for a Chicken Coop?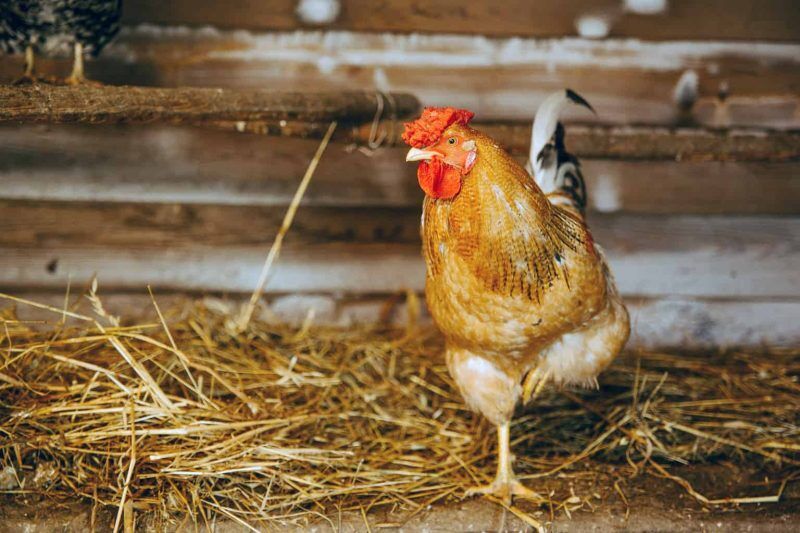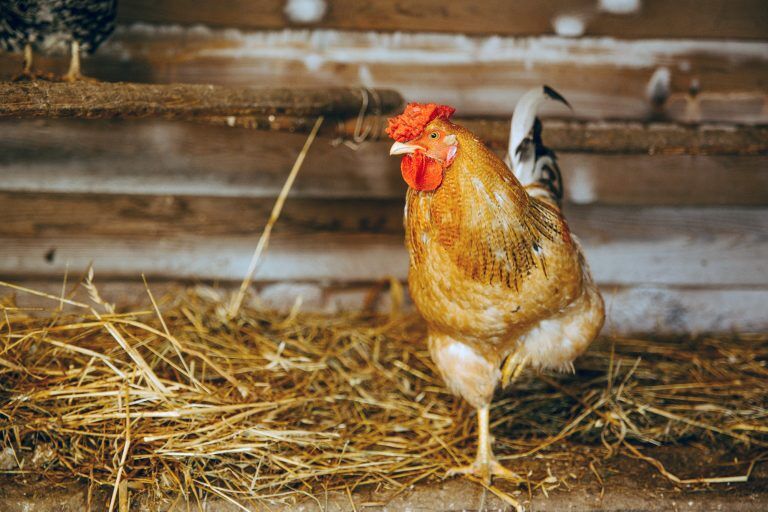 Whether traditional wire or prefab chicken coops, you need to have a proper floor.
The best chicken coop floors offer a sturdy structure that is proofed against digging predators and is low maintenance.
But with so many flooring options it can get a little bit confusing to tell which is right for your hen house.
Let's take a closer look at the best materials to use in chicken coops below…
Concrete
Most chicken keepers believe that a concrete floor is one of the best options for a chicken coop. It is easy to clean using a pressure washer that will get rid of both dirt and chicken manure.
When constructing the concrete floor, consider a slight angle so you don't end up with pools of water when washing the area.
The water also helps to cool the surface in summer for sections that are exposed to direct sunlight.
Prevent Predators
The solid construction will prevent digging predators such as raccoons from gaining access to the coop.
If you don't want the entire coop to become a concrete floor, then consider a concrete slab you can place at vulnerable areas such as the chicken coop door.
It's a lot less expensive than laying concrete across the entire coop floor and prevents predator access.
Are Concrete Floors too Cold in the Winter?
Yes, concrete flooring can become very cold in winter so you should use other flooring materials to keep it warm and prevent chicken's suffering from winter chill. You can apply shredded paper, wood shavings, or pine shavings to keep the surface insulated.
FACT

Pine and wood shavings are ideal for nesting boxes as it provides soft bedding for laying hens and warmth in cold weather.
The soft bedding will also protect chickens feet against scrapes and injuries owing to the rough concrete surface and once the bedding is ready to be changed, you can add the paper and wood shaving to a compost pile.
Are Concrete Floors the Best for Backyard Chickens?
A concrete floor is durable, easy to clean and disinfect, and prevents burrowing pests from getting in. Surprisingly, it can help to keep the nails on your chicken's feet short as they walk across the surface and the rough texture grinds the excess nail away.
Limitations of Concrete
Concrete as a flooring material can also become very hot in summer or extremely cold in winter. It has a rough texture that increases the risk of leg or foot injuries as chickens scrape their feet on the surface.
It also fails to encourage dust baths, foraging, and scratching through the dirt for seeds and grubs.
Cost
It is the most expensive installation and might not be practical for many chicken keepers with a flock of fewer than 10 birds.
Wire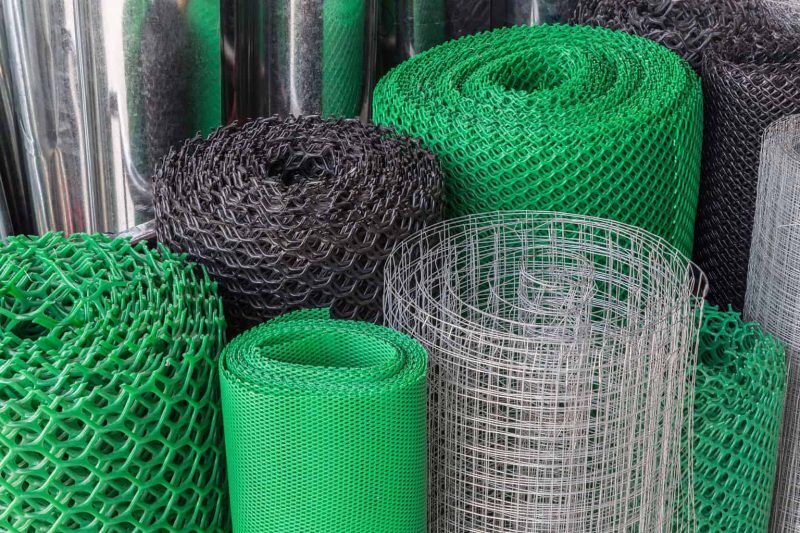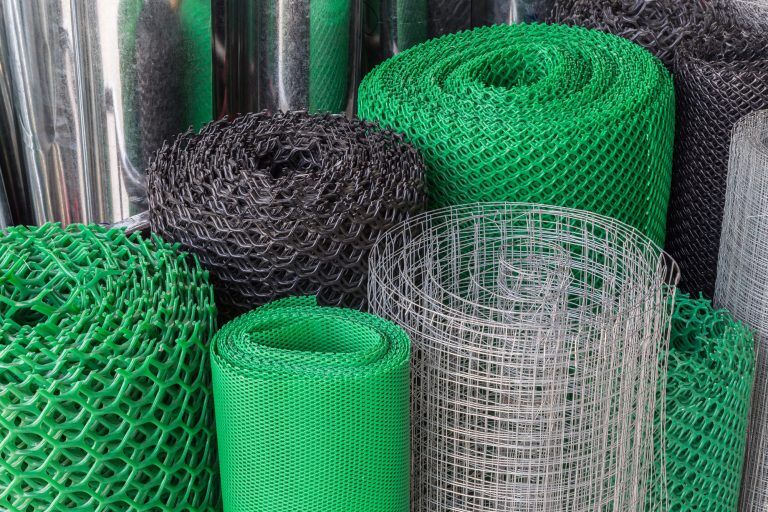 One of the worst materials for coop flooring is chicken wire.
A wire floor is commonly used in battery chicken houses because it allows droppings to fall through the slats making it easier for production houses to clean.
For backyard chickens, the wire floors could cause more harm than good.
Safety
The problem with wire floors is that a chicken will get its foot stuck between the open slats or sections between the wires. In a panic, they can pull, twist and break the leg or foot.
It is also hard on chickens' feet as they spend most of their lives standing on the wire floor.
There are alternatives to wire floor if you want a floor that is easy to clean such as concrete, wood, and rubber.
What Type of Wire?
There are two types of wire you can use for chicken coops which are chicken mesh and hardware cloth.
If you want to install wire as a floor, don't use regular chicken wire or mesh because it is too weak and will be easy for predators such as dogs and raccoons to break through.
Type of Wire To Use
The best type of wire to install is hardware cloth because it is thicker and more durable than regular mesh. It is also virtually impossible for raccoons or rodents to bite through.
If you aren't going to use wire as a coop floor, you can install hardware cloth as a barrier between your choice of coop floor and burrowing predators or pests.
NOTE

Dig a trench around the coop of around 12 inches deep and install wire, preferably hardware cloth, to stop burrowing predators from reaching your chickens.
Maintenance
Wire flooring is common in raised coops offering better ventilation than a structure on ground level. It is meant to be easy to clean and is considered economical as it does not require additional bedding.
The problem with wire floors is that the cons outweigh the benefits. It can become very cold in winter because of constant drafts and too much moisture in the absence of solid floors for insulation.
Exposure to Elements
Outdoor coops with wire floors will be exposed to pooling water below the coop after rain creating an unhealthy environment for chickens.
It also carries a high risk of devastating injuries to chicken feet should they get stuck in the wire and it is difficult to clean where droppings get stuck along the edges.
Wooden Boards/Slatted Wood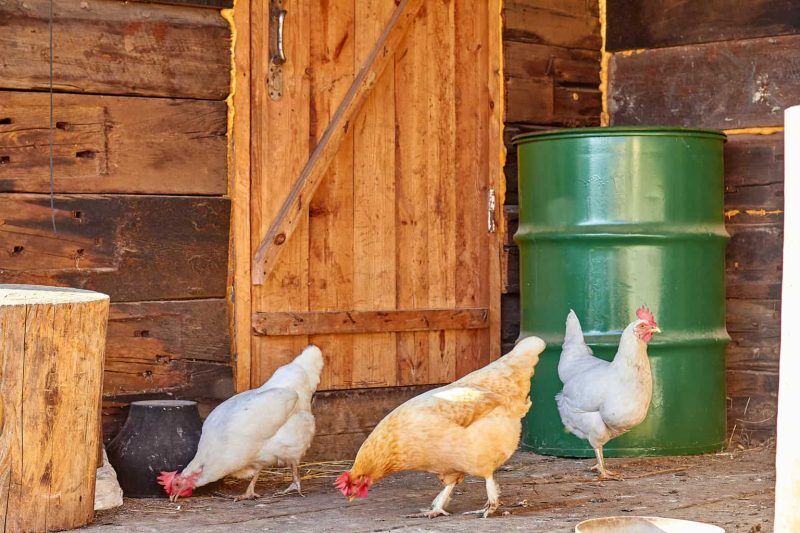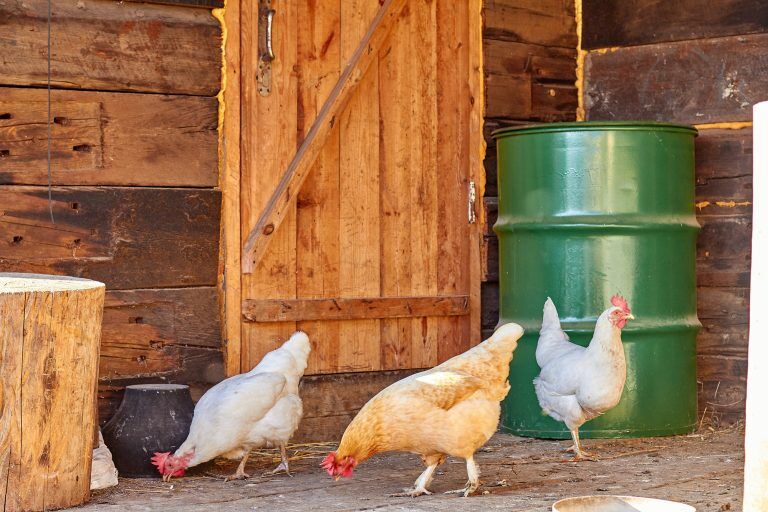 Why pick wood floors?
There is something about wooden floors that creates a cozy look and feel but is it practical for chicken coops?
Well, a wood floor is easy to build (especially if putting wood slats together), it is hard-wearing, and keeps predators out when properly constructed.
Insulation
The warmth and the finish of wooden floors are not only attractive, but they also insulate the coop in winter which means less reliance and cost on bedding such as straw or wood shavings.
The Limitations of Wood Flooring
A wooden floor is durable but it must be maintained with non-toxic sealants to prevent sunlight and moisture from damaging it or causing wood rot.
Once debris becomes stuck in the wood grain and cracks, not even a pressure washer can remove it. If you are purchasing a used coop with wooden flooring, it will require deep cleaning to eliminate the dirt and any bacteria.
Plywood
A plywood floor is usually favored over wood flooring because it is cheap, simple to maintain, keeps pests out, and is a widely available flooring material.
To ensure that these floors stand the test of time, they should be elevated. Raised coops don't sit in mud and moisture for prolonged periods that would otherwise cause a plywood or wood floor to rot.
To help you keep the chicken coop floor clean, you can use bedding such as wood chips, straw, and even shredded paper, and simply remove and replace it as needed.
Linoleum and Vinyl
Some of the most common types of coop flooring include linoleum and vinyl, rubber mats, rubberized roof coat material, and paint.
While disposable bedding such as straw is usually sufficient as flooring, some chicken keepers prefer liner materials that won't have to be replaced, which means that it's easier to keep clean.
Linoleum Vs Vinyl
Linoleum and vinyl flooring have grown in popularity as chicken coop flooring but there is a significant difference between the two.
A linoleum floor consists of materials such as wood flour and cork while sheet vinyl is made from PVC. It is a plastic flooring that chickens will peck at and eventually consume.
Here's what a linoleum flooring on a coop looks like…
The more chickens eat the plastic flooring, the greater the risk of digestive problems that can become life-threatening. These bits of plastic can also make their way into the eggs exposing you or others who eat the eggs, to plastic and harmful chemicals.
TIP

Vinyl flooring is not recommended for chicken coops because it is toxic for chickens.
What are Safe Liner Materials?
If you are looking for a safe liner to use as a floor covering in the coop, it is best to apply a good quality linoleum that won't be ripped by chickens feet.
To prevent chickens from slipping and injuring themselves across the glossy surface simply add bedding such as straw.
TIP

Avoid purchasing linoleum tiles that you would have to glue to the floor. The roll is better because it prevents multiple edges from curling upwards and dirt to become trapped underneath it.

To secure it, stapling will prevent the use of glue that is toxic for chickens.
Rubber Mats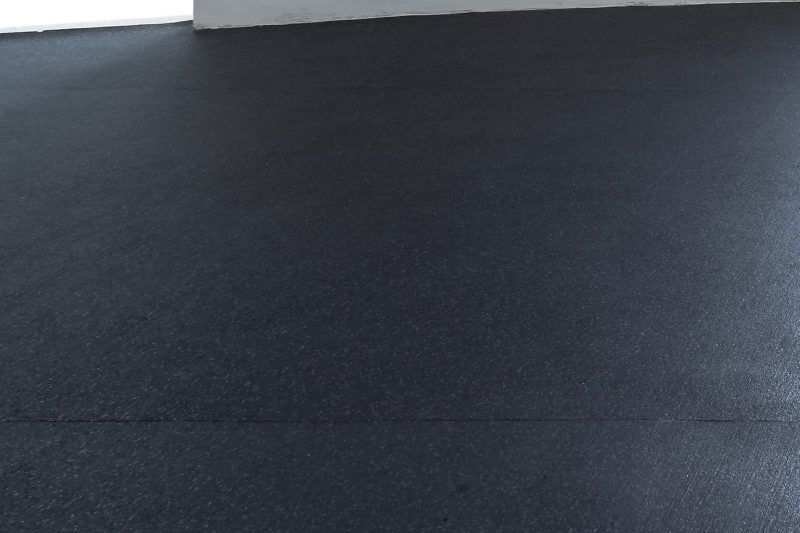 As a chicken keeper, you want to use a material that will not only be safe and comfortable for chickens but also prove easy to clean.
Rubber matting has become the most popular flooring cover because it offers the best of both worlds.
It is non-slip so chickens won't injure themselves and it is hard wearing making it a low maintenance solution for the coop.
Cost
The only real limitation of using the rubber mat for the coop is that it's quite expensive particularly for covering large areas.
Rubberized Roof Coat Material
If you can't afford the rubber mats, then what about rubber roof coating?
Well, rubberized roof coat material is considered the best chicken coop floor among most backyard chicken keepers because it is inexpensive, non-slip, and creates a protective waterproof seal for both wood and concrete floors.
Where to buy
You can find rubber coat products at local hardware stores and easily apply it as a paint across chicken coop floors. Once dry, it will create a strong and long lasting seal which is the reason it remains one of the top liner materials.
Limitations of Rubberized Roof Coating
While rubber mats are tough and can't really be destroyed or consumed by chickens, a layer of rubber coating on the floor might be a different story.
Always look at what a product consists of and whether it is safe for use with livestock.
Safety
You don't want your chickens eating rubber so if you're going to apply a rubberized coat onto the floor, you can add straw or wood shavings on top of it to prevent chickens from having direct contact with the painted surface.
Dirt and Sand
Undoubtedly the cheapest and the most convenient of all chicken coop floors is dirt or sand. Dirt and sand are in virtually every run or enclosure with benefits encouraging chickens to scratch around during the day, it is kind to their feet and they get to dust bath whenever they want to.
If you prefer a clean sandy area to dirt, then construction sand can be used.
The Limitations of Dirt
Of course dirt also has its drawbacks. In moisture prone regions, dirt and sand will become muddy and moist creating a haven for bacteria.
It is also easy for pests to burrow in soft sand unless you install a hardware cloth trench around the coop to prevent rats and mice from gaining access to the coop.
Straw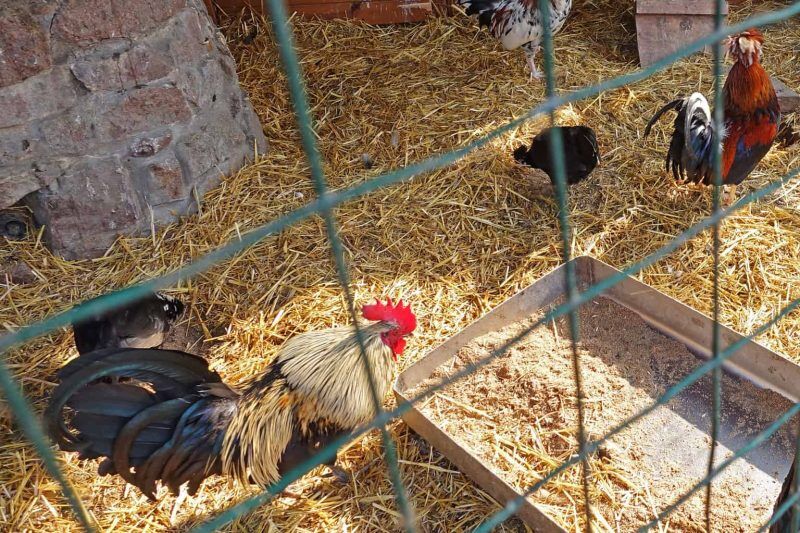 Straw is the perfect choice of bedding for chickens and commonly used to line nesting boxes. It is preferred over synthetic materials such as plastic or cedar.
TIP

Cedar shavings should not be used as bedding for adult birds or chicks because the natural oil it releases can cause respiratory problems in chickens.
Straw, teff grass, and pine shavings are natural and soft beddings that are safe to use with poultry.
Things to consider
Environment
Before you choose your coop floor, think about the location, the climate, and the overall environment of the coop. In heavy rain and cold weather, coops that are level with the ground are prone to excess moisture.
If you live in a generally wet and cold environment, it is best to raise the coop and to consider wooden floors, rubber mats, and sealants that will prevent rising damp and moisture.
NOTE

If chickens remain in wet conditions for too long, it exposes them to bacteria such as coccidiosis and the risk of respiratory illness.
Cost
Think about the cost, the value, and the practicality of the material. You don't want to replace the floor every year or few years but if you can't afford a long lasting install such as concrete or rubber matting, then alternatives such as plywood can provide durability with some maintenance.
Maintenance
How easy is it to keep clean? If you have to use bedding on top of the chicken floor, how often will it need to be removed and replaced?
Concrete, wood, and rubber surfaces can benefit from pressure washing while straw or shavings are easily removed with the dirt but they will have to be replaced.
Safety
The safety of chickens should always be prioritized when choosing the appropriate flooring materials.
Using staples with rubberized mats or linoleum is better than glue that could be toxic for poultry while wire can seriously hurt their feet.
Predator Proofing
Special consideration should also be made for predator and pest proofing as rodents can easily burrow through dirt to get inside the coop. Wood slats that are too far apart could provide opportunistic raccoons and rodents with easy access.
If you have a predator or pest problem, think about reinforcing the coop and the floor to keep them out!
FAQS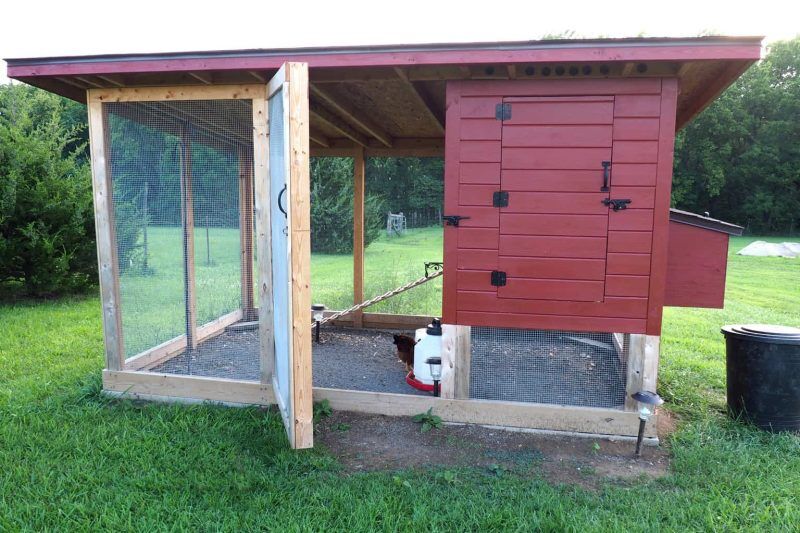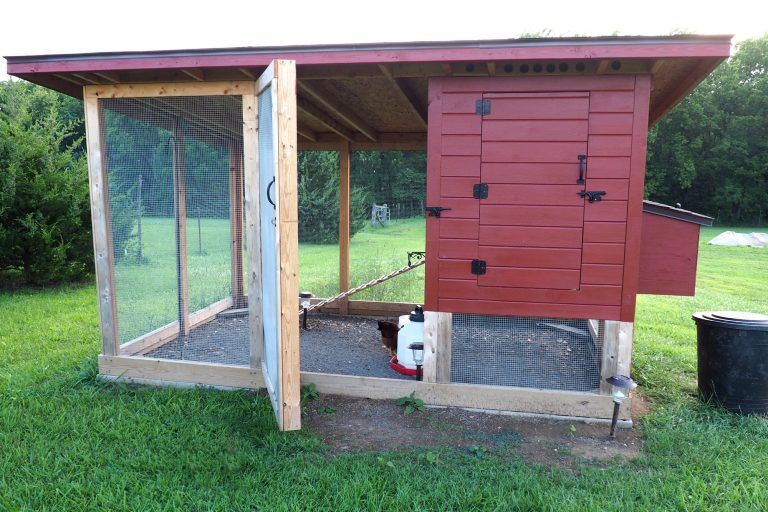 What to Put on the Floor of a Chicken Coop?
There are many materials to choose from for your coop, but it is up to you to decide which is best for the health and safety of your chickens.
Don't forget to think about the practicality of the floor too. You'll be responsible for maintaining it, so it should be simple to clean.
What to Put on Chicken Coop Floor for Easy Cleaning?
Many chicken owners believe that the best flooring is concrete, rubber mats, rubberized roof coating, and liner materials such as linoleum. Plywood is another material that is simple to keep clean because it contains fewer grooves compared to regular wood slats or boards preventing dirt from getting stuck in it.
Conclusion
Building a chicken coop requires careful consideration for the type of floor you'll be installing for your flock.
What To Avoid
You want to compare materials that are durable, are gentle on a chicken's feet, and are safe for your birds to occupy.
Materials such as vinyl and cedar shavings are not suitable as flooring for your chicken run or coop because it is toxic for chickens.
Less Maintenance
If you are looking for hygienic flooring that will also prevent burrowing pests or predators from reaching poultry, then concrete is your best bet. On the downside, it can be a bit expensive to install especially if you need to cover a large area.
Budget Friendly
As a cheaper alternative, you can build a wood floor but use plywood because it's cheaper and simple to maintain compared to wood slats or boards. For existing flooring, seal with rubber coat roof products that create an impervious rubber layer and as a bonus, it's quite easy to clean.
Choosing the Right Flooring
By weighing the pros and cons that we've discussed in the above guide, you can make an informed decision as to which type of chicken coop floors will work best for your budget, environment, and your chickens of course!
Feel Free To Share!
We really hope that you've found our guide valuable and perhaps you've even been inspired to redo your existing coop floors!
So why not spread some inspiration and share it with a fellow chicken keeper who may want to upgrade, install, or repair their current coops…